Ex-F1 driver turned pundit Martin Brundle has picked Sir Lewis Hamilton's title-winning drive in Turkey as his highlight of the 2020 season.
Hamilton had the chance to secure a record-equalling seventh World Championship at the Turkish Grand Prix, though the extremely slippery new surface and rain was making life very difficult in the W11.
Ultimately Hamilton would qualify P6, 4.795 seconds slower than Lance Stroll on pole.
The same struggle for pace and grip stayed with Hamilton in the opening stages of the race, but after stabalising himself in the midfield, Hamilton found a whole other gear and pulled off the one-stop strategy to take his completely worn down intermediate tyres to the end and take victory by over 31 seconds, sealing a seventh title in true style.
It was a Hamilton drive very reminiscent of his masterclass at Silverstone in 2008, and unsurprisingly Brundle picked it as his 2020 season highlight.
"Where do you start? It has been one of the most remarkable seasons I've ever experienced in 37 years of this business. But I've gone for Lewis Hamilton winning the Turkish GP, in great style," he told Sky F1.
"He did not have the fastest car on the track on that day in history yet lapped his team-mate and won by half a minute in treacherous conditions when people couldn't find any grip.
"That, of course, meant he matched the great Michael Schumacher's tally of seven Formula 1 World Championships, in a style in which Michael would have been very proud and very impressed by."
Former Force India driver Paul di Resta meanwhile selected Sergio Perez's victory at the Sakhir Grand Prix.
Perez took the chequered flag in a race full of twists at the front around Bahrain's 'Outer Circuit', the first win of his Formula 1 career, and also the first time a driver had won after being in last place on the first lap.
"The first person ever to be last at the first lap and win a Grand Prix. I think it could be career-defining," said di Resta.
"Not that I don't think he deserved it before, but I think he's shown great fighting spirit.
"It couldn't happen to a person who is more liked in the paddock. It caught everybody's hearts."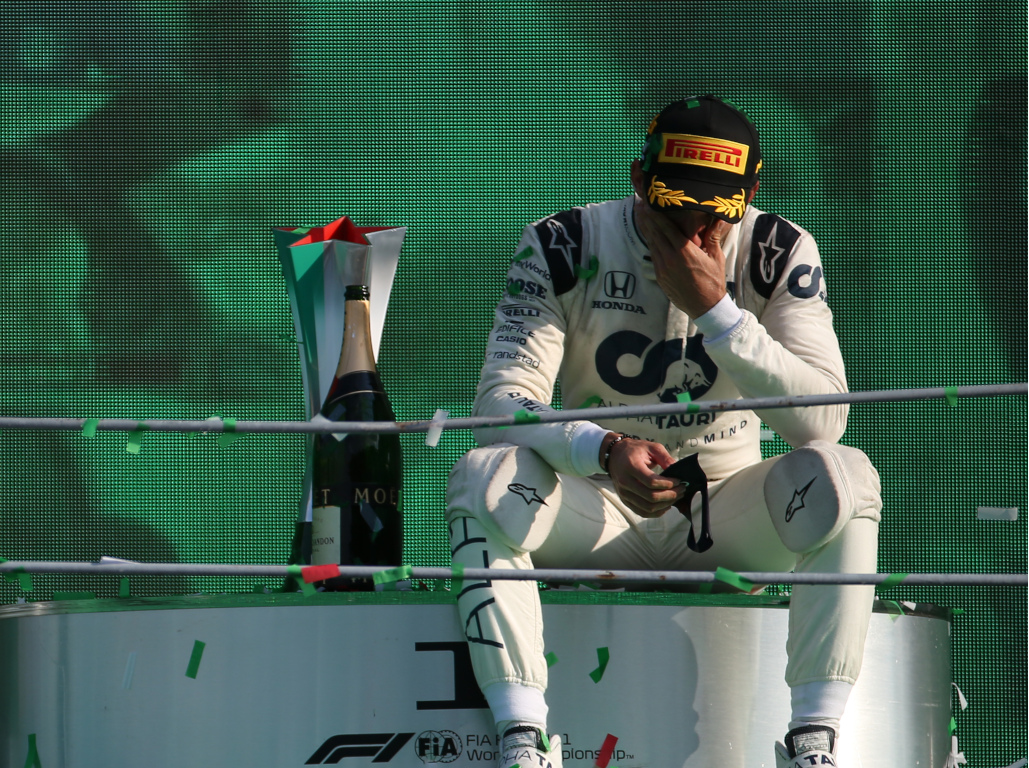 Sky F1 reporter Ted Kravitz picked Pierre Gasly's unlikely victory at the Italian Grand Prix as his 2020 highlight.
It was the first win of the Frenchman's career, and the second for his AlphaTauri team who won their home race at Monza back in 2008 with Sebastian Vettel when they were known as Toro Rosso.
"Just over a year after being demoted by Red Bull, Pierre Gasly goes to AlphaTauri and, ok courtesy of a mistake by the Mercedes team that got Lewis Hamilton a penalty, he managed to get the win," said Kravitz.
"There was that moment he spent on the podium thinking of his friend Anthoine Hubert, who passed away at Spa-Francorchamps a year earlier, and who had said to Pierre 'prove Red Bull wrong'. Pierre really did that on that day at Monza."
Follow us on Twitter @Planet_F1, like our Facebook page and join us on Instagram!