'Data shows Hamilton wouldn't have made the corner'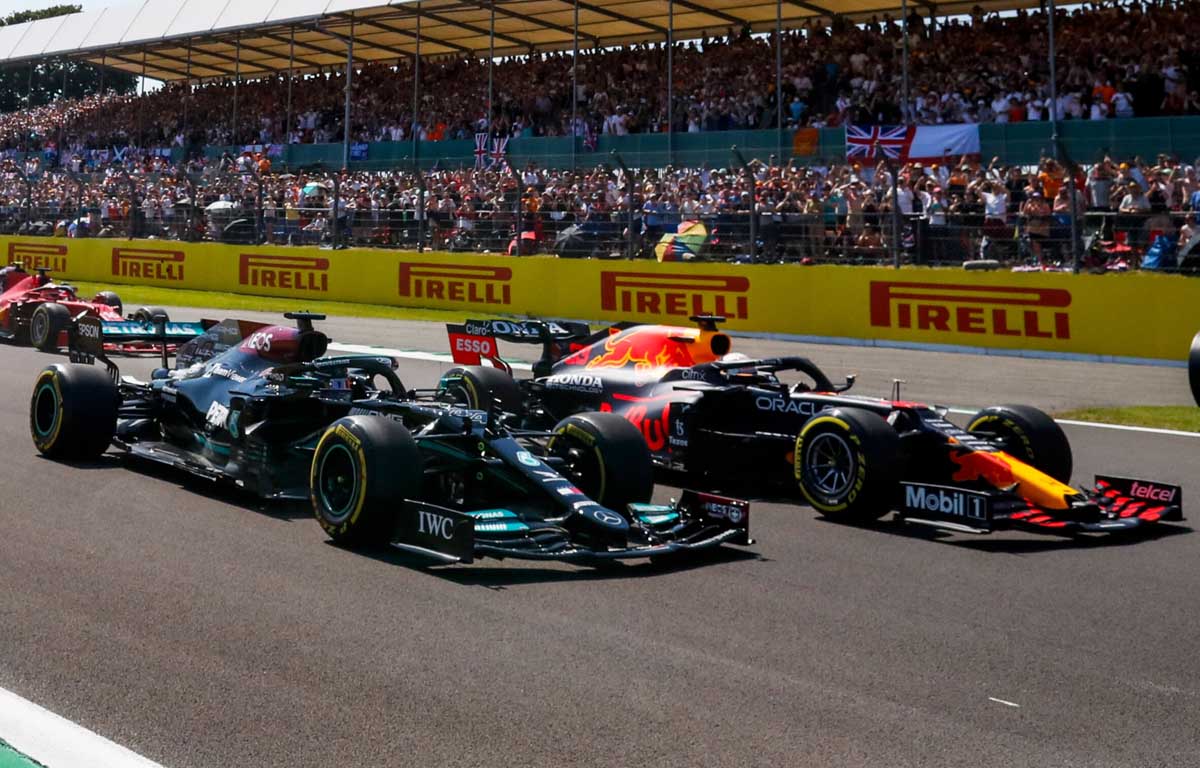 Martin Brundle says Red Bull have told him they have data that shows Lewis Hamilton would have run wide at Copse had he not collided with Max Verstappen.
But rather than Hamilton's car entering the gravel on lap one of the British Grand Prix, it was Verstappen's Red Bull – which did so at high speed and hit the barrier with a 51G impact, putting the Dutchman out of the race and in hospital for precautionary medical checks.
Red Bull were furious at Hamilton's manoeuvre as the two World Championship contenders duelled for the lead, the Mercedes driver 'dummying' Verstappen by challenging up the inside only for their wheels to make contact as they turned into the corner at 160mph.
After the race was red-flagged, Red Bull team principal Christian Horner was straight on the radio to FIA race director Michael Masi, saying: "Every driver who's driven at this circuit knows you don't stick a wheel up the inside at Copse."
Although it is unlikely to happen, Sky Sports co-commentator and pundit Brundle thinks Red Bull may feel they have sufficient evidence to lobby the FIA to issue a greater punishment to Hamilton than the 10-second in-race penalty he received, which did not stop him from winning and reducing his World Championship deficit to eight points.
Torquing Point - Fair penalty for Hamilton?
Henry and Finley from www.planetf1.com podcast Torquing Point discuss the ongoing dispute on whether Lewis Hamilton's punishment for ending Max Verstappen's race at the British GP was severe enough.
Red Bull merchandise is available to purchase now via the official Formula 1 store
"I am told by Red Bull there is data to prove Lewis was significantly faster into Copse than at any other time and he would not have made the corner without running wide, and inevitably contacting Max," wrote Brundle in his post-race column for Sky.
"Presumably, that will be made publicly available and if Red Bull feel they have 'new evidence' they may well make an appeal to the FIA as to their perceived degree of fault and leniency regarding Hamilton."
Regarding the protestations by Horner and his Mercedes adversary Toto Wolff, and their respective colleagues, to Masi about the incident during the stoppage, Brundle suspects this new innovation to the broadcast coverage may be reviewed in future with different procedures implemented.
"It was a little uncomfortable hearing the Red Bull and Mercedes team managers and team principals endeavouring to influence the situation by lobbying the race director, but that seems to be the communication system in place and which we are broadcasting for the first time this season," said Brundle.
"Michael Masi quite rightly pointed them towards the stewards, and I can imagine a future revision on this process."