Brundle disagrees Hamilton's defence was too 'soft'
Sky F1 pundit, Martin Brundle, has disagreed with Nico Rosberg's assessment that Lewis Hamilton was too "soft" in his defence against Max Verstappen.
Rosberg felt his old team-mate and title rival Hamilton should have "closed the damn door" on Verstappen as the Dutchman loomed up on him with two laps to spare at the French Grand Prix, in the end cruising past the Mercedes man for Red Bull's third win a row.
Hamilton himself said it was "pointless" putting up too much of a fight against Verstappen because it was inevitable that he was going to pass at some point before the chequered flag waved.
And Brundle was of the same mindset as the seven-time World Champion, likening what happened between Hamilton and Verstappen to a particular chess move.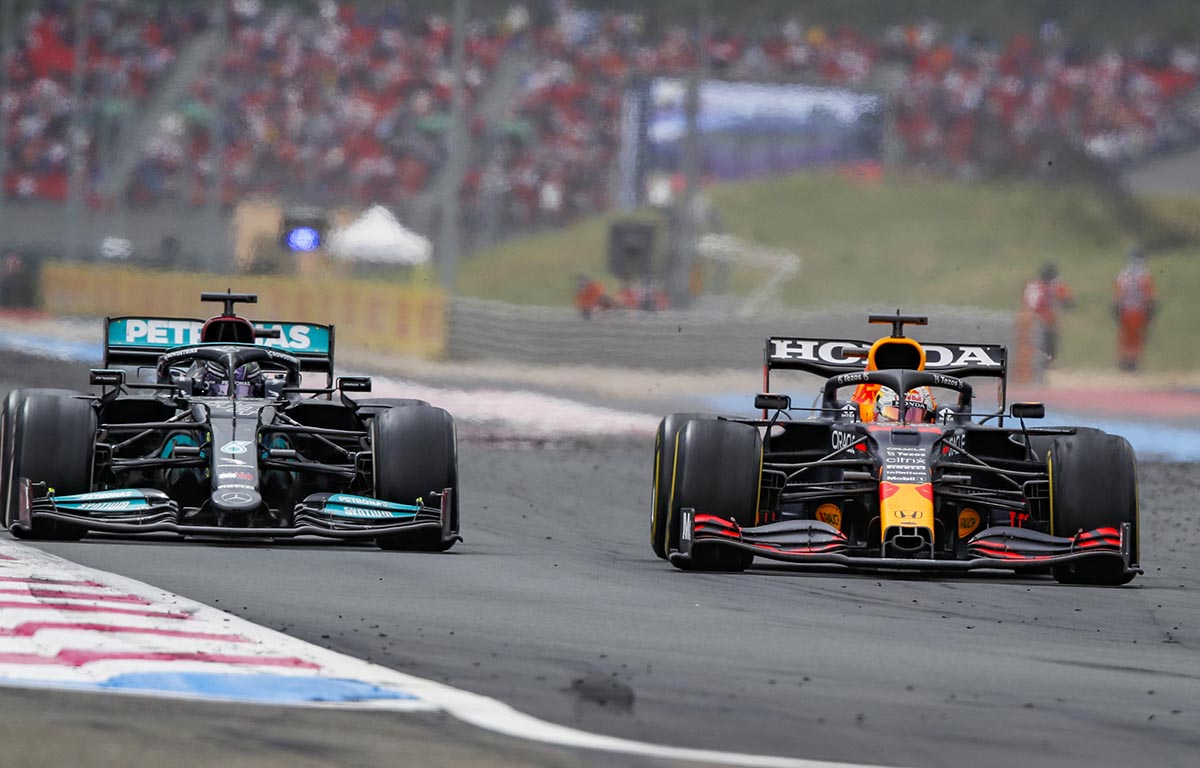 Check all the latest 2021 teamwear via the official Formula 1 store
"I don't agree that Hamilton was too soft when letting Verstappen by," Brundle said in his post-French Grand Prix column for Sky Sports F1.
"He was out of tyres and the pass was inevitable before the finish given the Red Bull's straight-line speed and DRS assistance.
"In the same way that Verstappen wasn't super aggressive when Hamilton passed him in Budapest and Barcelona before in similar circumstances.
"It's a bit like knocking your King over in a chess match, your loss is inevitable and you may as well bag the 18 points for second and lick your wounds ready for another day, rather than terminally flat spot a tyre or lose your front wing."
Meanwhile, there was a lot of attention on Red Bull and Aston Martin following their tyre blow-outs in Baku, something which Pirelli suggested was self-inflicted by running the pressures lower than expected, even if they were above the minimum pressures allowed.
Brundle thinks this particular story, as well as the flexi-wing saga, have been blown out of proportion somewhat.
"Ironically both Red Bull and Aston Martin had comparatively strong races, unlike Ferrari, which suggests that the story was over played, rather like the flexy rear wing controversy," Brundle said when addressing the tyre fiasco.
"It's not a great surprise because the teams are always looking for a myriad of small improvements, and so the knockbacks are also going to be similarly small.
"There was another stormy teacup story in the curious case of Mercedes 'rotating' their chassis between drivers, which sounds more like a flip flop than a rotation.
"When it all shook out, the focus remained on a fight for pole position between Hamilton and Verstappen, which Max won with a tremendous lap, and not his first of the weekend."
Follow us on Twitter @Planet_F1, like our Facebook page and join us on Instagram!