Brundle: Hamilton '35 years old going on 27′
Ex-F1 driver turned pundit Martin Brundle feels part of Lewis Hamilton's success is down to the fact that he doesn't look or act his age.
A lot has changed since a 22-year-old Hamilton debuted for McLaren at the 2007 Australian Grand Prix, he is now a six-time World Champion and has a record 92 race wins to his name at the age of 35.
But the Briton is approaching the age where retirement becomes a serious thought, and Hamilton himself has said that he doesn't plan to continue for much longer.
That being said, Brundle says Hamilton doesn't appear to be that age and simply uses his experience to become an even stronger "winning machine".
"I think he's got the full complement of skills, he works really hard and he's 35-years-old going on about 27 or 28 from what I can see," Brundle said in an interview with Sky Sports.
"He just doesn't appear to be that age, what's really interesting looking back on last weekend when [we had] track limits, the bane of our lives where drivers can run wide and gain time, over 200 laps were deleted for going beyond the track limits in Portimao, not a single one of them was Lewis Hamilton.
"He carries the speed, he's not dirty on the track at all, he very rarely gets into skirmishes and he's got all of the ingredients to make him a winning machine.
"I don't see any sign of that fading away, if anything he's just using his experience better."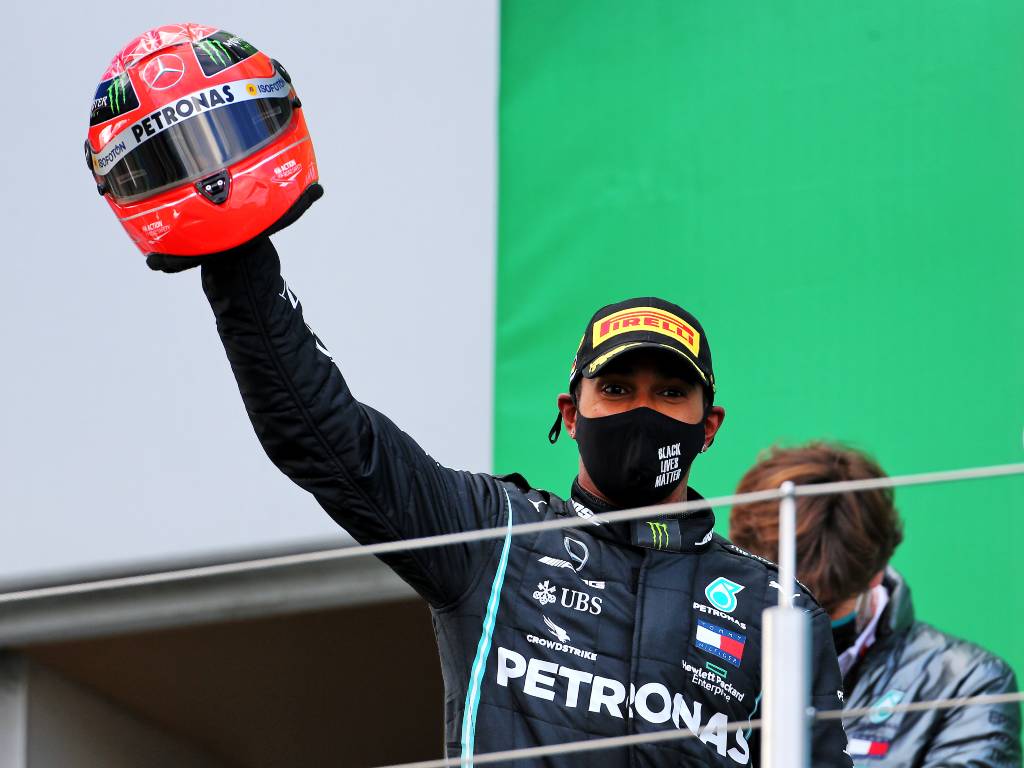 Get your hands on the official Mercedes 2020 collection via the Formula 1 store
Of course the conversation surrounding the greatest driver of all time in Formula 1 never stops, and while Brundle believes Hamilton must be included in it, he doesn't think there can be a definitive answer.
Instead, he feels it all comes down to opinion and it isn't his place to tell people what to think.
"I've been in Formula 1 for 37 years so I've seen quite a few drivers and I think this is a matter of opinion," he explained.
"I don't think it's for me to tell anybody what they think, if you ask Sir Jackie [Stewart] he will say Jim Clark, you asked Sir Stirling Moss and he said [Juan Manuel] Fangio.
"Personally the greatest driver I ever raced against was Ayrton Senna, I haven't raced against Lewis, so I think you tend to think of your own era where you see something a bit magical and special.
"So he's certainly the greatest of this era, I think that's without doubt, if you're having a conversation about the greatest of all time you have to include Lewis in that conversation.
"And I'll leave others to make their own minds up."
Follow us on Twitter @Planet_F1, like our Facebook page and join us on Instagram!