Brundle has 'not experienced such intensity before' in F1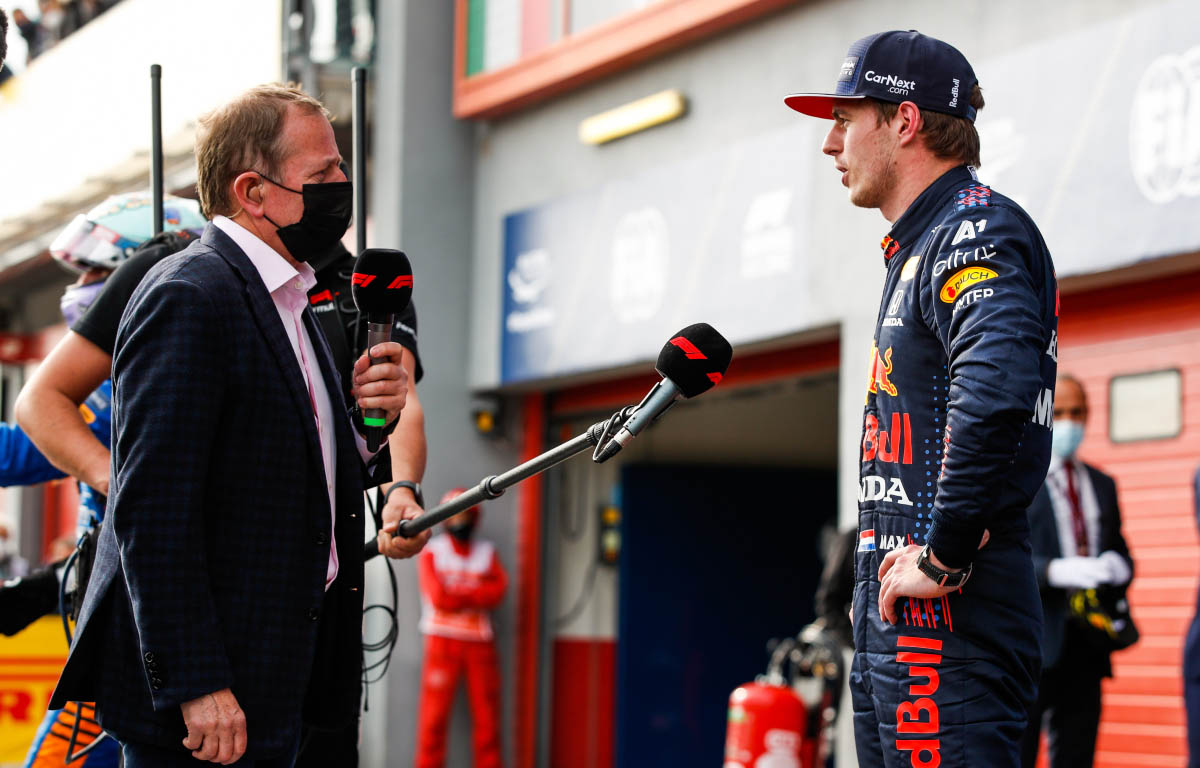 With the continued unfolding drama on and off-track between Mercedes, Red Bull, Lewis Hamilton and Max Verstappen, Martin Brundle thinks this adds up to being the most intense Formula 1 season he's ever seen.
The Sky F1 analyst and co-commentator likened the back-and-forth between the title protagonists this year to something you'd be more likely to see in the cinema than a race track, and praised both Hamilton and Verstappen for how they have raised their level to effectively be in "a different category" compared to the rest of the grid.
The weekend in Qatar was punctuated with team principals Toto Wolff and Christian Horner's tense press conference – and their continued digs at each other afterwards – Verstappen and Valtteri Bottas both receiving grid penalties, and plenty more besides.
Given how close the fight for the World Championship is on top of everything else, the former F1 driver lauded the two title leaders for how calm they appear to have remained through the noise around them.
"I've not experienced such intensity before," Brundle wrote in his post-race Sky Sports column. "This is a season which is unfolding on a swathe of contrary opinions, camera angles, images, data, information, misinformation, social media posts, and not a little bitterness and mistrust. It felt more like a movie than a motor race on Sunday.
"You may have often heard me say that two championship protagonists usually raise their games to an altogether higher plane, they find an overdrive gear with which they can maximise every press of a pedal and turn of the wheel, on every corner and each lap.
"Under the floodlights of Qatar, Lewis Hamilton and Max Verstappen appeared to be in a different category of racing such was their relentless pace out front in pursuit of critical World Championship points.
"Those two drivers remarkably appear to be the calmest members of their team from time to time."
The gap between the top two drivers in the championship hasn't been this small heading into the final two races of the year since 2008, and we all know what a tight ending that title fight had…

This is going to be stressful, isn't it? #f1 pic.twitter.com/9MbxRGOD1B

— PlanetF1 (@Planet_F1) November 22, 2021
While Verstappen continues to top the Drivers' standings, the momentum in terms of car performance has appeared to swing back towards Hamilton and Mercedes in recent races, having won in both Qatar and Brazil after a dominant showing from Red Bull in Mexico.
Brundle added his praise for the seven-time World Champion as he continues to motivate himself to strive for new heights within the sport, alongside a car which will have fresher parts than that of his rival heading into the final two races.
"There can be no doubt that Hamilton and Mercedes have raised their game at a pivotal point of the championship," Brundle wrote.
"Lewis has found renewed trust in the factory simulator and works late into the night at the track as he impressively finds new motivation for an eighth title despite his relative age, trophy warehouse, and significant bank balance.
"Mercedes have some powerful car set up tools and a fresh engine too for the remainder of the season which will ensure they are very fast, and no doubt they will be watching each other like hawks regarding interpretation of particularly the aero regulations.
"You couldn't help but feel both teams were on their best behaviour with their rear wing elements in Qatar."
Mercedes have out-developed Red Bull
Mercedes and Red Bull have seemed to be level all year, but now the Mercs are stronger.