Martin Donnelly opens up on horror Jerez crash and Ayrton Senna's help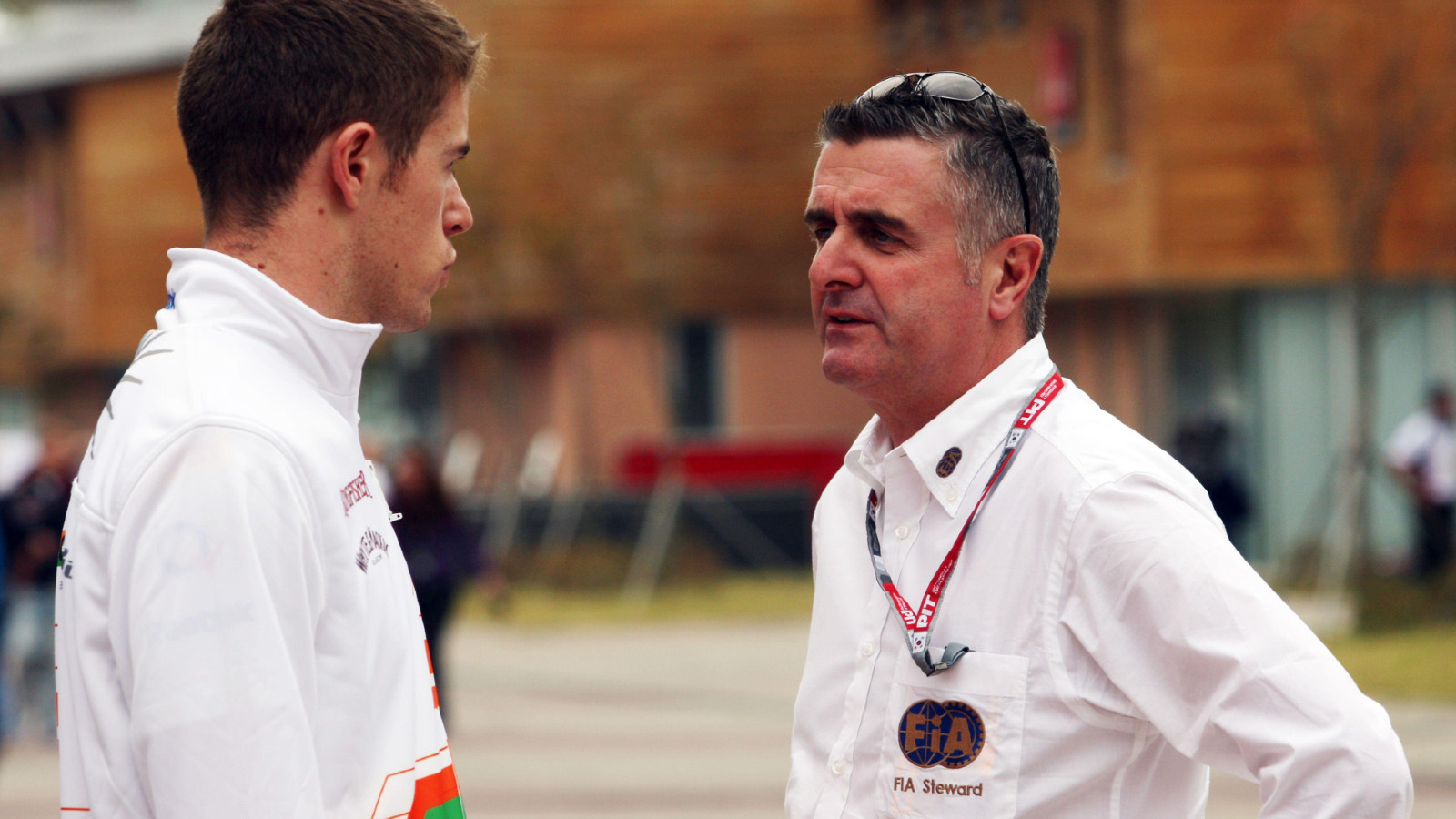 Lotus racer Martin Donnelly suffered life-changing injuries during the 1990 Spanish Grand Prix, ending his career prematurely.
The Northern Irish racer suffered horrific injuries during a terrifying crash during qualifying for the 1990 Spanish Grand Prix at Jerez, due to the violence of the impact.
Images of the crash scene have become infamous in the years since, with a badly wounded Donnelly coming to rest, still strapped in his race seat, directly on the tarmac – his Lotus having split into pieces during the crash.
The injuries meant Donnelly would never race in F1 again, although he became a racing driver coach and occasional race steward for the FIA in his post-F1 racing career.
Donnelly's life-changing accident occurred on the 28th of September 1990, and he recounted the experience 32 years later while appearing on the Beyond the Grid podcast with Tom Clarkson.
Donnelly explained that he doesn't remember the specifics of the crash, or the Spanish weekend in general, with his last memories being of participating in the Portuguese Grand Prix before making his way to Jerez.
"After [Portugal], I don't remember much," he said.
"Apparently, we got two scooters from the team where I took my fiancee around [the track].
"There's a part as you come around to the last two fast corners, you could sit at the back of the paddock. I had friends there who watched there with Roberto Moreno, who hadn't pre-qualified.. On my qualifying lap, I was just past them when I went off into the barrier.
"Later on that day, Roberto came back to the paddock, to my fiancee, said I was OK and I just broke my two legs. Guys were saying 'that's not possible – that guy was dead'. A lot of people didn't know at the time. A good friend, Mark Gallagher, went to Seville Hospital to see the report and report back to Maurice Hamilton and the other journalists in the paddock as to my condition.
"Along came Ayrton [Senna], outside the intensive care unit, and he said to Mark that he would sort a plane to get back, financial help, just to let him know."
What caused Martin Donnelly's crash?
With Donnelly's F1 career over the moment his car went off into the wall, he wanted an explanation as to what had caused the accident – knowing that it hadn't been a driving error.
"I was told by the team, I'm not mentioning any names, that, back in the day, we had a slightly raised step in the tub of the car," he said.
"There was a bell crank that was bonded underneath the tub. So our dampers lay parallel, at the bottom of the tub without a glass fibre shroud to protect it – it just clipped on.
"The bellcrank was working loose and, with the carbon fibre, there was a lot of friction. The front damper neck on the left side of the front broke off due to the amount of friction and, unfortunately for me, it broke off just as I turned into the fastest corner on the circuit in qualifying.
"Had it lasted another millisecond, the last corner had a big gravel trap and big tyre barrier. OK, it probably would have been sore, but the car wouldn't have broken in half."
Donnelly was asked how he feels when he sees the pictures of his clearly badly injured body lying across the track or watches the video footage (as was seen in the 2010 Senna biopic).
"I believe it is me because of the orange helmet, they were my colours," he said.
"But, if you don't remember something… I drove the car at Goodwood some years ago (in 2011). First time back. We organised to go set the fastest time up the hill that weekend, I got some special tyres… it wasn't an issue because there's no memory there.
"But, because of Jerez and other accidents since then (a moped crash that rebroke his leg in 2019), I've been taught by my surgeon that, if I fall and break this leg again, he says that there won't be a third time. He said the problem fixing the leg the second time was that there's more bone on a track in Europe somewhere than actually in my legs! I've got a metal plate in there holding the bone together. If I fall and break it, that's the end of it."
Martin Donnelly reveals how Professor Sid Watkins kept him alive
Opening up on the extent of his injuries, Donnelly revealed that the FIA's Safety and Medical Delegate Sid Watkins had predicted Donnelly would suffer further complications in the days following the crash.
"It was pretty serious. Bones will eventually heal, and Sid Watkins knew that," he said.
"He knew the size of the impact of the accident was pretty serious. Your internal organs don't stand still, they go with the inertia. I think my accident was around 42G. He knew from experience that my organs would go into shock and not work. So it was important to get me out of Seville, back to Heathrow, back to England to his hospital, the Royal London Hospital in Whitechapel.
"I was back there on the Tuesday night and, as he predicted, on the Wednesday, my kidneys, my lungs – everything just shut down. I was on a respirator for seven weeks. I had kidney dialysis every day for three hours and, with it being touch and go, the hospital chaplain came and give me my last rites.
"Twice on the operating table, my heart stopped. They had to stand clear, get the old jump leads on there and give me a jolt and bring me back again. So three times Sid brought me back."
Donnelly's assertion that Watkins had resuscitated him three times resulted in Clarkson pointing out this meant that Donnelly had needed to be brought back directly after the crash.
"I wasn't breathing because I swallowed my tongue," he said.
"But, between the accident and Sid getting to me and assessing what was going on, was 11 and a half minutes. So the brain… people say it has affected me. I think the wife would agree!
"Sid opened my visor, he could see I had gone a pale shade of blue. He got two tubes, stuck them up my nose, got me stabilised again by breathing again with the oxygen, he cut down the straps and passed the helmet up. He got me back to the Medical Centre, then flew me out to Seville. Senna then talked to Sid for two and a half hours in the Medical Centre and then Sid got in a car and drove to Seville."
Martin Donnelly almost lost his left leg due to Jerez crash
Not only did Professor Watkins save Donnelly's life, but the Northern Irishman reckons he owes the fact he still has a left leg and the ability to walk to the late neurosurgeon.
"In Seville, it was very, very close [to amputation]. When Sid left the circuit, he took a young lad with him who could speak Spanish and English. Now the guys operating in the operating theatre – as far as they were concerned, I was their patient because I was in their hospital. Sid said 'No, he is my patient. I'm the FIA delegate, he is my patient'.
"This young lad, bless him, translated between Spanish and English. It was a full-on fighting match, shouting. He got traumatised trying to translate what Sid was saying to the surgeons and they were saying 'no, we have to take this leg off', because of the amount of blood I was losing. Sid took his own trouser belt off, put it around my leg to stop the blood flow and save the leg. If he had been an hour, half an hour later, that leg would have been gone."
Having made it through umpteen surgeries to save his life and limbs, Donnelly said the resulting damage is still noticeable today.
"My left leg is an inch and a half shorter than the right," he explained.
"The brain…after about 2,000 steps, doesn't tell the leg to pick up, and I trip. If I'm in an airport or somewhere, it's embarrassing.
"The left leg was shattered. You can't get them back together again. The femur was badly broken, the shin as well, the foot was all mangled and twisted. My left foot is fused. I can't feel from my knee down but, underneath the foot, is hypersensitive. The top of the foot…the toes are all curled because there's nerve damage. My right leg was OK. My shoulder blade is still broken, I perforated my eardrum. My hands were fine, no biggies there. But a lot of it was internal organs – too many to remember."
Coming to terms with the end of his F1 racing career
The extent of Donnelly's injuries meant that he was quickly told his racing career couldn't resume, due to the lack of mobility in his leg. But that didn't stop Donnelly from throwing every single bit of his willpower into trying to fully recover.
"I was in hospital and then I went to Willi Dungl in Austria," he said.
"He was the guy that got Niki Lauda back in his car within six weeks of his car accident at the Nurburgring. He was the guru. A lot of the physiotherapists and nutritionists, the services to the F1 teams were subcontracted by Willi himself.
"I thought if he could fix Niki in six weeks, he could fix me in two months, right? Me not realising just how bad my left leg was. Because I had external fixators in the leg, and I burst an artery in November, because my leg wasn't being moved – I was in a bed from September, through to February, in the same position.
"I wasn't moved or put on my side, because there were fixators in my leg. So when my artery burst, they rushed me off down to the operating theatre. They did a vein graft off my right leg to stem the blood, which worked. But then, because I wasn't being moved, they then glued my thigh muscle to my femur. And that's why I limp and can't bend the leg."
Five years on from the accident, Donnelly underwent another surgery, this time courtesy of a former racing rival Matt Bartlett, who was able to improve his leg mobility to some 120 degrees and allow Donnelly to move his foot again.
But after this, his thoughts turned away from trying to make a return as the surgeon said: 'The guy upstairs was trying to tell you. They brought you back to life three times. You have a family, you have a life. Let it go.'"
It was advice that Donnelly took on board, with the death of contemporary rival and friend Ayrton Senna – both of whom had raced for Ralph Firman's Formula Ford team in the early 1980s.
"Ayrton's death in 1994 was the final nail in the coffin," he said.
"He had a great life, three times World Champion – who am I compared to him? So I concentrated on my own business."
Read More: Five great F1 career moves: Hamilton to Mercedes, Schumacher to Ferrari and more