Mattia Binotto defends Charles Leclerc pit call after 'unhappy' race
Ferrari team boss Mattia Binotto has said the decision to pit Charles Leclerc for a fastest lap attempt was the "right call", despite the move costing them points…
Leclerc came in at the end of Lap 42 to get a fresh set of soft tyres fitted to his F1-75, while running in fifth place. The reason for the stop was to give him a run at getting the fastest lap on the final lap, and snatch a point away from Max Verstappen – which would have resulted in a two-point swing in Leclerc's favour.
However, the gap to sixth-place Fernando Alonso wasn't quite enough to get Leclerc out in front and the Monegasque had to overtake the Spaniard on the final lap just to secure fifth place.
Despite getting the use of DRS on the final lap while passing the Alpine, Leclerc's fastest lap on the soft was half a second slower than what Verstappen managed on the medium compound.
Having failed to secure the point and having jeopardised his finishing position on-track, Leclerc would indeed lose out on fifth place as he was slapped with a five-second time penalty. This was because he was clocked for speeding in the pitlane during that final stop – logging 81km/h in the 80 zone.
Having had the attempt go so badly wrong, Binotto justified the decision as he spoke to media after the chequered flag.
"I think we made the right decision, because you need to be brave enough to try to get the maximum," he told Sky F1.
"There was the gap on Fernando [Alonso]. We knew it was very tight, we knew he could have overtaken him with the new tyres and maybe taking the DRS and getting the extra speed on the straight.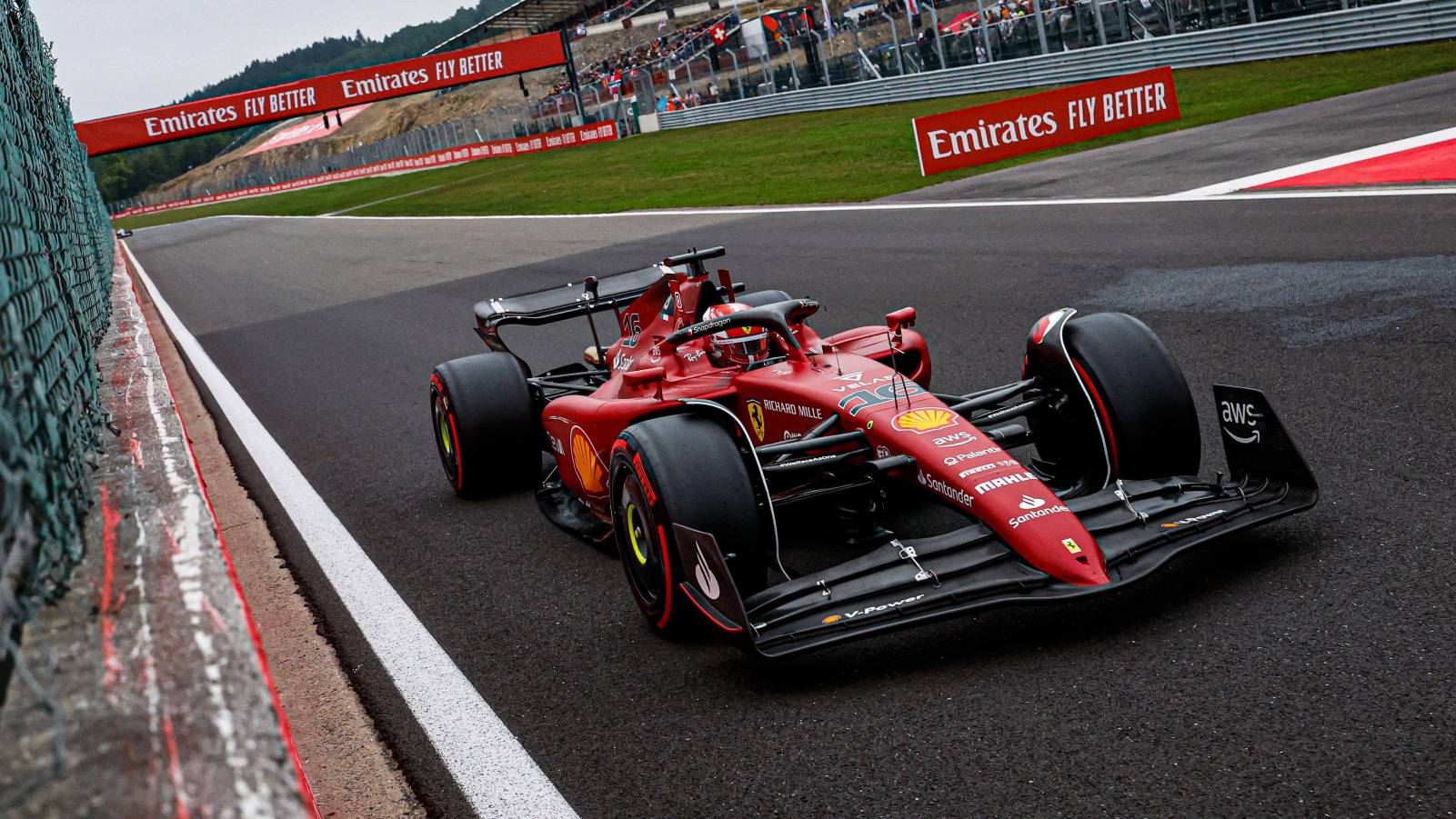 "In the end, it was the right choice. We didn't get the fastest lap, and we need to look at why. In terms of Charles, it was the right choice."
Binotto also admitted that Ferrari aren't yet quite sure where Leclerc sped, whether it was on entry into the pits, or possibly releasing the limiter too early in his rush to beat Alonso out of the pits.
"On the [pitlane] speeding, we will look at the data as it was really borderline," he said.
"It's not clear. We are looking at all the data. Maybe it's about releasing one metre before the line so it was really tight, very borderline. It may happen, but I don't think there are any risks in the operation that we shouldn't stop for the fastest lap."
Mattia Binotto congratulates Red Bull: 'Ferrari didn't have the pace'
The team boss also said Red Bull clearly had the measure of Ferrari around Spa-Francorchamps, with Max Verstappen coming through to take an easy win and almost 30 seconds clear of the pole-sitter Carlos Sainz. This was despite starting the race from 14th on the grid.
Unsurprisingly, given the fact Red Bull claimed a 1-2 with Ferrari barely managing a podium, Binotto said it appeared the championship leaders had taken a big step forward.
"[We're] disappointed and somehow unhappy," he said.
"Well done to Red Bull, they've been very very fast all weekend. They have been faster than everyone else, they've proved to have a competitive package and a very strong team capable of developing the car.
"Certainly, today, we weren't as fast as they were. But, if I look at our position compared to the others behind, it was the usual position so it seems Red Bull moved ahead.
"On our side, we had a lot of tyre degradation today and that needs to be analysed what can we do to improve that as that had a significant effect on the overall performance and speed we had."
"We're somehow unhappy because we were coming here hoping for a better result, but we have to accept that Red Bull were faster today than us. They were also faster in Hungary, so it's a couple of races where they've been faster."
Ferrari now relying on Red Bull problems
With Belgium being the first weekend of enforcement of the new Technical Directive 039, it looked as though Ferrari have lost out significantly against Red Bull – given their relative race pace has been closely matched all season.
Verstappen's championship lead is now 98 points over Leclerc, and Binotto said the time has come for Ferrari to accept that they now need problems and retirements from Verstappen to have any chance of a title win.
"We can only focus on ourselves, try to look at our weaknesses and try to push for developments not only for this season but for next," he explained.
"Spa is a circuit where, if you do not have overall efficiency from the aero and the engine, we aren't fast enough. That's the point where we need to reflect.
"Looking at the Drivers' Championship, the gap to Max is very high. It's not sufficient for Charles to win all the races and finish ahead of him. So we need to count on Max not finishing races.
"And when you start counting on the others, it becomes so much more difficult. It's more important for us to focus on ourselves.
"Look at the performance of today and the gap of performance to Red Bull and try to address them, not only for the immediate races but for the future and next season."
🏁 #BelgianGP results 🏁

Podium for @CarlosSainz55, P3@Charles_Leclerc P6#essereFerrari 🔴 pic.twitter.com/pNluRxxy8U

— Scuderia Ferrari (@ScuderiaFerrari) August 28, 2022