Mattia Binotto's graceful gesture to Fred Vasseur even after his Ferrari fate was sealed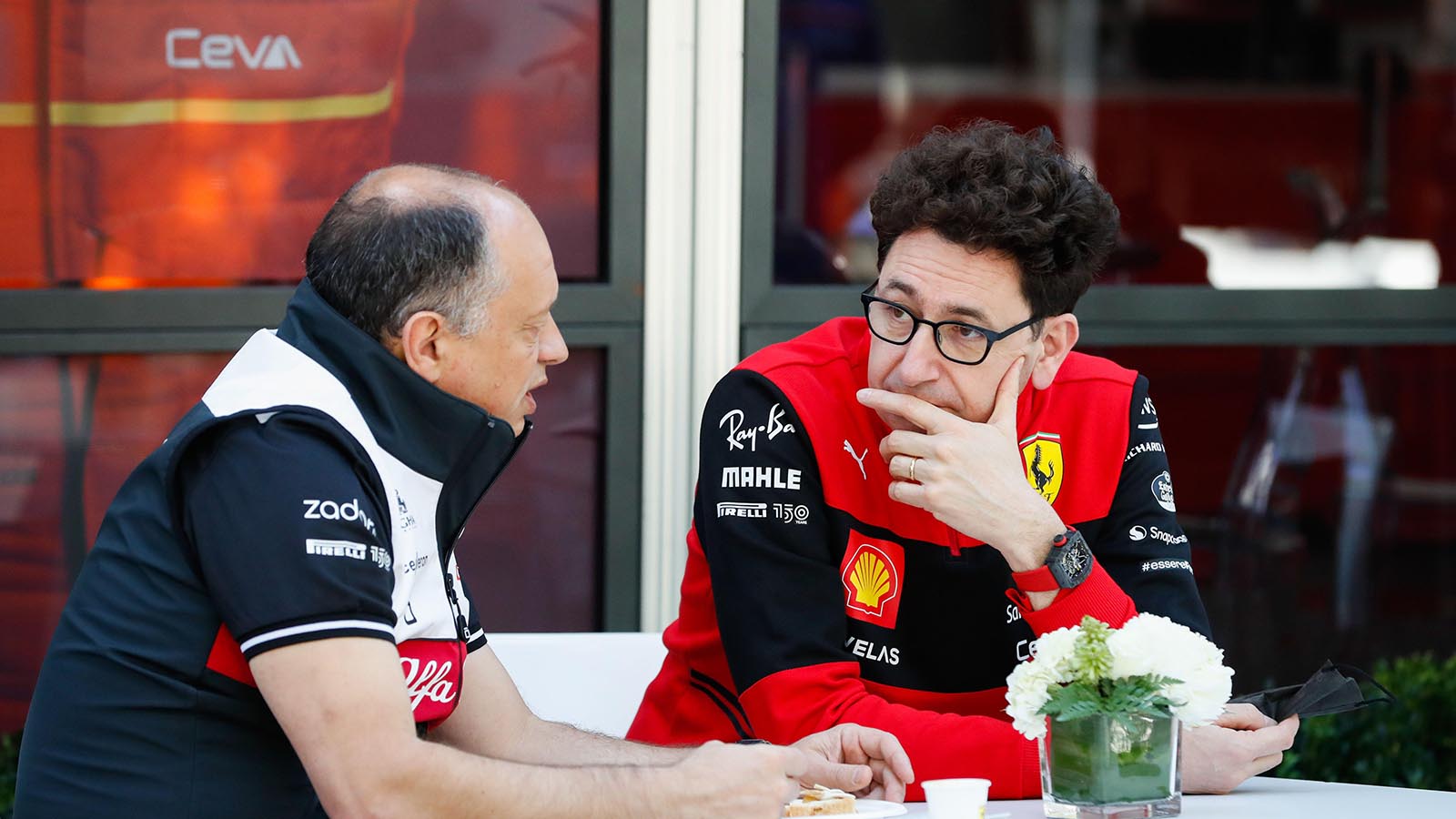 Mattia Binotto may have been axed as team principal but he's still committed to the Ferrari cause, offering his replacement Fred Vasseur some valuable advice.
Binotto oversaw the Scuderia's return to race-winning form in 2022 but it wasn't enough to secure a fifth season as principal, after a series of strategic blunders and reliability nightmares overshadowed the team's four victories, prompting him to hand in his resignation, followed two weeks later by the news that Alfa Romeo principal Vasseur would lead Ferrari from 2023.
Binotto had been part of the Maranello furniture for almost three decades, having played a crucial role in the engine department during Michael Schumacher's glory years.
With Binotto's contract forcing him to complete 12 months of gardening leave after leaving Ferrari, his know-how won't be available to any rivals until 2024.
But if anyone understands the politics and intense pressure of the Scuderia, it's Binotto. As Vasseur settles into arguably Formula 1's toughest job, the 56-year-old didn't hesitate to offer some insight to his successor.
"The process was crystal clear, even if we had some rumours into the press before Abu Dhabi or during Abu Dhabi, we didn't discuss before," Vasseur said, per The Race.
"We had the first discussion the week after Abu Dhabi and it was very, very quick as a process.
PlanetF1 recommends
Christian Horner calls for 'sensible conversation' as F1 v FIA war brews
Michael Schumacher's 10 iconic Formula 1 grand prix victories
F1 2024 driver line-up: Who is confirmed for next season's grid?
"And then I had a call with Mattia, and I even met Mattia during the handover and we had a one-to-one discussion.
"It was thanks to Mattia for this because I appreciated the move from Mattia to stay, to wait for me, to discuss together, [it] was really appreciated from my side."
With some behind-the-scenes tweaks, a communication clear-up on the pit wall and reliability upgrades, Ferrari should be capable of providing Charles Leclerc and Carlos Sainz with a platform to mount a serious challenge this year.
The iconic red cars were bowled over by Mercedes' dominant era just like the other teams, only giving the German team a scare in 2018 before Sebastian Vettel's title tilt faded in the latter rounds.
Ferrari haven't won the Drivers' Championship since Kimi Raikkonen's 2007 crown. That season was Jean Todt's last as Scuderia supremo after the Frenchman oversaw the team's last great era.
Vasseur is Ferrari's first French team principal since Todt but played down comparisons to his countryman.
"I think that you can't compare what's happened 20 years ago or a bit more," Vasseur said.
"Today F1 is changing. It's a continuous change in F1, in the structure, in the size of the team, in regulations with the cost cap.
"I had some discussion with Jean because he stays close to the to F1 world.
"We chatted by WhatsApp a couple of weeks ago and I will meet him soon.
"All the advice is welcome for sure, but I think also it's quite difficult today to compare the situation of 1994/95 and 2022."