Binotto: Ferrari flattered by back-to-back poles
Mattia Binotto is refusing to get carried away with Ferrari's improvement despite Charles Leclerc having taken back-to-back pole positions.
From the lows of 2020, when they finished a miserable sixth in the Constructors' World Championship, the Scuderia have regained much of their lost pace this season.
One pole position, in Monaco, was unexpected and a second, in Baku, even more so, although Leclerc had luck on his side each time as qualifying was ended by a crash when his rivals had a chance to leapfrog him.
However, neither in his home race nor the Azerbaijan Grand Prix did the Monegasque driver turn pole into a podium, for he was unable to take the start in Monte Carlo due to a broken driveshaft, with his own crash having ended qualifying, and in Baku he finished fourth.
The latter performance, with Leclerc having no answer to Mercedes and Red Bull in the race, indicated to team principal Binotto that Ferrari are somewhat flattered by having taken pole position on two street circuits.
Kit yourself out in Ferrari colours via the official Formula 1 store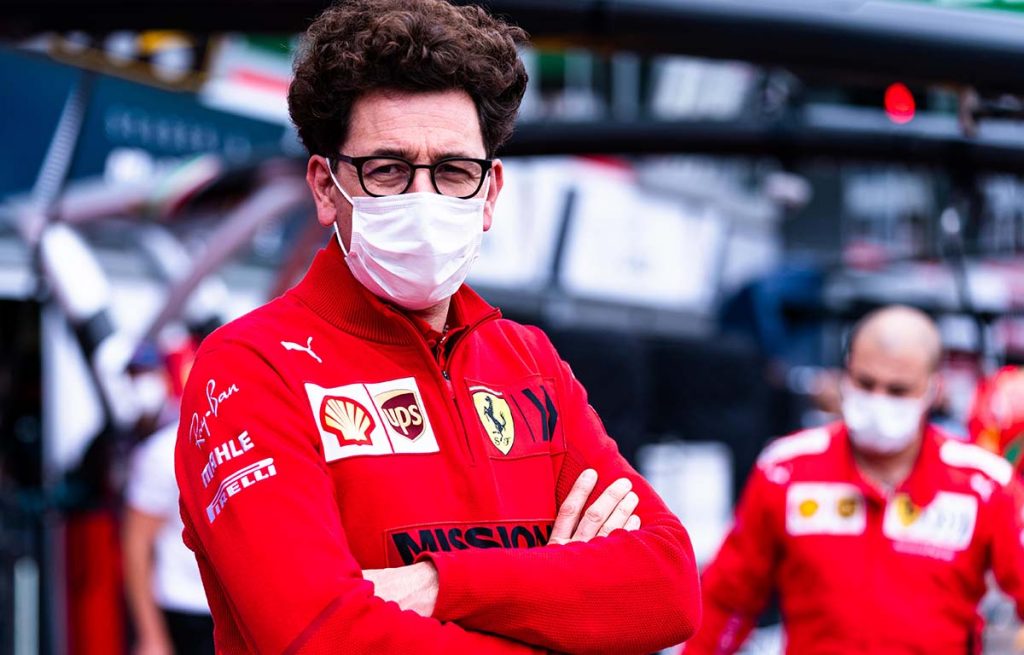 "It was not the best race from us," said Binotto after the Azerbaijan Grand Prix, in which Leclerc's team-mate, Carlos Sainz, finished eighth. "I think we were expecting something better after the qualy.
"It was a difficult race, we were not perfect in many areas. The result is what it is, as usual it is a lesson learned. There are things we can improve, I'm sure of that.
"I think there are still two [different] cars ahead of us that are stronger, no doubt. It was great to have pole position in Azerbaijan and Monaco, but I don't think that is reflecting our true performance overall.
"But we are progressing, because we are learning the car, exploiting it better than at the start of the season and we know there will be some developments coming in the future.
"Overall, I think that's where we are, and on Sunday I think we were hoping for a better pace overall having seen the qualy."
It is still a significant step up on last year, however, and Binotto is perfectly willing to look on the bright side of his team's progress.
"Overall, it was still a good weekend and we should keep our heads up and [be] positive," he added. "We had a pole, which I think was outstanding, second pole in a row, showing the progress of the team and the car.
"And we are third in the Constructors' Championship – it's only by two points but it shows we are progressing.
"I think there are positives from the weekend but certainly at the end, things to be learned.
"Now we have three races in a row in the next weeks. Certainly the team will be focused, positive and try to do better in the future."
Follow us on Twitter @Planet_F1, like our Facebook page and join us on Instagram!