'Mattia Binotto was finished at Ferrari when he waved his finger in Leclerc's face'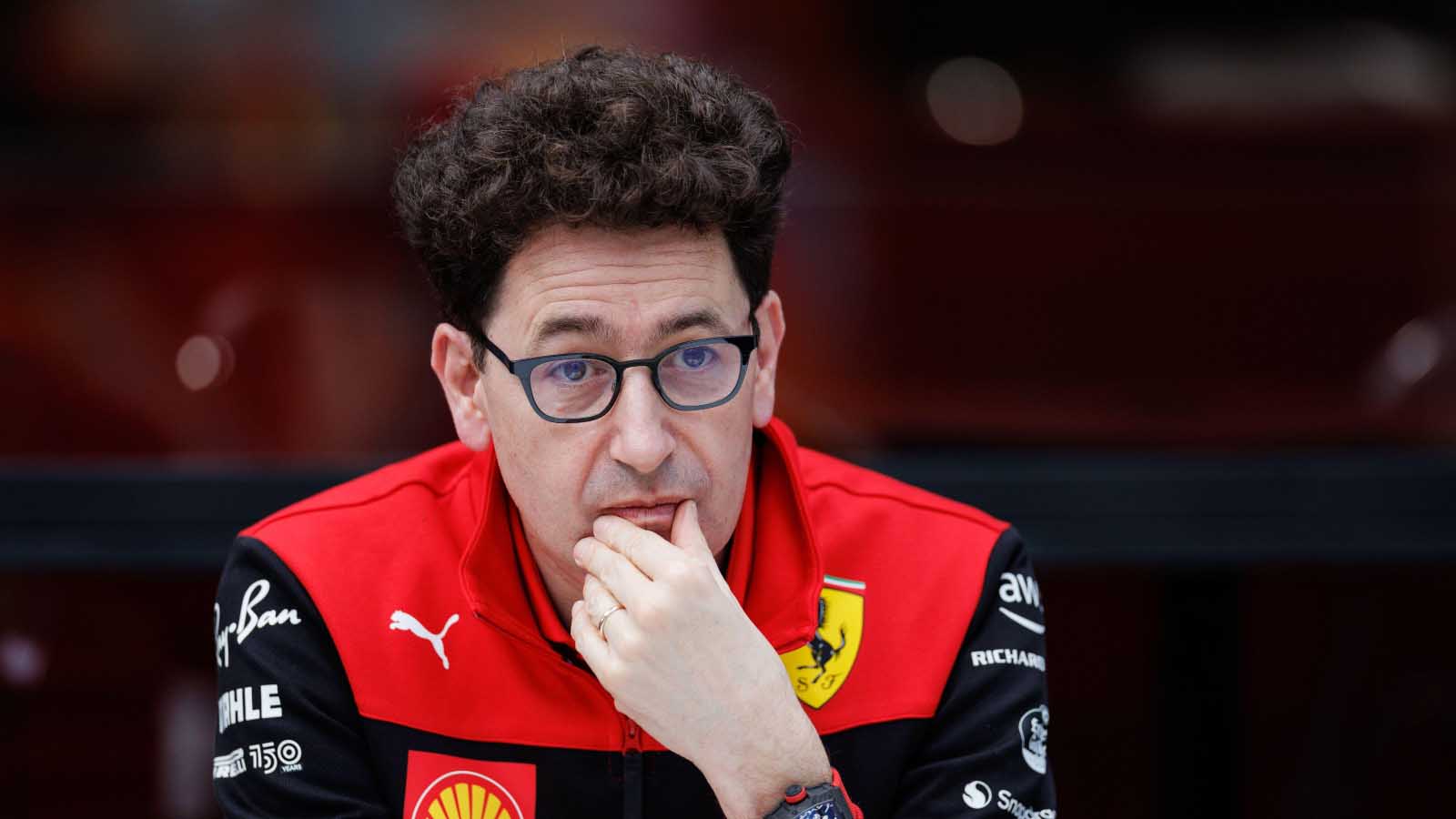 Former Ferrari team manager Peter Windsor believes Mattia Binotto was heading for the exit at Maranello from the moment he confronted Charles Leclerc at the end of last season's British Grand Prix.
Binotto resigned from his position as Ferrari team principal at the end of 2022 after the team's mid-season implosion, with the Swiss-born Italian replaced by Frederic Vasseur for 2023.
The tensions within the team spilled over at the British GP at Silverstone, where race leader Leclerc was left out on old tyres during a late Safety Car period and finished a distant fourth. The race was won by team-mate Carlos Sainz, who claimed his maiden F1 victory after pitting.
Cameras captured Binotto waving his finger in Leclerc's face in parc ferme shortly after the race in what became the defining image of Ferrari's faltering title challenge.
Speaking via his Twitch stream, Windsor has claimed that was the moment Binotto began to lose his grip on the role of team principal.
He said: "I think it all came to a head when Charles inexplicably was left out to dry in the closing stages after the restart at the British Grand Prix. He [was] the only one on old tyres and he just got swamped. He should have won that race.
"And, obviously livid, he was having a go at everybody – particularly Mattia, I guess – on the radio on the in-lap and when he got out of the car in parc ferme, Binotto did this finger movement to Charles Leclerc like, 'don't you speak like that, I'm the boss here.'
"That's not right. And at that moment, I have to say, I thought, 'well, this guy's days are numbered' because there's no way against a force like the energy that is Charles Leclerc, and how good he is ultimately, you don't wag your finger and say, 'don't talk like that' particularly if Leclerc has been hung out to dry."
Windsor pinpointed two key areas where Binotto failed in his role as team principal, claiming he was fortunate to survive the 2019 controversy surrounding the legality of the team's power unit and did not have enough control of the team's race operations in 2022.
"He kind of got in by default, almost like a temporary team principal. Nice guy, quite a soft person in general. You can go up and chat to him, he's a good bloke and he's quite a caring person, I think.
PlanetF1.com recommends
Five biggest headlines from Fred Vasseur's first media briefing as Ferrari team boss
Top 10 greatest Formula 1 seasons to end in Championship heartbreak
Michael Schumacher's 10 iconic Formula 1 grand prix victories
"But for me there were two major things that were a problem with him. One was obviously his engine drama, they were found to be basically cheating and that was ultimately his responsibility because he was the engine guy. And yet he kept his job, which is a bizarre thing.
"I suppose if you look back now, you could say he probably kept his job because if Ferrari had fired him then, it would have been admitting that they really had been cheating so they took their rap on the knuckles and continued.
"He didn't really have proper delineation of management control between the strategy group and the race performance group, including the drivers and that always seemed to be a mismatch.
"There's a group of three relatively young engineers who do the strategy at Ferrari and they seemed to have far too much power to overrule the race engineers at various moments, [the] classic example being the Hungarian Grand Prix when they kept Leclerc on the hard tyre.
"I think that was maybe something Binotto couldn't feel or just didn't see, or maybe by last year he'd got enough people on his side who were Binotto guys and enough people who weren't really very comfortable with Binotto's leadership and they were on the other side of the fence and that probably built up as well.
"That was exacerbated by Binotto being much closer to Carlos Sainz than he was to Charles Leclerc. That's a great thing for Carlos Sainz; it was a difficult [and] annoying thing for Charles Leclerc, who in reality and in my opinion is a faster driver anyway.
"He's got a bigger vocabulary in terms of what he can do with the car, particularly in race conditions and particularly under pressure in the closing moments of qualifying."
Vasseur is the fifth different man to become Ferrari team principal since the Scuderia last won the Drivers' Championship, with Windsor backing the former Alfa Romeo boss to do a good job.
"All that will go with Freddy Vasseur. Freddy's bright enough to know how good Charles Leclerc is, I'm sure he is, and he will have a very, very logical management structure.
"He'll have good people doing the right thing. He'll have the round peg in the round hole and that's what Freddy does really well. That's what he is, he's a logical racing person.
"I think it's a big thing for Ferrari, because they want it to be a big thing in a way of getting rid of everything that maybe came between Ferrari and winning a Championship in 2022.
"I'm not convinced that it was a managerial thing completely."