Leclerc's attitude praised after Monaco heartbreak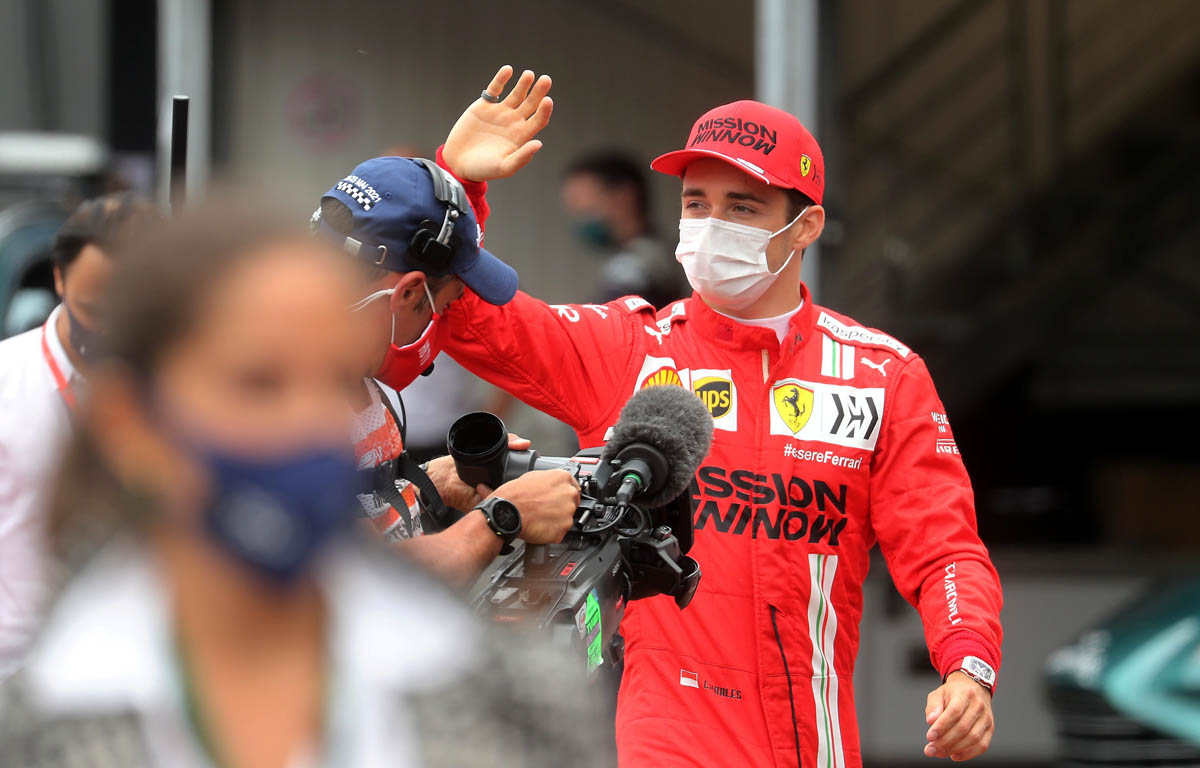 Ferrari team principal Mattia Binotto praised Charles Leclerc's attitude after he was unable to start his home race from pole on Sunday.
The Monegasque driver had a hefty impact out of the second part of the Swimming Pool section in qualifying in Monaco, earning himself pole position in the process having been top of the timesheets at that point.
Having hesitated over changing Leclerc's gearbox, which would have carried a grid penalty, a separate problem with his left driveshaft ultimately ruled the Ferrari driver out of the chance of winning his home Grand Prix.
Rather than heading back to his apartment however, the 23-year-old stuck around with his team, signed autographs for fans and congratulated team-mate Carlos Sainz as he finished on the podium and brought the Scuderia to within two points of McLaren in the Constructors' Championship.
Leclerc's actions drew praise from throughout the Formula 1 community, having shown his class on a human level to face up to adversity and work with his team – something which pleased his boss at Ferrari.
"I'm glad you stress that," Binotto told Sky Italy when Leclerc's presence at the podium ceremony was brought up. "He [Leclerc] went to search for him [Sainz], he stayed under the podium with us. So this proves the right attitude, and this must make us proud.
"You build these attitudes, they are not taken for granted. But it's exactly the right attitude. The team is young, wants to grow, to do well together, and to build.
"The team kept being united even with the difficulties of last year. And who was inside the team could see that first hand. Then the choice of the driver, of Carlos, is to create a solid team.
"We saw Charles below the podium, this is all positive from this side. We still have steps forward to take, to learn from the mistakes, today we made one. It's fine to make mistakes, but you have to understand the solution so they won't happen again."
Charles Leclerc was a class act following the heartbreak of not being able to race on Sunday.

He still went to honour the national anthem, stayed to support the team, went to congratulate Carlos and was still signing autographs long after the race had finished ❤️ #F1 pic.twitter.com/etGvypPllk

— Planet F1 (@Planet_F1) May 24, 2021
Show your support for Charles Leclerc with his official merchandise collection on the Formula 1 store
After McLaren also had a mixed weekend, with Sainz's former team-mate Lando Norris standing one step below the Spaniard on the podium, Daniel Ricciardo finished a lap down on his team-mate and down in P12 on a frustrating day for the Australian.
So despite Leclerc not starting the race, Ferrari were still able to close the gap to the Woking-based team in front of them in what looks set to be a season-long battle in the Constructors' standings.
However, Binotto believed the team had higher ambitions with their pace throughout the weekend in Monaco.
"We gained [a] few points, but we could gain much more," Binotto continued.
"Then the pace today was better than Bottas' with Mercedes. Charles for sure could fight for the win against Max with a good start. So the victory was within his reach.
"Then in hindsight it's useless, we had a reliability problem. I repeat maybe it is not a consequence of the qualifying crash, we'll analyse and we'll understand."
Having shown a much faster turn of pace on a circuit which requires a unique specification, Ferrari proved their car has very strong downforce, which Binotto believes can put the Scuderia in a position to fight for more podiums and victories in the future – but erred on the side of caution when discussing the team's chances of immediate success.
"It's a Ferrari that can give satisfaction on specific tracks," he stated.
"Then we'll try to improve it. For us it's important to build for the medium-long term, for the future. And don't look at the single race, but to open a winning cycle in the future.
"We need patience and time, but you build step by step and the result is useful in this direction.
"This weekend we had the potential to win. Nobody expected we could come to Monaco with the potential to win, neither did we. It's nice to see we're going in the right direction.
"From the wind tunnel and the simulator we knew we could do well on this track, we didn't expect we could win, but to do well yes."
Additional reporting by Luca Brambilla
Follow us on Twitter @Planet_F1, like our Facebook page and join us on Instagram!