'Mattia Binotto would not have lasted so long if he was in another sport'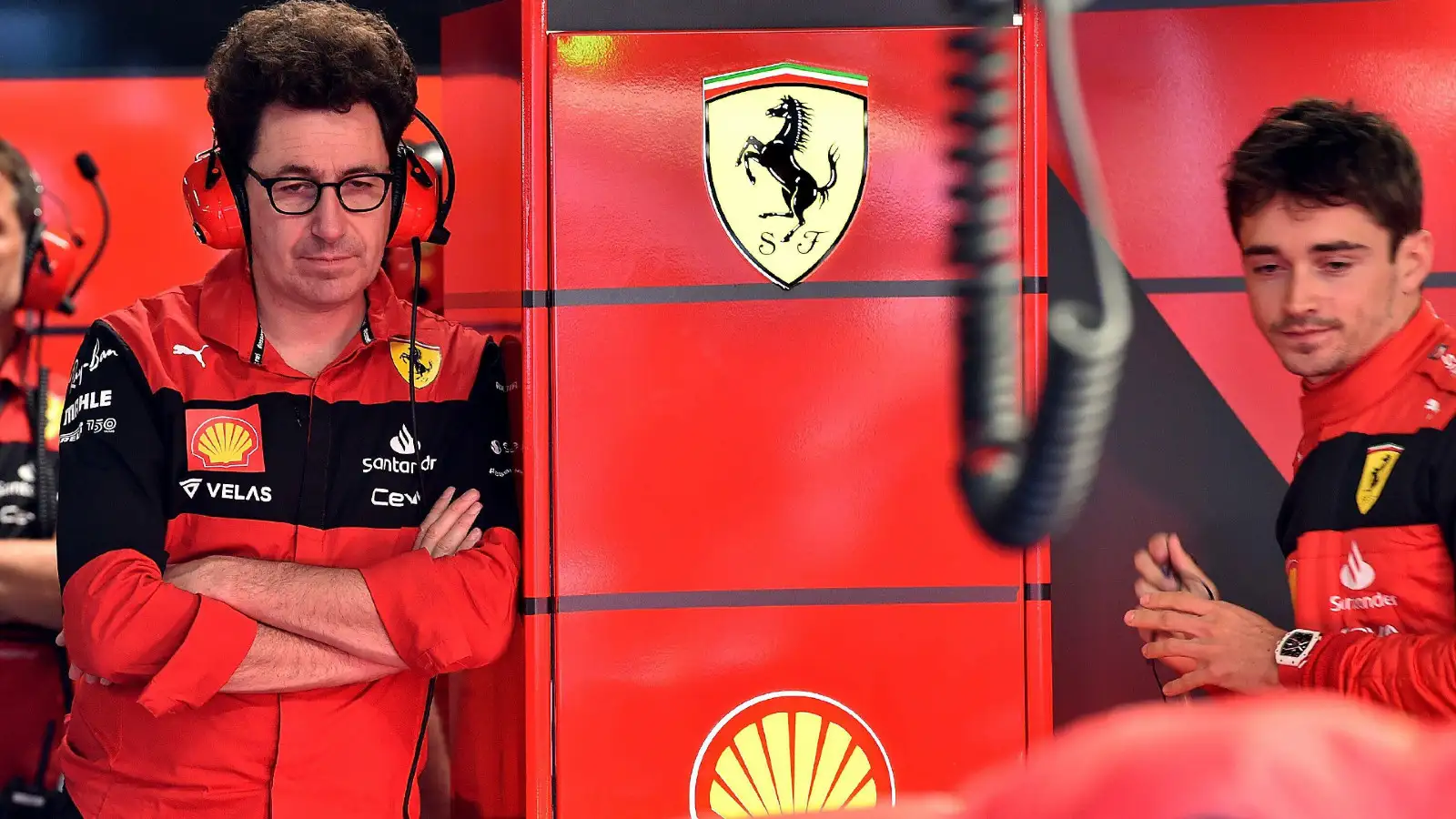 Speculation that Charles Leclerc's camp had a hand in Mattia Binotto's resignation is wide of the mark because drivers don't have that "much power", says Naomi Schiff.
Despite denying reports Binotto was on his way out of the door just two weeks ago, Ferrari announced on Tuesday that the Italian had handed in his resignation.
It brought to an end a relationship spanning almost three decades, Binotto having started out in the Scuderia's engine department before becoming its head and later team principal, a role he has held since 2019.
There is, as to be expected, a great deal of speculation as to why the 53-year-old has decided now to quit with the general consensus being it was a case of jump rather than be pushed. As for where the push was coming from, that, it is being speculated, was partially from Leclerc's camp.
According to reports the Monégasque driver and his team were not happy with Binotto's refusal to back him and him alone in the 2022 title race, their annoyance reaching fever pitch when Carlos Sainz was given the preferred strategy at the British Grand Prix and Leclerc went from leading to P4. Sainz won the race.
It was suggested at the time that was a power play by Binotto, but it's now being said while he won that battle, Leclerc has won the war with the Italian on his way out.
Schiff, though, has rubbished the mere suggestion that a driver has the clout to dismiss a team boss even if he is unhappy with how things were handled.
"I don't think drivers have as much power as that," said the Sky Sports' presenter.
"I think they can let their disappointments be known but he has come out since Mattia's resignation in support of him to say he has never lost respect for him despite the year they had.
"So I don't think it comes down to Charles Leclerc, there are some forces higher up in Ferrari that expect more what they were given this year."
The former W Series racer also weighed in on the fact Ferrari are now seeking their fifth team boss since Jean Todt handed the reins over to Stefano Domenicali at the end of 2007, the last year Ferrari won a Drivers' Championship title.
According to Schiff, had Binotto been team boss in any other sporting platform he would have been long gone.
"I think it's a tough question," she said when asked if Ferrari's decision to swap team bosses again would have a negative impact.
"If you look at football they replace coaches and team principals a lot more often then they do in F1.
"Mattia Binotto would not have lasted as long as he did if he was in another sport.
"So you have to argue if it's not working maybe make a change. But at the same time you want to build momentum, you want to build a formula that people know what to expect and history within a team."
The poisoned chalice that is the Ferrari team boss seat
It is quite simple actually, there's not confusion about it, it's a case of win or lose your job. That's the Ferrari mantra.
Jean Todt was, by Ferrari's standards, the last successful team boss. He won five World titles with Michael Schumacher and one with Kimi Raikkonen.
Stefano Domenicali managed a Constructors' in his first year but resigned when it became apparent the Drivers' wasn't happening, while the less said about Marco Mattiacci's year, the better.
Next up was Maurizio Arrivabene but he, it's been claimed, didn't get on with Ferrari president Sergio Marchionne so his P2s didn't matter. In fact Sebastian Vettel's failure to win the 2017 and 2018 World titles probably the last straw.
And then came Binotto.
In his four years there hasn't been a title tilt. What there has been was an engine scandal, keeping in mind he was in charge of the engine department prior to his promotion, two years without a single race win on the board, and one year in which promise and hope were blighted by reliability and mistakes.
It's no wonder the poisoned chalice that is the Ferrari team boss seat is being passed onto the next. And maybe, if the rumours are true, having another Frenchman at the helm will repeat the success of the last French Ferrari team boss.
Read more: Mattia Binotto 'never had the support of John Elkann, already in talks with Audi'