Could a Max Verstappen title win be overshadowed for a second year in a row?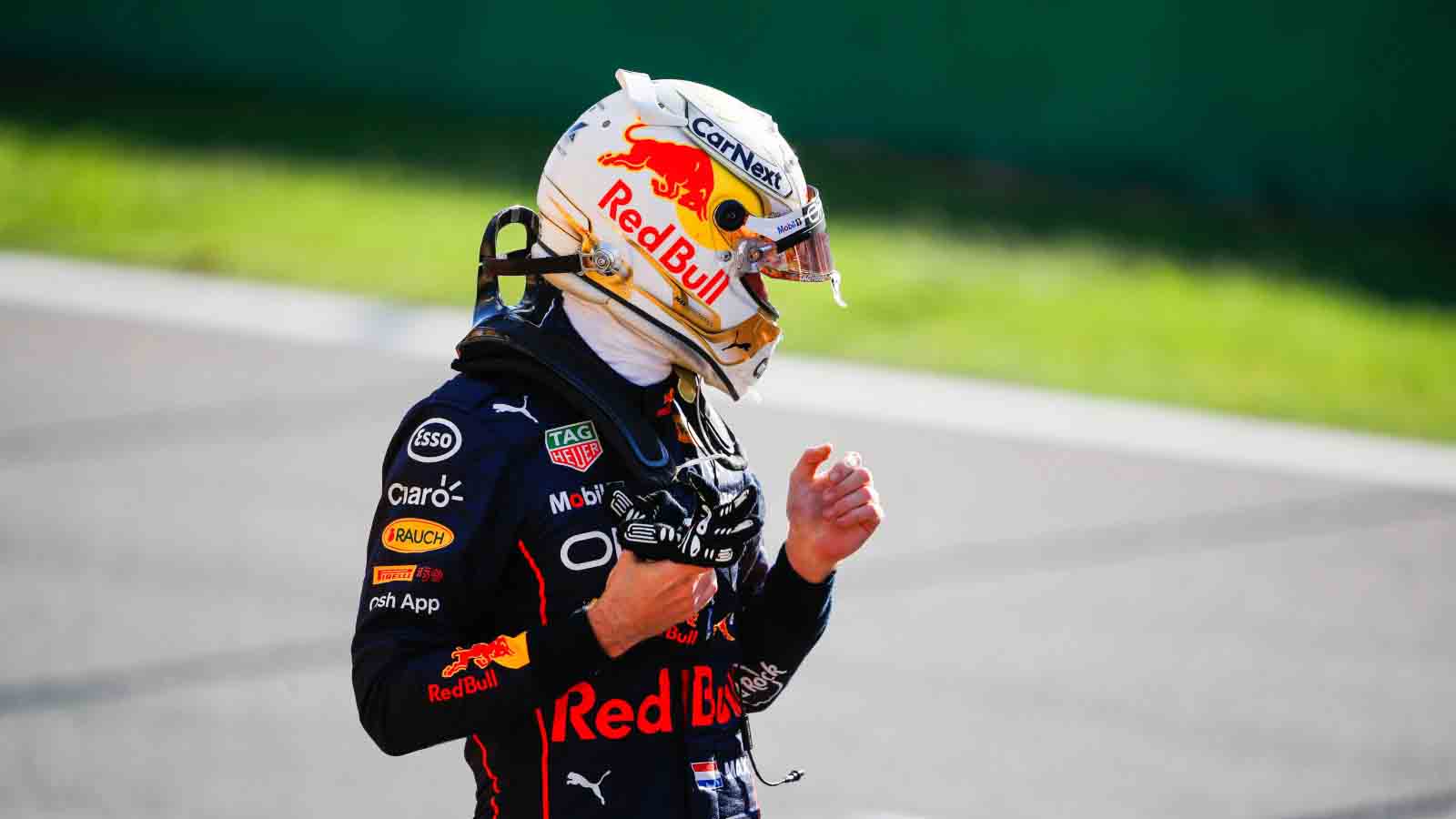 Max Verstappen has a realistic chance of winning his second World Championship at this weekend's Japanese Grand Prix, but the looming distraction of the FIA's cost cap reports could shroud what may well be a triumphant Sunday for the Red Bull driver.
Certificates of compliance had been due to be awarded by the FIA for every team's accounts for the 2021 season, with audits set to be complete under a budget cap for the first time in Formula 1.
The results of the FIA's findings had been scheduled for release on Wednesday, but a statement from the governing body confirmed that Monday 10 October was their new target – citing a "long and complex procedure" ongoing around team finances.
They were at pains to point out that "there has been significant and unsubstantiated speculation and conjecture" about spending levels, with Red Bull and Aston Martin rumoured to have been possible overspenders in 2021.
Multiple reports have deemed that any breaches are likely to be minor, with Sky Sports' Ted Kravitz suggested paddock "mischief making" may have hammed up any possible rule-breaking, with suggestions since "watered down" about the two teams. Both teams deny spending more than the $145m allowed in 2021.
Nonetheless, the looming spectre of Monday's results will be looming in the background at Suzuka, whether the paddock likes it or not – in part because this is the first time such a report will have been published.
Going to miss this duo 🥲 #F1 pic.twitter.com/aa0MlLn0xJ

— PlanetF1 (@Planet_F1) October 5, 2022
This should not detract from the fact that the reigning champion, whose 2021 crown came in the most dramatic of circumstances last year, could feasibly wrap up this year's title with four races to spare.
The equation is a simple one. Should he earn a sixth win in seven races, and Charles Leclerc not finish second, Verstappen will be crowned World Champion. But in case other factors come into play, we've put together a handy guide for every scenario in which the Red Bull driver can take the title.
With Honda's logo set to re-appear on Red Bull and AlphaTauri's cars for the rest of the season, Verstappen wrapping up the World Championship could be a fitting reunion for the former partners as they retain their relationship while handing over to the Red Bull Powertrains operation.
But away from Red Bull, the fight for second in the Constructors' Championship took a big swing in favour of Ferrari at Singapore.
Mercedes had been steadily reeling the Scuderia in over recent races, but Mercedes' two-point return at Marina Bay, coupled with Ferrari's double podium, saw the gap open out to 66 points – making Ferrari heavy favourites to hold onto that position.
As such, Lewis Hamilton and George Russell will be hoping to get back on form after a tough weekend last time out. Hamilton had recorded his first top-three start of the season, but sliding into the barrier at Turn 7 stopped his charge and dropped him down to P9, admitting everything "went out the frickin' window" after that.
With nothing to lose while outside the points, Russell tried to lead the way in switching to dry tyres, but he recorded his first race finish outside the top five in 2022.
Toto Wolff said Mercedes' pace may struggle more compared to their Singapore showing, given the sweeping, fast layout at Suzuka.
Another team looking to make amends for a tough weekend last time out will be Alpine. After starting in the top five, an engine failure for Fernando Alonso and a retirement for Esteban Ocon saw a big swing in the fight for P4 in the Constructors' standings, with McLaren separately hoping to keep up their momentum from last weekend – with both drivers having finished in the top five at Marina Bay.
Alonso loves Japan and wants to finish on a high with Alpine, perhaps a repeat of his masterful overtake around the outside of Michael Schumacher at 130R may be off the cards for a top placing, but the team need to get back to form quickly, if they are to re-pass McLaren in the Constructors' table.
On board for an overtake for the ages at 130R from @alo_oficial back in 2005 😍#JapaneseGP 🇯🇵 #F1pic.twitter.com/oDR0f0Y2yq

— PlanetF1 (@Planet_F1) October 4, 2022
But the biggest mover in terms of places in the Constructors' Championship in Singapore were Aston Martin. A season-best P6 finish for Lance Stroll along with Sebastian Vettel in eighth saw them leapfrog both AlphaTauri and Haas in the standings to take seventh.
Having lagged behind for much of the season, the Silverstone team could be finding form at just the right time before the end of the year.
They may still have hope yet of catching Alfa Romeo, whose lean spell continued with Valtteri Bottas falling just shy of scoring his first point since Canada, with Zhou Guanyu's point in Italy being the team's only score since Montreal back in June.
Their 15-point buffer to Aston Martin may not be enough over the final five races, so they will need to take matters into their own hands in Japan to try and ease that pressure.
With Aston being the big movers, the onus switches to Haas and AlphaTauri to step up. Yuki Tsunoda will be in a celebratory mood as he finally gets to race in his first home grand prix.
Meanwhile, Pierre Gasly may be celebrating himself if his long-rumoured move to Alpine comes to fruition by the time the weekend comes around – with Nyck de Vries set to take his place at Red Bull's junior squad.
Haas are on a similar run to Alfa Romeo in terms of their points tally stalling, without a point in six races and in need of a strong performance, with Mick Schumacher continuing to fight for his future with the team and potentially Formula 1 itself.
A double retirement for Williams was symptomatic of their weekend as a whole, with confirmation coming that Nicholas Latifi will be leaving the team at the end of the season, before failing to notice Zhou in his mirror at Singapore, taking both drivers out of the race.
Alex Albon will likely be closer to full fitness again, after going through a tough recovery process to be ready in time to race in Singapore, but will be looking to impress at Suzuka.
Regardless of the rest of the field, all eyes will be on Verstappen as he looks to complete his quest for a second World Championship in front of a fervent Japanese crowd, as Suzuka returns to the calendar after a three-year wait.
Read more: FIA delay 2021 budget cap report and dismiss 'baseless' rumours