Max's RB16B damage stands at 'three quarters of a million'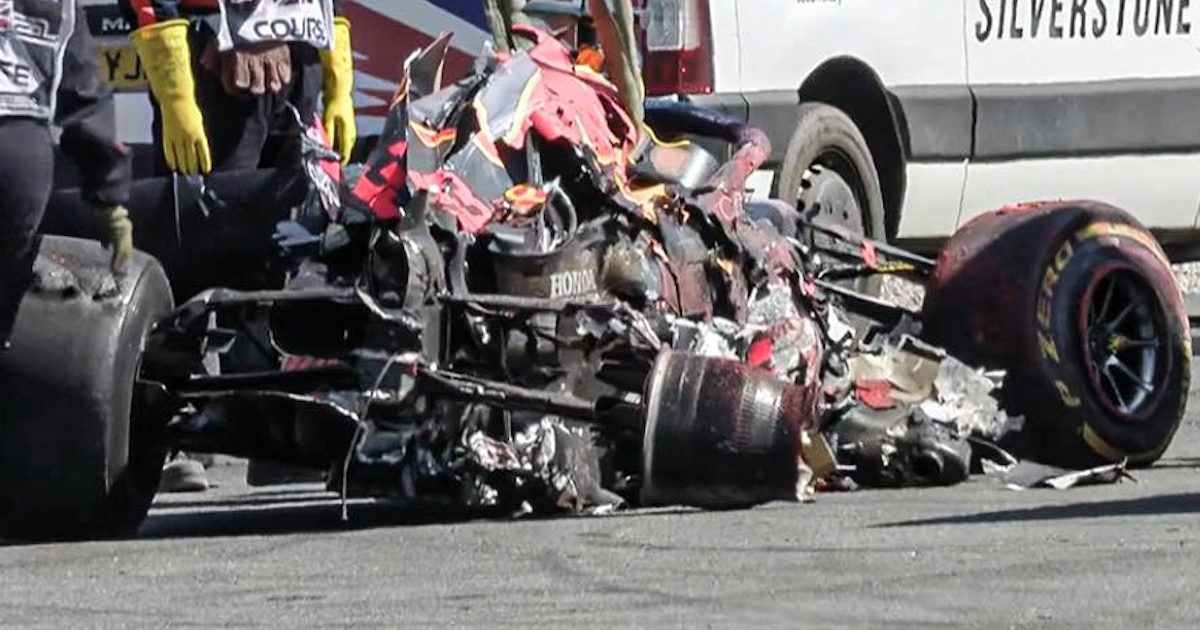 Max Verstappen and his engine survived his 51G crash at the British GP, but the damage to his RB16B will set Red Bull back "three quarters of a million euros".
That's the estimate from Red Bull advisor Helmut Marko.
Verstappen was involved in a high-speed crash at Sunday's British Grand Prix, hit by Lewis Hamilton as the Mercedes driver tried to take the lead off him into Copse.
The Red Bull driver went screaming through the gravel trap, hitting the tyre barrier at 150mph with the impact said to be 51G.
Here's a fans' eye view of just how fast Max was travelling when he crashed…

The silence from the crowd says it all, we're just glad he's okay 😬#BritishGP 🇬🇧 #F1 pic.twitter.com/riTFTjBjcd

— Planet F1 (@Planet_F1) July 19, 2021
He thankfully walked away with nothing more severe than bruises and a sore neck while Honda believe his engine can be salvaged.
What won't buff out, though, is the car.
His RB16B was wrecked with Marko estimating the damage to be around 750,000 Euros.
"As things stand," he told RTL, "it is about three quarters of a million euros, although the engine situation is not quite clear yet."
That's 750,000 Euros that Red Bull will have spend building him a new car, money that the team would have rather sunk into developing this year's car or designing next year's all-new Red Bull.
Marko added: "Especially in times of the cost cap, it is a significant amount and hurts us."
Check out all the latest Max Verstappen merchandise via the official Formula 1 store
And that's not taking into account the financial loss the team could face if his Silverstone DNF is the difference in their battle with Mercedes for the championship titles.
The good news, though, is Verstappen is "okay", suffering with "only a bit of neck pain".
Marko says he will be back in the car come next weekend's Hungarian GP, just not that car.
"Unfortunately not in that car anymore since it's completely damaged," he said. "But you will see a very motivated Max in Hungary."
Having arrived at the British Grand Prix with a 32-point lead in the Drivers' Championship, Verstappen is now just eight points ahead of Hamilton.