Max Verstappen addresses Adrian Newey praise: Good drivers make the difference
Red Bull's Max Verstappen has responded to Lewis Hamilton's praise of Adrian Newey, after the Mercedes driver singled out the RB18's design chief for Red Bull's current success.
Verstappen has said that an "exceptional driver" makes all the difference, even when given race-winning cars, after Hamilton praised Newey for Red Bull's RB18.
At the beginning of the new regulation cycle in 2022, the RB18 has emerged as the car to beat as the season has developed, with the car designed by technical director Pierre Wache and chief technical officer Newey comfortably leading the Constructors' Championship.
Speaking after Red Bull clinched a dominant 1-2 at Spa-Francorchamps, Hamilton praised Newey and said the legendary designer "doesn't build bad cars".
Hamilton pointed out that Verstappen isn't struggling over bumps, with the Red Bull enjoying 'great ride quality' and said: "I know he [Newey] did his thesis on ground-effect floors. It's no surprise, to be honest. He's one of the only ones that draw by hand, the design of cars.
"So his understanding there has definitely been an advantage to them and they have done a great job."
Max Verstappen responds to Lewis Hamilton's comments
Verstappen was asked about Hamilton's comments after winning the Dutch Grand Prix, with the question being put to the reigning World Champion about whether anyone could have dominated the season in the same fashion with such a car under them.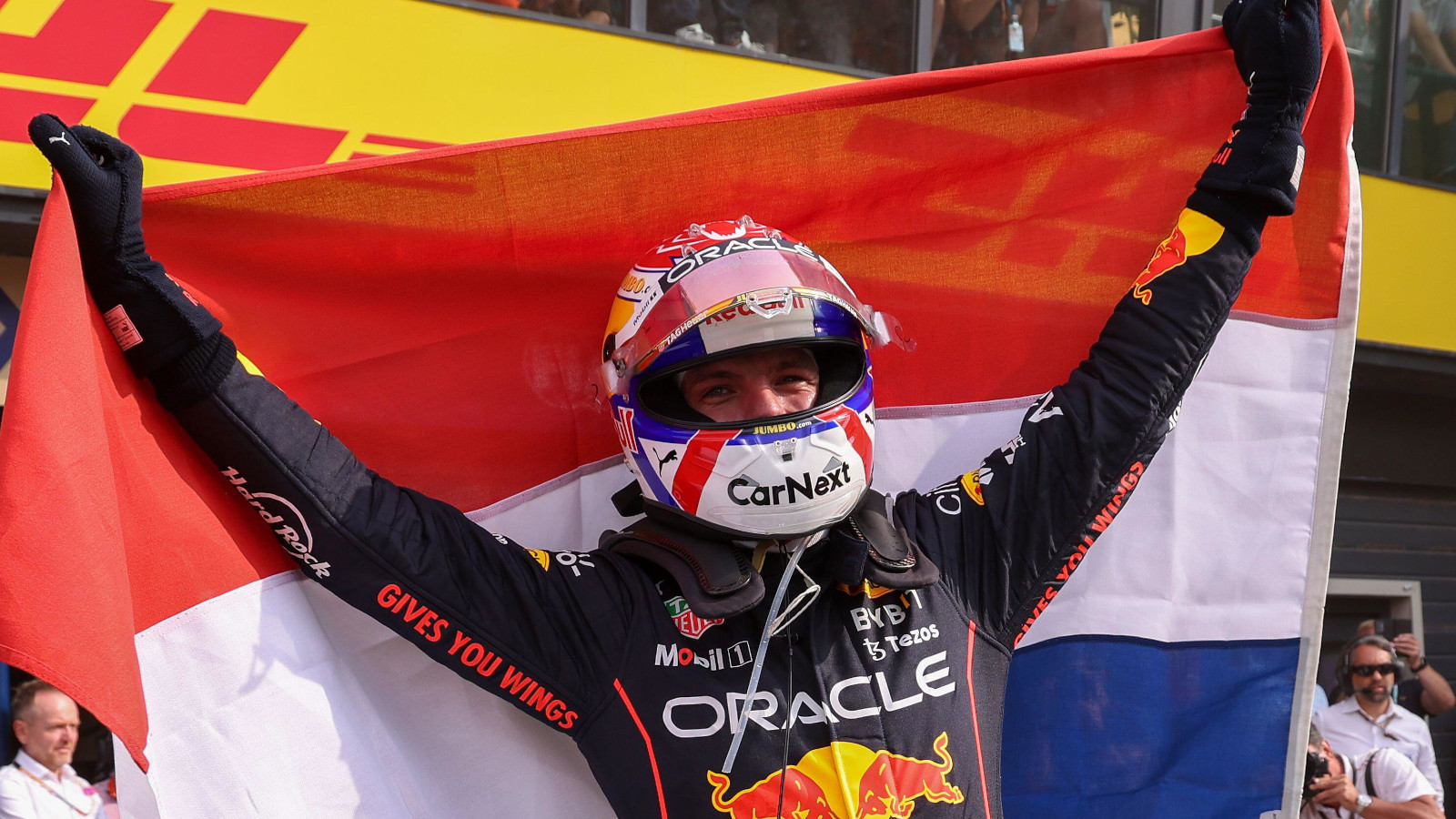 "There's a lot of that is down to the team, of course, as also how Lewis won his championships," Verstappen responded.
"That's how it goes in Formula 1. Your car is super-important, but I think when you're an exceptional driver like, of course, Lewis is as well, you make a difference over your team-mate at the time, because in very crucial races as well.
"For example, for me, I think one that stood out as well for him, was Turkey [2020], when it was very slippery – just staying calm, not making mistakes.
"You end up winning a race like that and that's what, at the end of the day, good drivers do. They do make the difference compared to other fast drivers but not as good. So, yeah, the car is very dominant in Formula 1 but of course between team-mates, only one can win, and that's where you have to make the difference."
RB18 has 'no real weakness'
With Verstappen having won 10 races of the 15 so far in 2022, on a wide variety of circuits, the Dutch driver believes there are very few circuits at which the RB18 can't compete.
Asked whether the car has any weaknesses that he's identified, he said: "Not real weaknesses but we know at some places where we are stronger than others, we know on a high downforce track that it's a bit of a more difficult situation to get the best out of our package.
"But I think if you look at the whole season, of course, you have more tracks with kind of medium downforce levels and I think our car is very efficient. So that's why I think we're all looking forward to Monza."
Max Verstappen: Red Bull are always trying to improve
With Verstappen seemingly finding a new level of performance this year as he has left everyone in his wake, he was asked about whether he has the same intensity and will to win as he did during his maiden title battle last season.
"It's a whole team effort, you know, and the intensity is different," he admitted.
"It's also a completely different season. But I think I don't need to tell anyone in the team, the motivation we have, to always try to improve and to win races, even when we win races, we still want to do better.
"And also, today we will look at a lot of things that we can do better but I think that's what you always need to have, that kind of approach, always wanting to do more, wanting to do better, because that's how you stay on top because if you stand still, of course, people at the end will overtake you."