Max Verstappen passes on his advice to under-pressure Nyck de Vries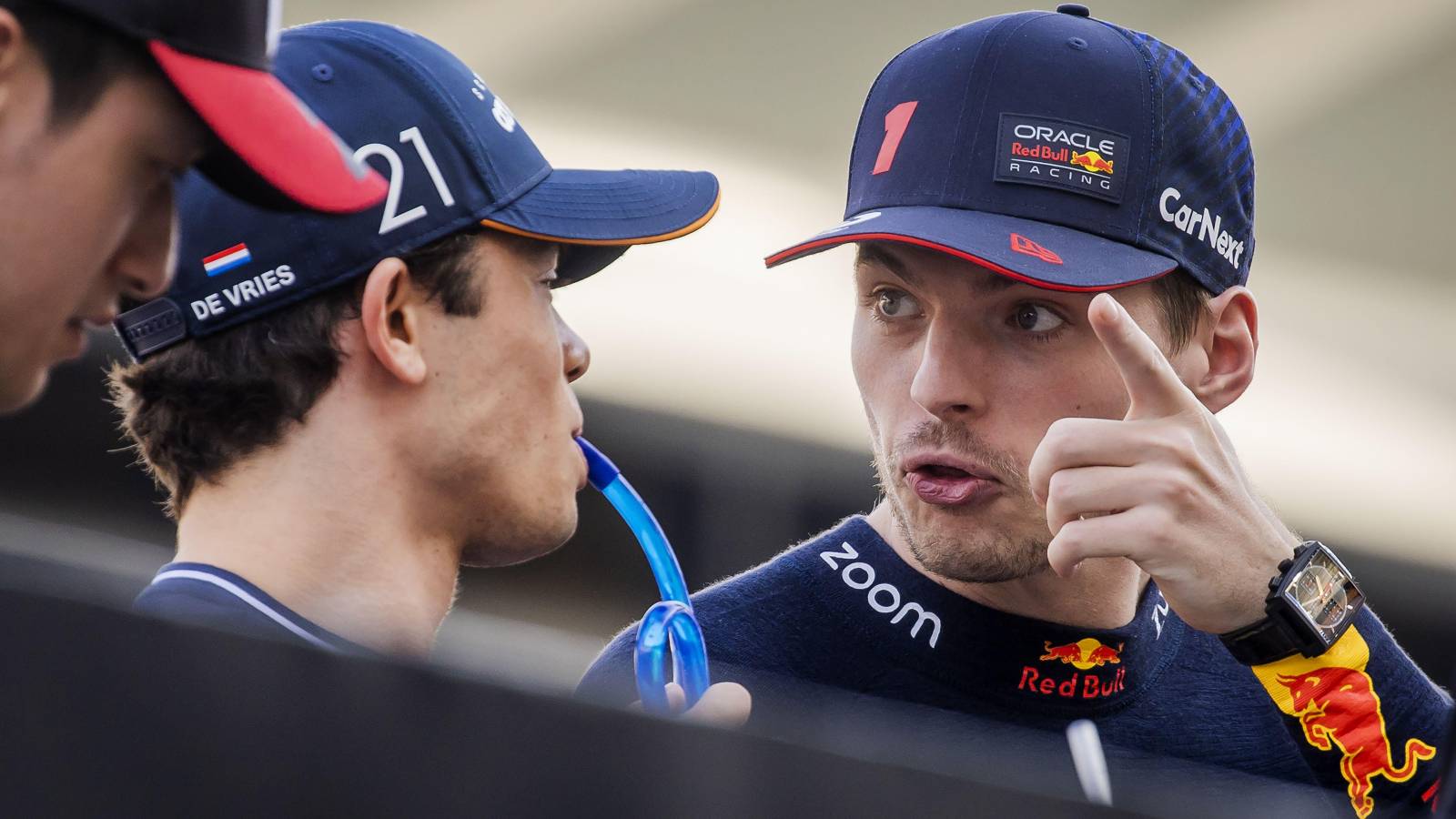 One Dutchman is flying in Formula 1 right now, the other not so much, and so Max Verstappen has been advising Nyck de Vries not to "overcomplicate things" in these difficult early stages.
There was great intrigue surrounding De Vries when he joined the F1 grid full-time for F1 2023, the former Formula 2 and Formula E champ picked up by Red Bull after a very impressive points-scoring debut at the 2022 Italian GP with Williams.
While Verstappen flies the flag for Red Bull, currently leading the Drivers' Championship in pursuit of title number three, De Vries has been assigned to their junior team AlphaTauri, partnering the younger but more experienced Yuki Tsunoda now into his third campaign.
De Vries though has not had the start many had hoped for in Formula 1, the Dutchman one of only two drivers, alongside fellow rookie at Williams Logan Sargeant, who is yet to score a point this season.
Errors like colliding with McLaren's Lando Norris last time out in Miami, while of course serving as rookie mistakes, have not helped De Vries' cause considering his extensive racing experience compared to most F1 rookies.
Verstappen though has said he has spoken to De Vries about this tricky start, and encourages his compatriot to "focus on the driving" and not make the task more complicated for himself than it needs to be.
Asked by reporters in Monaco if he gives De Vries advice on how to handle the F1 pressure, Verstappen replied: "No, I mean, there's not a lot to talk about. I mean, from his side, just focus on the driving.
"We are all under pressure to deliver and be at the best we can be.
"Of course when you're at the beginning of your career in F1, you want to start off really well and when that's not the case, I think by trying even harder it's not going to work.
"It's just focus on your job and try to learn, try to be better, but don't overcomplicate things. I've said this to him. He knows that and he knows it himself. So he just needs to get a good result, I think that will help a lot for him."
As for whether this is a discussion which takes place after every race weekend, Verstappen clarified: "Oh no, it's just when it comes up.
"Again, he knows what he has to do. It just needs to click and that hopefully will happen very soon."
PlanetF1.com recommends
Max Verstappen casts verdict on Mercedes running upgraded W14 in Monaco
Nyck de Vries admits to 'too many mistakes' amidst F1 career speculation
Since Verstappen admitted that "we are all under pressure to deliver", he was asked whether that means he too still feels the weight of that.
Verstappen explained though that the pressure he faces now is from himself, as he has already "completed" his Formula 1 career with two World titles, but wants to push himself to hit new heights.
"I put myself under the pressure to always perform," he said, "the rest, I think I've proven already enough that even if you have a few tough moments, that's not going to be a problem.
"And at the end of the day, I already completed my career in F1, so I'm not really under pressure from that side.
"But I always want to win more, and that's why I want to win more, I want to be the best I can be so that is from my side the pressure."
Verstappen will be searching for a fourth victory of the F1 2023 campaign so far as the drivers unleash their cars around the streets of Monte Carlo this weekend.