Max Verstappen makes Fernando Alonso prediction after Bahrain GP podium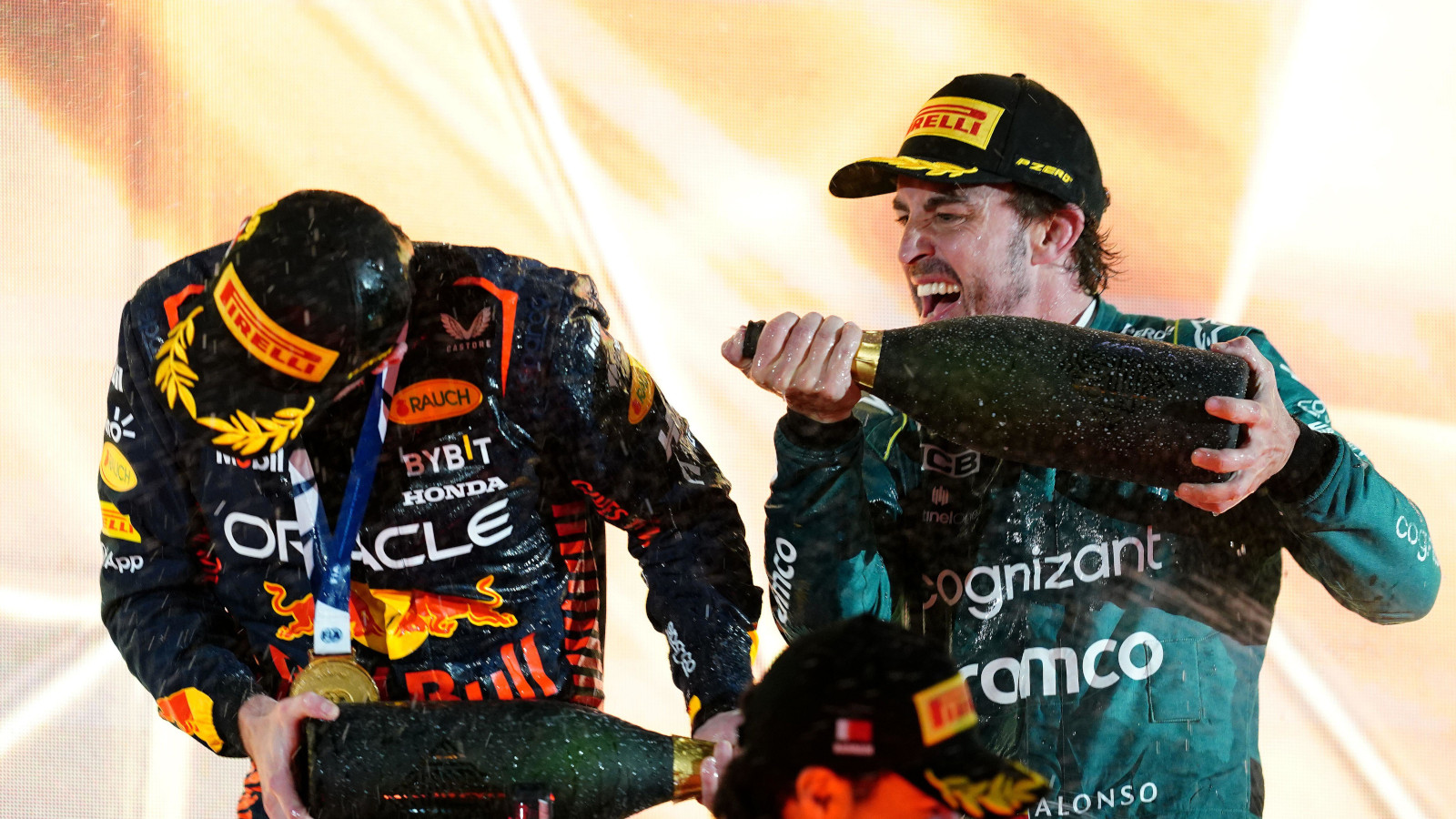 A decade after his last grand prix win, Max Verstappen is predicting Fernando Alonso will stand on the top step with Aston Martin before this season is out.
Aston Martin was the most talked about team during Formula 1's pre-season testing, the AMR23 not only setting headline-grabbing lap times but rivals said it made a "well-balanced impression".
But while the team made every effort to downplay expectations heading into the season-opening Bahrain Grand Prix, Alonso apparently didn't get the memo.
The Spaniard qualified P5, ahead of both Mercedes drivers, and raced his way onto the podium having won his duels against Lewis Hamilton and Carlos Sainz.
Red Bull's closest challenger on the day, and one Helmut Marko reckons could have been even closer had he not had to pass other drivers, Verstappen believes it's only a matter of time before Alonso is winning races.
"I hope so for Fernando as well because he has had a few years where there was not really a possibility to fight at the front," Verstappen, told media including PlanetF1.com in the post-Bahrain GP press conference.
"So I'm happy to see him sitting here already in race one. I think also again, I mentioned it before, but at Aston Martin they really have the spirit and drive.
"They want to win and they've hired a lot of good people. So I guess it can only get better for them."
PlanetF1.com recommends
Seven reasons why Max Verstappen's Red Bull F1 team are just so bloody good
Helmut Marko questions legality of Red Bull-esque Aston Martin AMR23
The complete driver and teams' standings after the Bahrain Grand Prix
'Difficult to say if they're going to challenge for the championship'
Alonso last won a grand prix back in 2013, the then-Ferrari driver beating Kimi Raikkonen to the line at the Spanish Grand Prix.
His wait for a World title has been even longer, Alonso unable to add to his back-to-back victories in 2005 and 2006.
Verstappen, though, stopped short of predicting a title challenge for Aston Martin.
"I think for this year, difficult to say if they're going to challenge for the championship, but race wins are definitely on the table," he added.
"I've been in the same position where some races I'm finishing 20 to 40 seconds behind the winners and you still win two or three races a year because sometimes there are some tracks which really suit your car and everything just comes together.
"You can win a race with maybe sometimes a bit of help or luck.
"But for sure they have a really strong package. And now of course it's all about developing it further."
Alonso: 'There are 22 opportunities this season'
As for Alonso, the new Aston Martin says he still has "22 opportunities" this season to secure a 33rd grand prix win.
Asked if a P1 was possible, the 41-year-old replied: "I would say yes because when you are P3 in race one, there are 22 opportunities this season.
"And even last year, I remember in Canada, wet qualifying, we were in the first row of the grid. You know, anything can happen in 22 races with different conditions.
"I will try my best to do have the opportunity. Maybe we need some help. Last year, we needed some help from the top teams just to get the podium.
"Maybe this year, if there is this help or there is some retirements in front of us or some problems maybe it's more than a podium. So let's hope for that."
Additional reporting by Thomas Maher