Max Verstappen didn't think Mercedes were beatable at the Bahrain Grand Prix, he does think Red Bull could have done more with strategy.
The Dutchman qualified P3, but having set a best lap which was four tenths slower than Lewis Hamilton's pole time, there was some hope that he could take the fight to Mercedes in the race.
But Hamilton would keep him at bay in the opening stages before really putting his foot down to create a gap that was larger than a pit stop near the end.
A late Safety Car which took drivers to the end of the race though meant that Hamilton ended up winning the race by just 1.254s over Verstappen.
But he felt that Red Bull could have been better in the strategy department and given Mercedes something to think about.
"We weren't strong on strategy today," said Verstappen, as quoted by Motorsport.com.
"Firstly we should have stopped earlier on that first run. We let Mercedes stop earlier, which I don't understand, so there they won two seconds or something over us.
"Then you have to try and close the gap on that hard tyre, which actually worked pretty good. So there I managed to retrieve one and a half or two seconds, in the beginning. Then you lose that again.
"We had that slow pitstop, and then we had a pitstop I didn't fully get. Of course, for the fastest lap it was fine, but it can always happen that someone else goes faster.
"Also because we had a red flag and a Safety Car, then a three-stop would never have worked anymore.
"I don't know why they did that. I'm not saying that we would have beaten them today, because we just didn't have the pace.
"But we could have done much better as a team on strategy."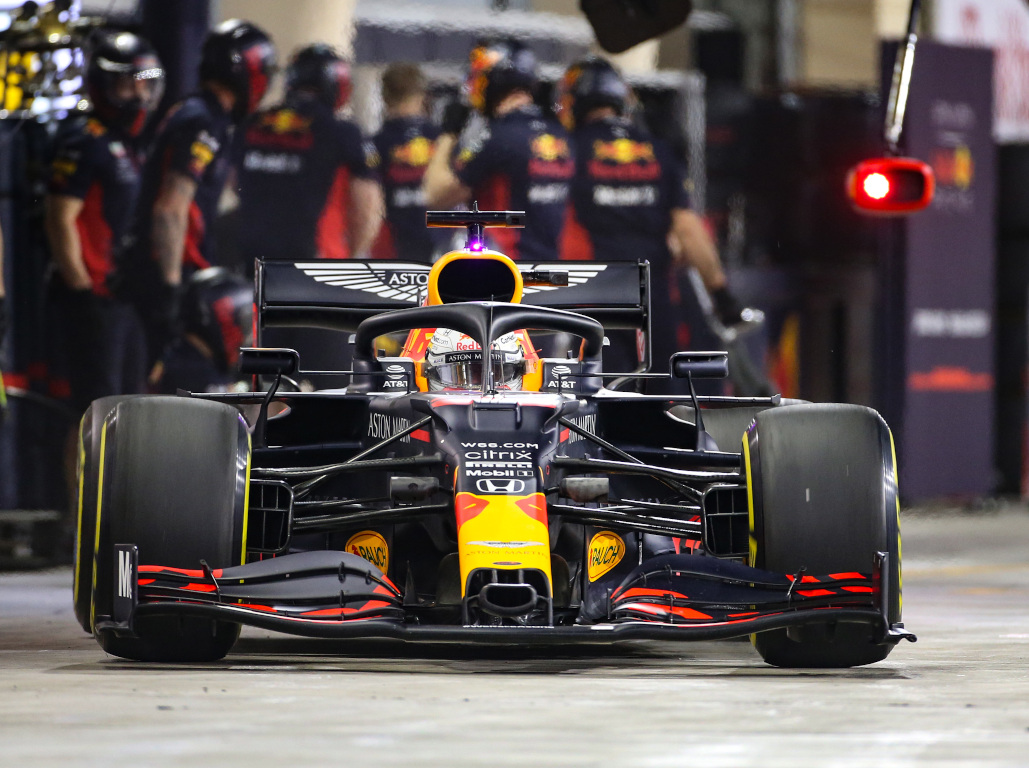 Get your hands on the official Red Bull 2020 collection via the Formula 1 store
When asked about Verstappen's comments, Horner said he wasn't sure what else Red Bull could have been expected to do, feeling that an earlier stop in the first stint would have left Verstappen stuck in traffic.
"The problem is that Lewis was just that little bit too quick," he admitted.
"Losing the first eight laps under Safety Cars and red flags, we went from what could have been an optimal three-stop more towards a two-stop.
"The field didn't spread out as much as you would have wanted in the first stint, because losing those eight laps, so if we'd have pitted, we'd have pitted into traffic.
"I'm not sure what else we could have done really. I think that if we'd have pitted a bit earlier on the first stop, he would have had a couple of cars to pass, and we wouldn't have been within the undercut. They would have been easily able to cover it.
"Unfortunately Mercedes just had that little bit too much pace and tyre life today."
Asked about the missed opportunity to switch Verstappen on to a new set of hard tyres under the Safety Car, Horner said: "We looked at that, but we were concerned about the start performance.
"Starting on the dirty side of the grid for the restart, we were concerned that we might give up further places rather than gain them.
"We did well to retain the position to Sergio [Perez] into the first corner. Our concern was by starting on the hard tyre, we'd give up a bit too much start performance."
Follow us on Twitter @Planet_F1, like our Facebook page and join us on Instagram!