Max not buying 'P2 better at Spa' theory this time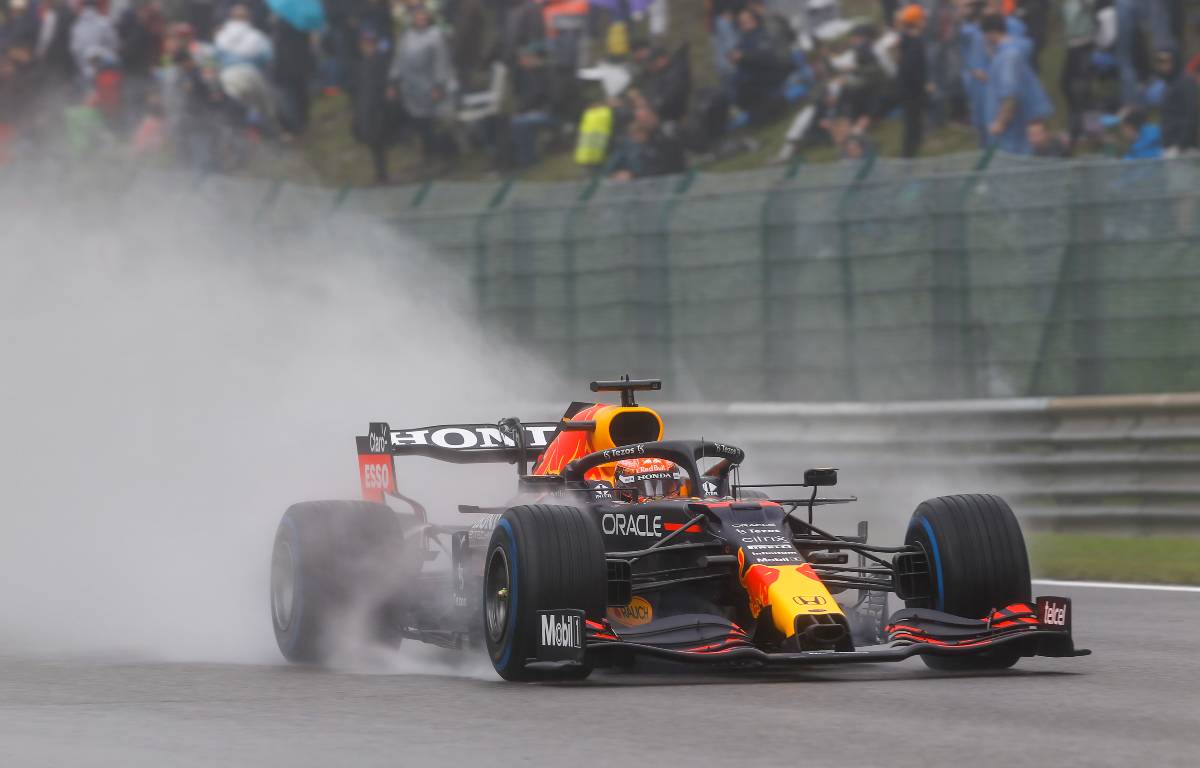 Max Verstappen insisted pole position was the best place to be when the Belgian Grand Prix is threatened by rain.
Some F1 pundits voice the opinion that P2 on the grid can be more advantageous, by following the pole-sitter up through Eau Rouge and then pouncing from out of the slipstream down the lengthy Kemmel Straight.
But while that may be of benefit in dry conditions, this weekend at Spa-Francorchamps has been distinctly the opposite – and the weather forecast now indicates the likelihood of rain during the race at more than 60%.
Therefore, Verstappen would not want to be following any other car, and is happy to be starting at the front with surprise package George Russell in the Williams next to him.
Lewis Hamilton, who leads the Dutchman by eight points in the Drivers' World Championship standings, is third on the grid alongside Daniel Ricciardo.
"It would be a bit weird to try and target second or third," said the Red Bull driver. "If it's wet, I prefer to start first because at least you have clear vision.
"I just need to have a clean start and from there onwards, there will be so many different things throughout the race. We just have to try and stay on it."
After two miserable races in Britain and Hungary where he lost his big World Championship lead through no real fault of his own, Verstappen was pleased to have picked up again in top form straight after the summer break – airing his "simply lovely" catchphrase on his 'in' lap having secured pole.
POLE ⚡️ Simply lovely 🤘 Spa is an amazing track, but super challenging and tricky in the wet. Superb job, thanks @redbullracing and @HondaRacingF1 💪 Also thanks to the Orange Army for the support out there 🧡 #KeepPushing #BelgianGP 🇧🇪 pic.twitter.com/CJ49USzroa

— Max Verstappen (@Max33Verstappen) August 28, 2021
F1 TV Pro is half price for two months! In order to claim this fantastic discount, click the following link and use the promo code SPA50 at checkout!*
*Offer expires at 23:59 on Sunday, August 29. Offer only available on Pro. Customers will need to take out a monthly subscription and this offer can only be redeemed on web. Offer not available in NL, FR or NZ.
"It was very tricky out there to nail a lap," Verstappen told Sky F1. "This track in the wet is something else, it's very difficult, and also getting the tyres up to temperature was very difficult.
"But of course very happy to get pole position. I think so far this weekend has been really good for us in the dry and in the wet, but tomorrow will be very tricky with the weather. It's going to rain a bit again, then probably dry up, then rain again so it will be really difficult to choose the right tyres."
He also spared a thought for Lando Norris, who had a big crash at the start of Q3 which red-flagged the session, but after being taken to hospital for an X-ray on his elbow, the McLaren driver was cleared to race.
"The most important thing today is that Lando is feeling okay," said Verstappen. "I hope he doesn't have anything serious because it didn't look like a very nice impact. He's a friend of mine, so I hope he can race tomorrow."