Max Verstappen criticises flare-throwing fans after qualifying red flag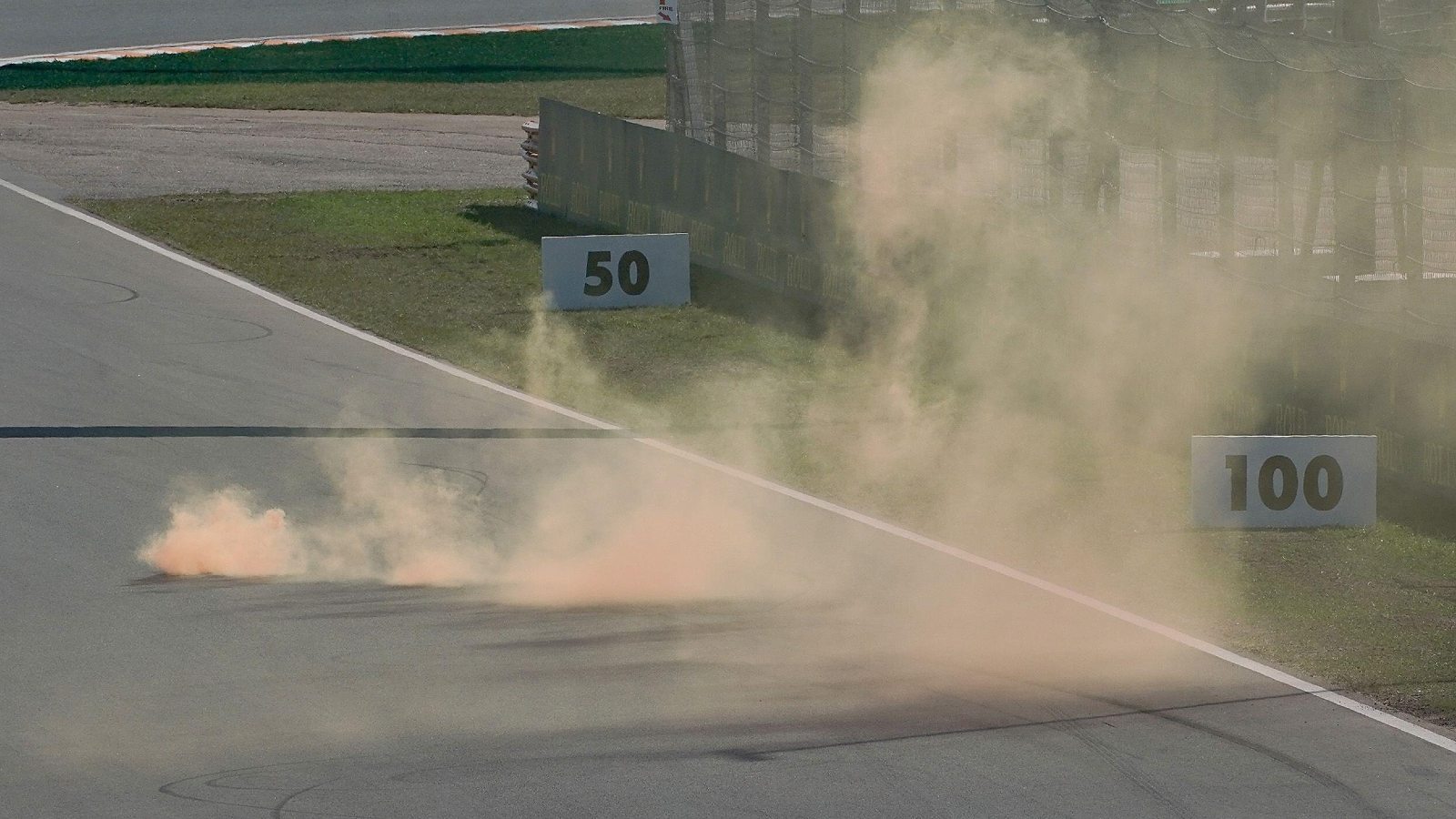 Max Verstappen has described throwing flares on the race track as "very silly" after one tossed by a fan caused a red flag in Q2 at the Dutch Grand Prix.
Only Alex Albon had emerged from the pits at the start of the second period of Saturday's qualifying before the session was halted after an orange flare was thrown onto the track.
A second flare was thrown onto the track during Q3, but this only caused yellow flags to be waved as the flare rolled off the circuit.
Upon arrival at the Zandvoort circuit, fans were told to hand in flares at the gate, but it appeared several ignored that instruction as they were seen smoking from the stands.
That was largely where they remained until qualifying, when one was tossed just as Q2 started. The FIA later confirmed the individual who had thrown it was ejected from the premises.
Verstappen, who went on to claim pole position, criticised the fans, who are largely there to support him, saying it was "not good for anyone".
"It's just very silly to do," Verstappen told the media. "To hold flares already, it's nice but there's a limit to how much.
"But to throw it on the track is just stupid and I think also, the person that did that got removed.
"Just don't do that. It's not good for anyone. You get thrown out so you can't see the race and then for us, the session gets stopped because it's dangerous when there is stuff on the track.
"You shouldn't do it."
A flare on the track prompts a red flag #DutchGP #F1 pic.twitter.com/DuhP7LIRs3

— Formula 1 (@F1) September 3, 2022
The Dutch Grand Prix was an excellent spectacle last year with orange smoke filling the air as Verstappen went on to win his home race. But given the unpleasant atmosphere it can cause for other racegoing spectators, the promoters have sought to curtail the trend of bringing them trackside.
Verstappen was joined in his criticism by Ferrari driver Charles Leclerc, who will line up next to the Red Bull driver at the front of the grid. Leclerc said it creates an unnecessary risk if a car happened to be driving by at that point.
"It's dangerous, so don't do these types of things," the Monégasque told the media following the qualifying session.
"It's good there was a reaction from the security guys and this shouldn't happen, so I don't know if in future we can do anything to avoid that.
"I don't know exactly when it was thrown, but if a car is passing at that time then it can create an unnecessary risk. Hopefully it won't happen again."