Verstappen doesn't 'fully agree' with his penalty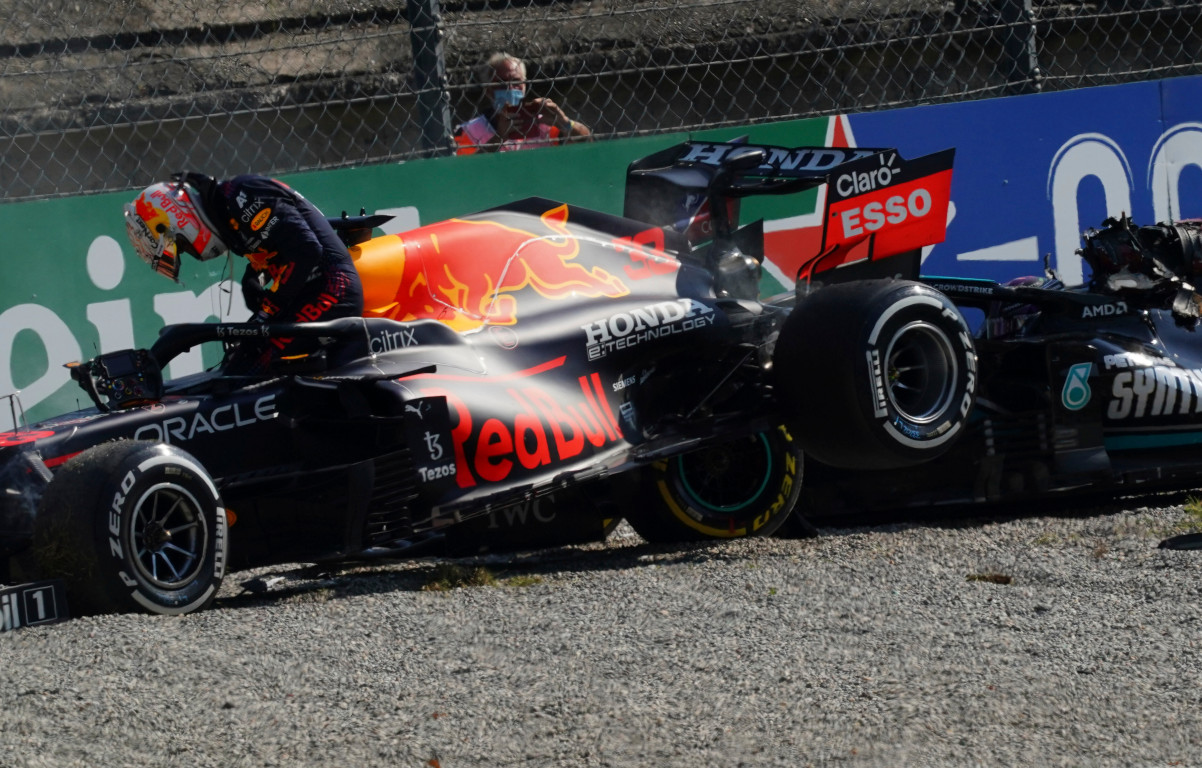 Slapped with a three-place grid penalty for crashing into Lewis Hamilton at Monza, Max Verstappen doesn't agree with the stewards as it was a "racing incident".
Not for the first time this season, and likely not the last either, Verstappen and Hamilton tangled at the Italian Grand Prix as they fought for position.
Hamilton was ahead of Verstappen after the Dutchman's slow pit stop meant Hamilton, who had a slow stop of his own, rejoined just ahead of him.
The Red Bull driver attacked into the first chicane, around the outside and then through the inside of the corner where he ran out of road, climbed the kerbs and landed on top of Hamilton's car.
The stewards declared: "This manoeuvre was attempted too late for the driver of Car 33 to have "the right to racing room".
"While Car 44 could have steered further from the kerb to avoid the incident, the stewards determined that his position was reasonable and therefore find the driver of Car 33 was predominantly to blame for the incident.
"In coming to the penalty, the stewards emphasise they have only considered the incident itself and not the consequences thereof."
They slapped Verstappen with a three-place grid penalty for the next race, the Russian Grand Prix, as well as two penalty points on his super licence.
He doesn't agree with the call but it taking it on the chin.
"I tried to race hard but fair," Verstappen said. "I don't fully agree with the penalty as I believe it was a racing incident.
"It's very unfortunate what happened, but we are both professionals and will put it behind us and move on."
Today was very unfortunate. The incident could have been avoided if I had been left enough space to make the corner. You need 2 people to make that work and I feel I was squeezed out of it. When racing each other, these things can happen, unfortunately #ItalianGP 🇮🇹 pic.twitter.com/9xOmnqAtd8

— Max Verstappen (@Max33Verstappen) September 12, 2021
Red Bull merchandise is available to purchase now via the official Formula 1 store
As for his team boss Christian Horner, he was quick to "accept" the penalty.
"We are disappointed with the three-place grid penalty, but accept the stewards decision," he told Verstappen's website.
"We felt what happened between Max and Lewis was a genuine racing incident.
"You can argue for both sides but ultimately it's frustrating and disappointing to see both cars out of the race in what is proving to be an exciting championship.
"The main thing is that the Halo ultimately did its job and certainly this isn't the way we intended to finish the race."
Mercedes aren't as happy with trackside engineering director Andy Shovlin expecting Verstappen to bounce back from the three-place grid drop with relative ease.
"So you'll always feel that three places [grid penalty] is relatively easy to overcome if you've got a competitive car," Shovlin said.
"But that's all in the past now, we need to make sure we put a good weekend together in Russia."
PlanetF1 verdict
Did Max Verstappen deserve his penalty or racing incident?
Did Max Verstappen deserve a penalty for his crash with Lewis Hamilton?