Max Verstappen would feel 'fine' with never winning another World Championship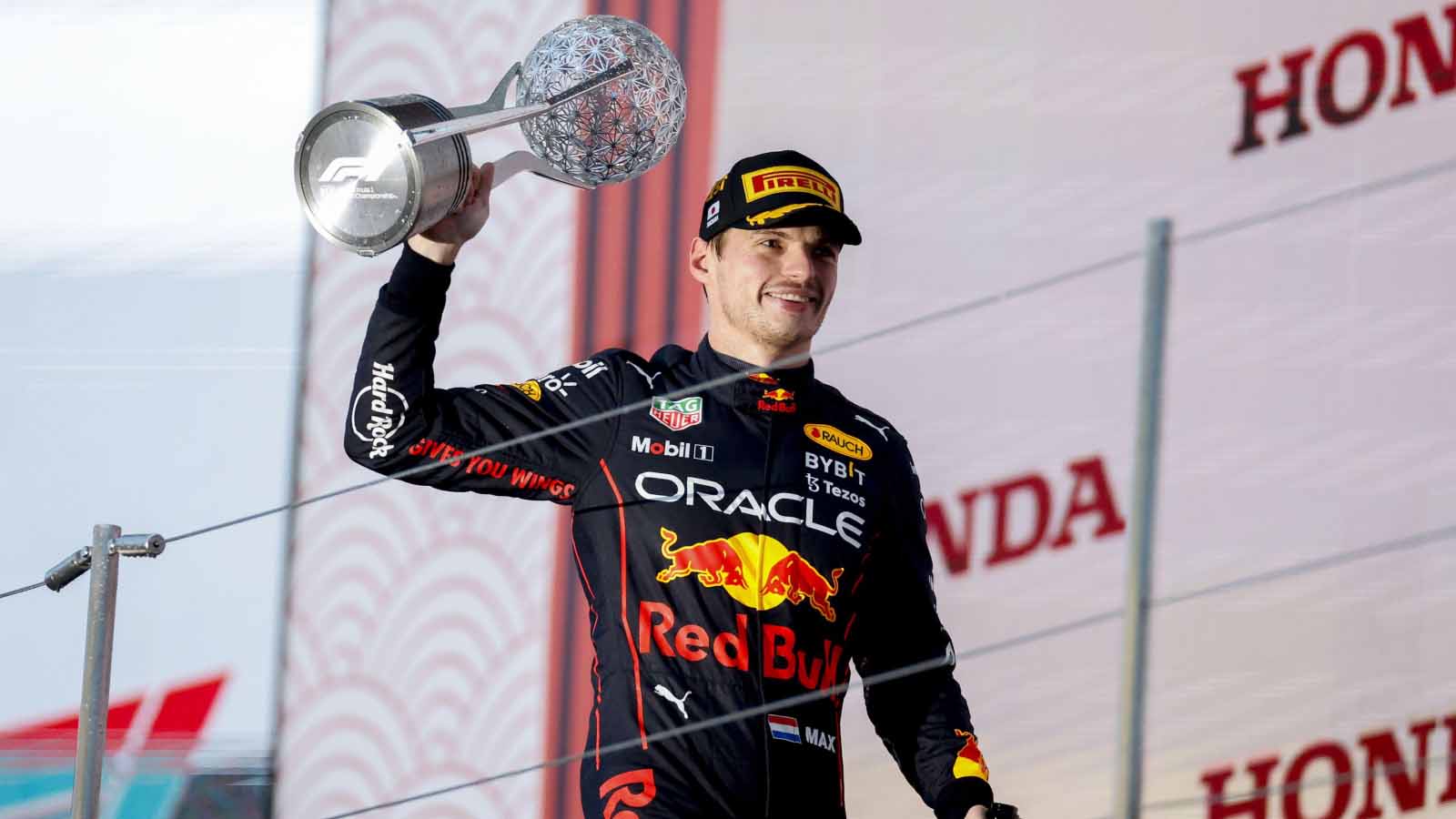 If Red Bull do not provide another car capable of being taken to title glory by Max Verstappen, then he has no issues with that.
It is safe to say that currently, the prospect of Verstappen never becoming World Champion again, having dominated the 2022 campaign with a record 15 grands prix wins, seems very unlikely indeed.
Verstappen is now a two-time champ having defended his maiden 2021 title with conviction, but, if that was to be his last, and Verstappen like Fernando Alonso becomes stuck on two World titles, then that is not a problem.
Asked by Motorsport.com about his wish to add more titles to his CV, Verstappen replied: "Yeah, but you need the car for that.
"Of course, now I've won two, but if I never have the opportunity to win again because of my material, then I'm fine with that.
"Of course, I would like to win, but you need to have a bit of luck as well with that."
Verstappen said after he clinched the 2021 World Championship that any more were simply a bonus.
And with a second now in the bag, he maintains that his view has not changed.
Asked if the 2021 title victory had changed him at all, with 2022 having been a more dominant campaign, Verstappen replied: "I don't think so.
"These cars have also been really different. That took a bit of time to really get used too – also because our car was really heavily overweight in the beginning and that just didn't help the balance of the car in general.
"But, besides that, no. I'm just enjoying the moment. I was enjoying the moment also last year [2021], but that pressure or need – that hunger to try and win a title whenever you had the opportunity – that's gone.
"I said already that after the first one, whatever comes next is just a bonus and honestly I do see it like that.
"It doesn't change my life. I know who my friends are and I spend time with them and my family. Nothing has really changed in my life in the way I'm living it compared to last year."
Max Verstappen favourite for 2023 title
2022 was a year of change in Formula 1 as the new Technical Regulations came into force, as well as the 18-inch tyres, and it was Verstappen and Red Bull who adapted the best of all.
So, judging by his performance in 2022, and the fact that only small regulatory changes have been made for 2023, like the raising of the floor edges to combat porpoising, it is hard to see Verstappen not being in the conversation.
And if Verstappen does have a title-worthy car at his disposal, then we saw with Lewis Hamilton in 2021, exactly the kind of talent that is needed to fight to deny the Dutchman that top spot.
Read next – F1 rumours: Early details emerge on Ferrari and Red Bull 2023 cars