Max Verstappen foresees further grid issues with 'really poor' visibility hindering drivers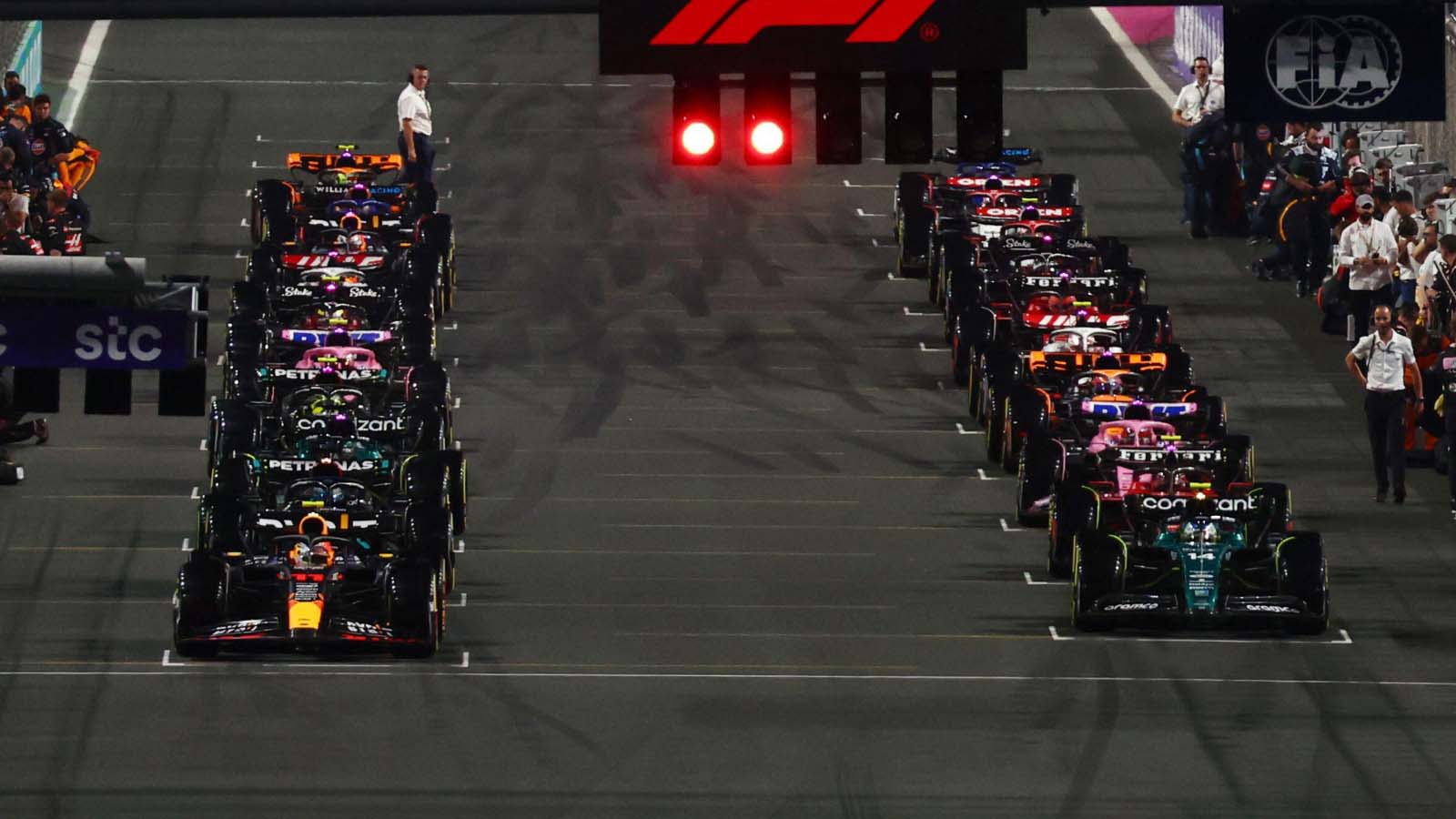 Max Verstappen has agreed that visibility out of the current generation of Formula 1 cars is "really poor", making it difficult for drivers to see where they are parked in their grid slot.
After Esteban Ocon was punished for the same offence in Bahrain, Fernando Alonso was handed a five-second penalty for a portion of his Aston Martin being parked to the left of his grid box come lights out on Sunday, though he did not gain an advantage by starting any further forwards.
The new Formula 1 cars have increased in size compared to their predecessors, and the consensus among drivers is that their frame of reference for getting into the right place in their grid slots is a small one.
The reigning World Champion agrees there should be some kind of punishment for drivers parking outside their box at the lights, but the lack of what they can see from inside the cockpit does not help matters.
"I haven't seen how much he was out of his box," Verstappen said of Alonso's initial five-second penalty after the race. "It is painful when it happens but it's a bit the same with the white line with track limits.
"Sometimes you argue: did you gain anything going wide or not, going outside of it? I think at one point we do need a rule.
"It looks really silly if people start to take advantage of going really left and right but yeah, I didn't know what we can do better.
"The visibility is just really poor in the car, that is I think, probably the main issue where you end up sometimes not fully, correctly in your box."
PlanetF1.com recommends
Toto Wolff pinpoints one problem with the W14 that's notably hurting Lewis Hamilton
James Key out, David Sanchez in as McLaren announce major team changes
Watch: Mercedes deliver Fernando Alonso's P3 podium trophy to Aston Martin HQ
Verstappen's Red Bull team-mate Sergio Perez started from pole in Saudi Arabia, and retook the lead several laps into the race after being passed by Alonso into Turn 1.
He feels he went more on the cautious side when he parked up at the lights to avoid taking a penalty himself, and admitted that parking in the right place can even boil down to "luck" at times.
"Yeah, it's really difficult just to see where you've stopped," he said. "I think, in my opinion I just overdid it and I stopped too early, but you have no idea when you are in the car.
"You don't know if you went too far or from behind or too far forward. So I think it's something… we need better visibility to be able to come up with a better idea than we currently have it.
"It's good that there is a rule in place, but at the same time, sometimes it's like luck, to be honest, where you position yourself."