Max: Hamilton's numbers are good motivation
Setting a new F1 record with 92 race wins, Max Verstappen joked he'll have to race until he's 40 to stand any chance of matching Lewis Hamilton.
Not for the first time in his career, and definitely not the last, Hamilton wrote his name into the history books on Sunday when he claimed his 92nd race win at the Portuguese Grand Prix.
The Mercedes driver took the chequered flag 25 seconds ahead of his team-mate Valtteri Bottas.
It meant Hamilton now stands alone with the most race wins, one ahead of Ferrari legend Michael Schumacher, on 92.
"Lewis says he keeps pushing because he wants to set it very high, because… yeah, I have to work hard to try to get there!" said Verstappen, who was P3 at Portimao.
"It's amazing. What can you say? It's just incredible. An incredible achievement.
"92 victories and I don't think it stops there. It will go well over 100. He's pushing me to go until I'm 40 years old, or something. It's a good motivation as well.
"Anyway, it's incredible.
"It looks like of course he's also going for his seven World titles, which is very impressive.
"Everybody knows he's very quick but what has also been a very strong point is that he's also very consistent and very rarely makes a mistake — that's why I think also he got to this number so quick. Yeah. It's just very impressive."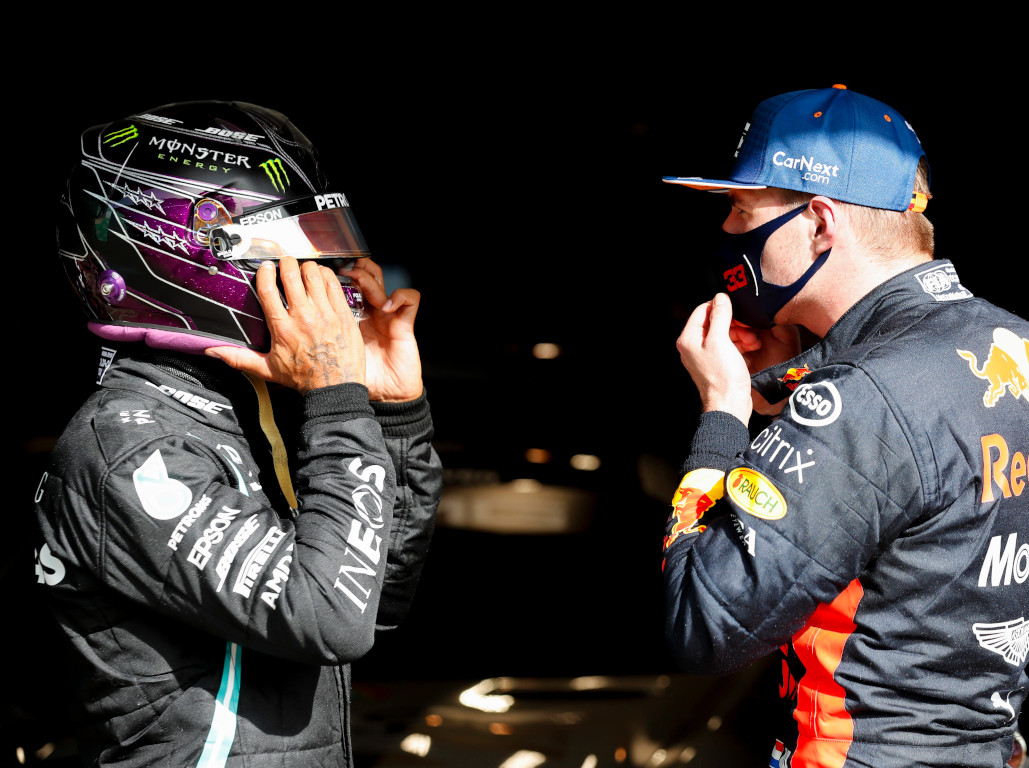 Get your hands on the official Mercedes 2020 collection via the Formula 1 store
Bottas was also quick to praise his team-mate's achievement, saying his deserves "respect" for what he has achieved.
"I want to say massive congrats to Lewis for this amazing achievement and being part of motorsport history, mate," Bottas said.
"Actually, some of the interviewers were asking what do I think about it because many people thought it's never possible to break the record, but that itself is a mistake and I'm sure Lewis always believed it is possible and he'll just keep going.
"So, really, hat's off. Big respect."
As for Sebastian Vettel, the German was once though to be the driver who could challenge Schumacher's records only for his success to stall as Hamilton's took off.
"I think he deserves every single victory he had, I think the number speaks for itself and I'm sure he'll hit 100," Vettel said.
"I texted him before the race to get 92 and he did, so I'm sure he'll continue to get even more, so I don't think you can praise him enough."
Hamilton's next target is a record-equalling seventh World title with the Brit holding a 77-point advantage over Bottas in the standings.
Follow us on Twitter @Planet_F1 and like our Facebook page.