Verstappens reveal content of chats with Hamiltons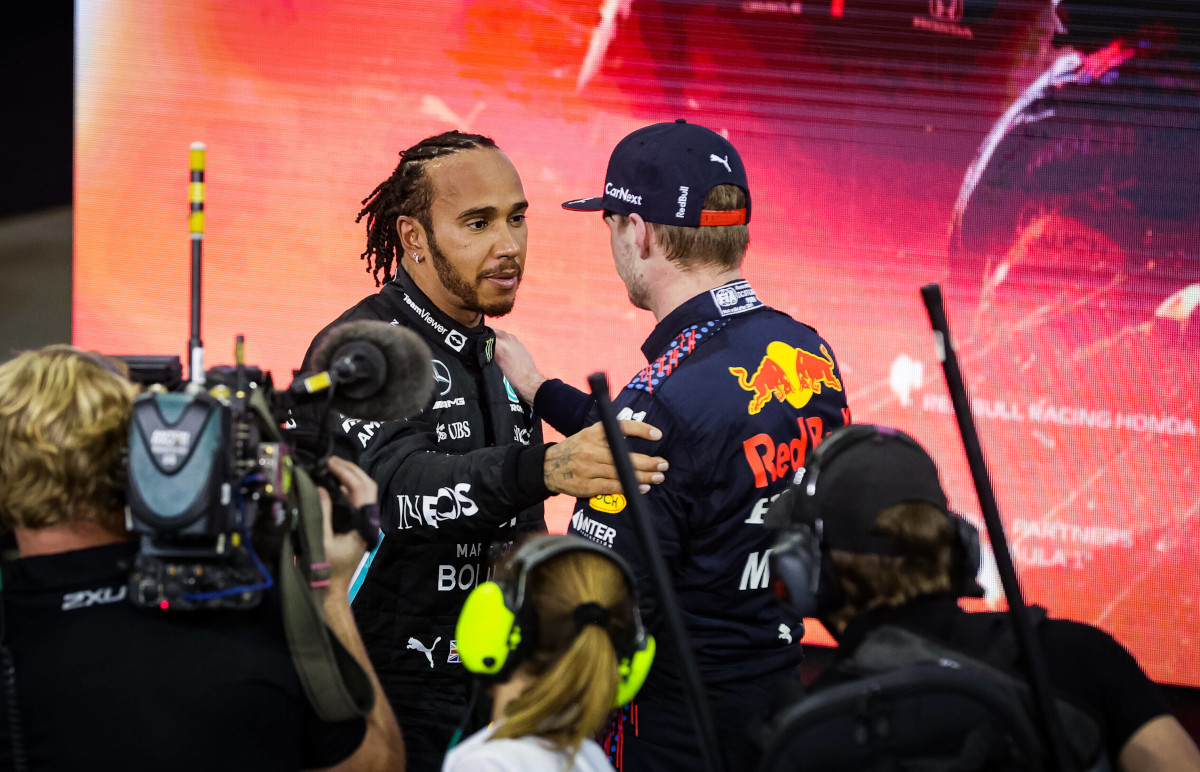 Max and Jos Verstappen have given details of the conversations they had with Lewis Hamilton and his father after the Abu Dhabi Grand Prix.
An intense season-long rivalry boiled down to one of the most dramatic F1 World Championship climaxes in history, and one that left Verstappen and Hamilton at opposite ends of the satisfaction scale.
Just when Hamilton thought he had a record-breaking eighth Drivers' title in the bag, a late Safety Car period turned everything on its head and amid some questionable decision-making from Race Control, Verstappen's Red Bull was able to pass the Mercedes on the final lap to take both the victory and the championship.
Relations between the season's two star drivers had turned increasingly fractious during the run-in to the campaign and even Jos had said he respected Hamilton "as a driver, but the rest…nothing".
However, much respect was shown in the aftermath at Yas Marina – impressively so from Hamilton considering the heart-breaking nature of his defeat.
Verstappen senior and junior have spoken of the conversations they had with their respective Hamilton contemporary.
"The whole team were going crazy, but of course you have the other side where they are very disappointed and upset," said Max during an interview for his sponsor CarNext hosted by David Coulthard.
"I think what was nice, of course, Lewis immediately came to me [and said] 'well done, congrats' and I said 'thank you very much for an amazing season' because at the end of the day I think it was an amazing season, whether we won or came second.
"We did push each other every single race to the limit, with ourselves but also the car and the whole team.
"I think everyone is very happy that the season is over, to have a bit of a break because it has been very tense and very tough on everyone. But it was definitely a great rivalry."
Jos Verstappen, meanwhile, shared a moment with Hamilton's father, Anthony, each having been instrumental in their sons' careers from the time when they took up karting as kids.
"When I was sitting with Max before he went up to the podium, Anthony was there and he congratulated us. That was really nice," said Jos.
"Also, during the season I had some conversations with him over WhatsApp. He's really nice.
"They won seven titles already, so for them it's a bit different, I think, [to] when we win the first one. But he's always respectful."
Can Verstappen and Hamilton put their disagreements behind them?
Things got pretty heated between Max Verstappen and Lewis Hamilton in 2021, but can they now put all of that behind them?