Max on 'difficult' and 'unfair' comparison to Ricciardo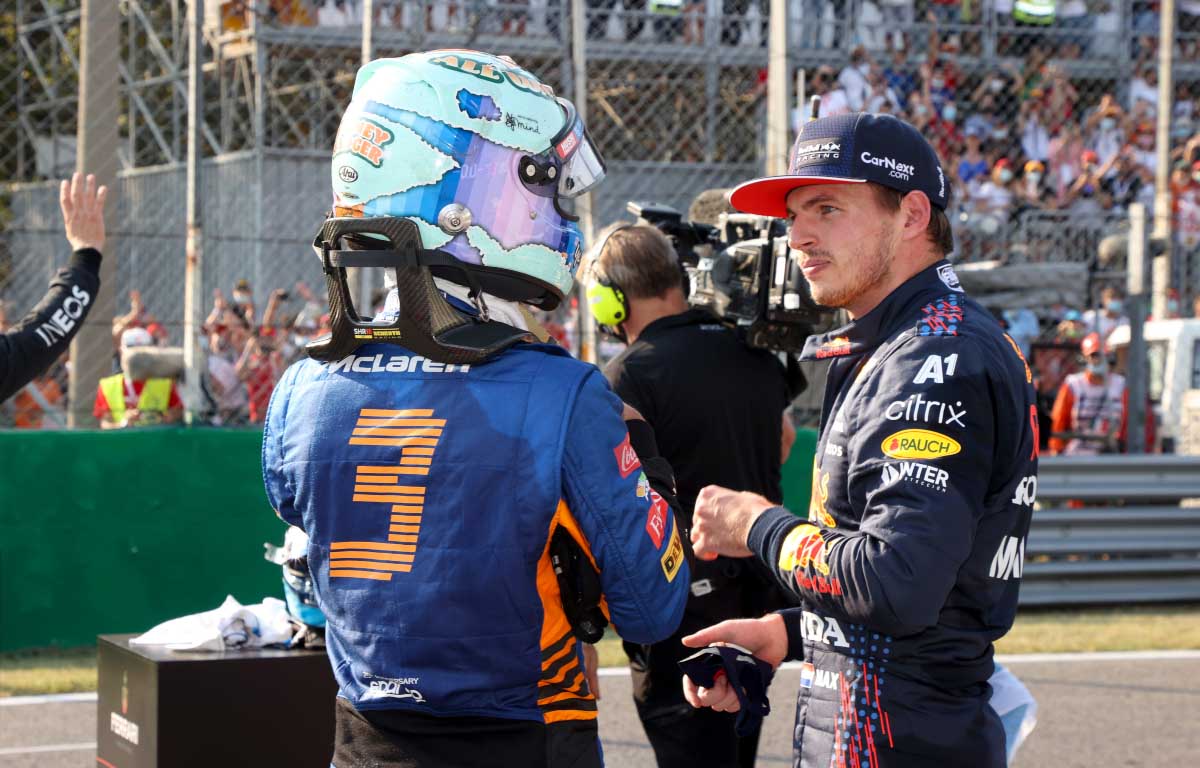 Max Verstappen feels his added experience has led to him gaining more speed at Red Bull, which makes his comparison with Daniel Ricciardo an unfair one.
The two were widely seen to have been evenly matched in their time together at Red Bull, with Ricciardo having come out on top of his team-mate in 2016 (albeit with Verstappen moving from Toro Rosso a few races in) and 2017, before the Dutchman wrestled the in-team advantage away from his team-mate in 2018.
Ricciardo promptly departed for Renault in time for 2019, which team principal Christian Horner described at the time as the Australian "running away from a fight" with the talented youngster, which the Australian firmly denied after his move.
Verstappen's subsequent team-mates have struggled to keep pace with him overall, and the current World Championship leader thinks his time next to Ricciardo saw him improve throughout, making it tough to decipher how well-matched they are now.
Laps led in #F1 2021:

Verstappen – 504
Hamilton – 154
Bottas – 76
Ocon – 65
Leclerc – 60
Ricciardo – 48
Perez – 34
Norris – 31
Sainz – 12
Vettel – 4
Alonso – 2 pic.twitter.com/pwdGwLrgnu

— PlanetF1 (@Planet_F1) October 30, 2021
"I think I also got better eventually, because I have more and more experience," Verstappen said to GP Racing, quoted by RacingNews365. "So, I find it also difficult to really compare fairly, you know.
"I find it a bit unfair to say that he was maybe more close, and I think there are a lot of things to it."
Given the gap in age and time spent in Formula 1, Verstappen attributes his increase in speed to spending more time in the car – having had limited experience in single-seaters when he made the step up to F1 in the first place.
"For sure, at the time, Daniel is, you know… he's still quite a bit older and more experienced, but I think I gained a lot of experience in the last few years, while in the beginning of course I was still quite new and I didn't really have a lot of car racing experience, because I had one year in F3, basically one year in Toro Rosso and then moved to Red Bull," he added.
"And I definitely think there the big jump started to happen, which I think is a natural process in the first five years of your F1 career."
Verstappen and Ricciardo are still firm friends, with the now-McLaren driver having taken his first win since leaving Red Bull at Monza earlier this season.
Meanwhile, the current Red Bull driver's victory in Austin put him 12 points clear of Lewis Hamilton in the fight for this season's World Championship.
Red Bull on a high ahead of Mexico GP
Red Bull will be going into the Mexican GP on a high after their podium places at COTA.