Max Verstappen receives new Hungarian GP trophy: 'Lando is not allowed to touch it!'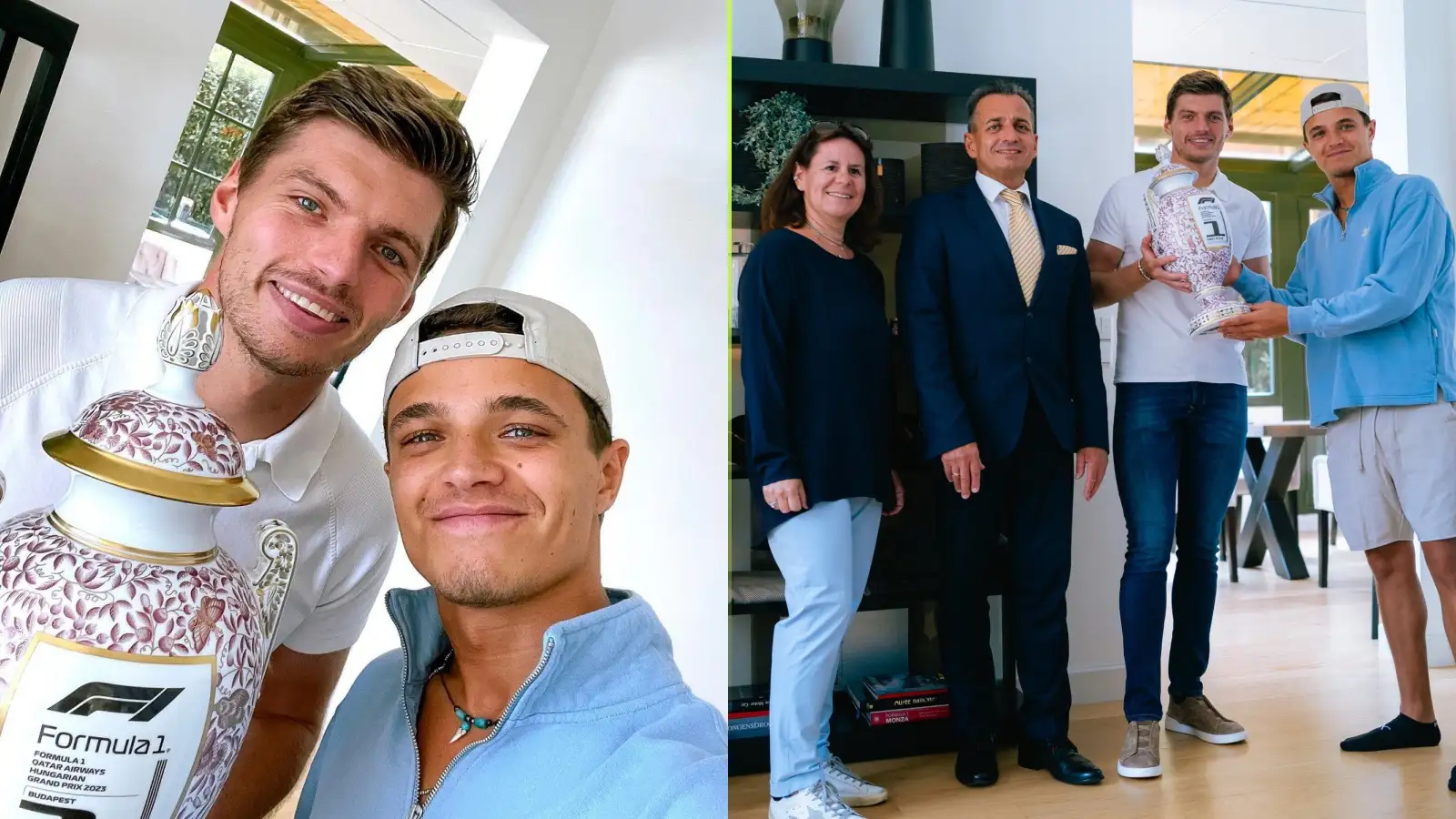 Max Verstappen has been given a replacement winner's trophy from the Hungarian Grand Prix after Lando Norris smashed the original one to pieces.
The Hungarian trophy is one of the more carefully crafted pieces handed out to the drivers which made what happened in Budapest all the more tragic.
Having finished P2, Norris continued his tradition of hitting the champagne bottle on the podium causing it to fizz but it had unintended consequences as Verstappen's trophy fell and smashed into bits on the floor.
Max Verstappen bans Lando Norris from touching new Hungarian GP trophy
After the incident, it was revealed that Norris had caused £35,000 worth of damage with the trophy taking up to six months to make.
Well, creators Herendi Porcelain Manufacturer have made a replacement in much quicker fashion and it was handed to Verstappen shortly after his victory in Zandvoort.
With Norris by his side, Verstappen received the trophy before joking that the McLaren driver was not allowed to touch it.
As he inspected it, Verstappen took off the lid before showing it to Norris and said "You see? It's in one piece."
Norris then joked that was the only piece he was allowed to touch.
It's fixed 🇭🇺🙌 pic.twitter.com/wkgKE5y4vR

— Max Verstappen (@Max33Verstappen) August 29, 2023
The pair then took a photo with the creators of the trophy and no doubt it was placed straight into bubble wrap to keep it safe on its journey back to Red Bull's Milton Keynes base.
There is another useful trophy on offer this weekend with Pirelli commissioning Italian artist Ruth Beraha to create a piece for the podium places in Monza.
The trophy, named Tifone, is made to represent the mythological figure Typhon as well as the exhaust pipes of a Formula 1 car.
This is the third time Pirellli have commissioned an Italian artist to create the trophy for the race in which they are title sponsor.
"When I began to study Formula 1, I immediately realised that technology formed a fundamental part of the sport," artists Ruth Beraha said. "I wanted to pay homage to that, and so I found within the car a visual element I could use as a starting point. I picked out the exhaust pipes, which had an extremely organic form. From those pipes, I was able to imagine the snakes. The trophy is like a creature tamed in the moment that the race winner holds it, but still threatening and always able to turn everything on its head."
Read more: Exclusive – Pierre Gasly clarifies Alpine team principal situation as search continues