Max Verstappen believes his scrap with Lewis Hamilton at the Sao Paulo Grand Prix would have played out the same way had the roles been reversed.
With Hamilton making lightning progress through the pack at Interlagos from P10 on the grid, his final challenge of an epic recovery was to take the lead from title rival Verstappen.
Ultimately he succeeded, although it was not a battle that came and went without drama, focused around Turn 4.
Hamilton's first overtaking attempt saw him go around the outside of Verstappen into Turn 4 with a DRS boost, only for Verstappen to lunge back up the inside and force both of them off the track, retaining the lead in the process.
The stewards did not deem an investigation necessary, a surprise to many, especially Mercedes, but had the events unfolded the other way around, Verstappen would not have had a problem with it.
Asked by Sky F1 if he would have accepted it if he had been in Hamilton's position, Verstappen replied: "If it would have been the other way around in Brazil, it would have exactly played out like that."
Then pushed again on whether he would have been fine if the roles were reversed, the Red Bull driver said: "Yeah, it's hard racing, we are fighting for a championship. We are not here to be in a kindergarten."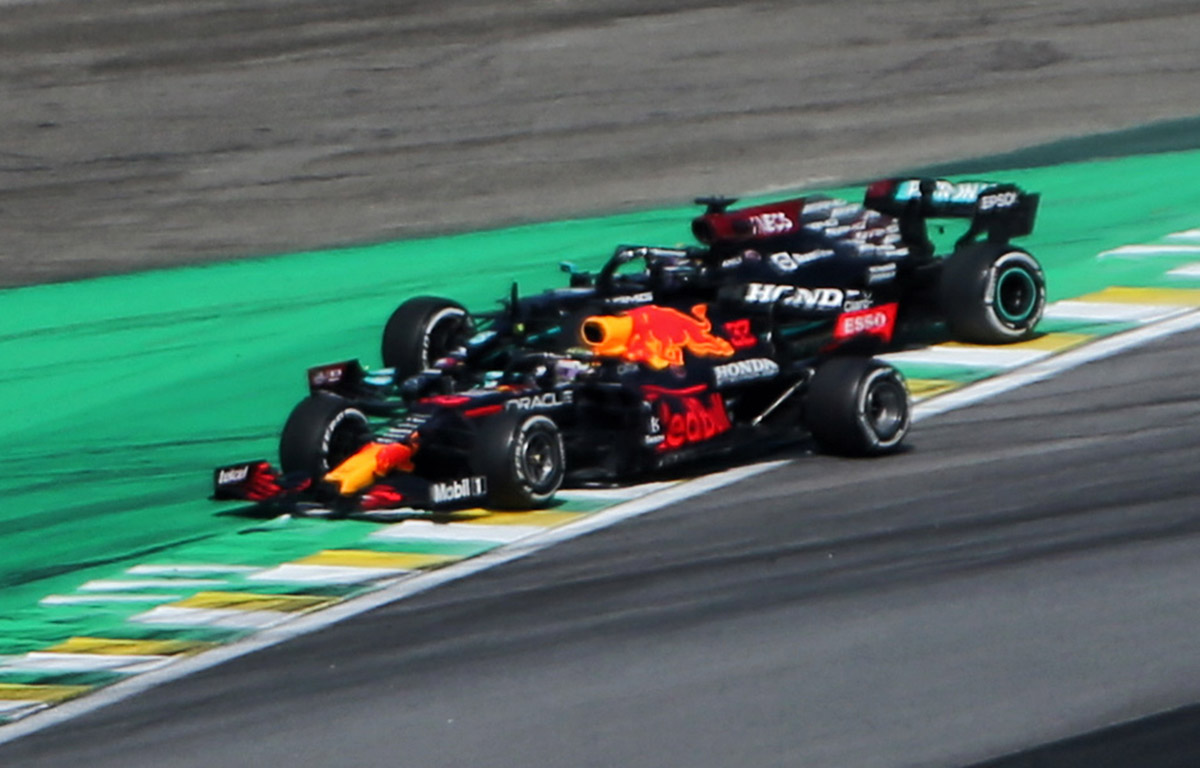 Speaking to reporters about that incident in the paddock before the Qatar Grand Prix weekend, Verstappen added: "I thought it was a great battle and I had a lot of fun as well out there.
"As a driver, I think we know exactly what we can or cannot do in a car and we were fighting hard, braking late into the corner, the tyres were quite worn. If I would have turned more abrupt to the left, you'd just spin off the track.
"At the end of the day they [Hamilton and Mercedes] won the race, fair enough. They were faster than us. But I thought it was a good battle."
Mercedes established dominance pace-wise across the weekend in Brazil, with Red Bull putting that down firstly to Hamilton's new Internal Combustion Engine for that round and also the rear wing of the W12 which Red Bull are somewhat suspicious of.
Verstappen told Sky F1 he does not hold concerns over Red Bull's pace moving into the final three rounds, suspecting Hamilton enjoyed a one-off engine boost in Brazil, while the pace advantage between them has shifted back and forth anyway.
"What happened to our pace, I don't think a lot happened," he said.
"I think we did our normal pace, it's just that Mercedes were a bit faster than us.
"To be honest it has been a bit up and down, and of course with a new engine they can run it in a higher mode for one race weekend.
"Then of course on a track like that, which is quite short and which is quite power-sensitive, it can give you quite an advantage.
"So I don't expect it to be like this for the rest of the season, but they had a lot of pace already the last few races. It just swings around a bit and it's all about little details you need to try to nail, and that's what we will try to do again this weekend."