Norris: Max completed Hamilton overtake on track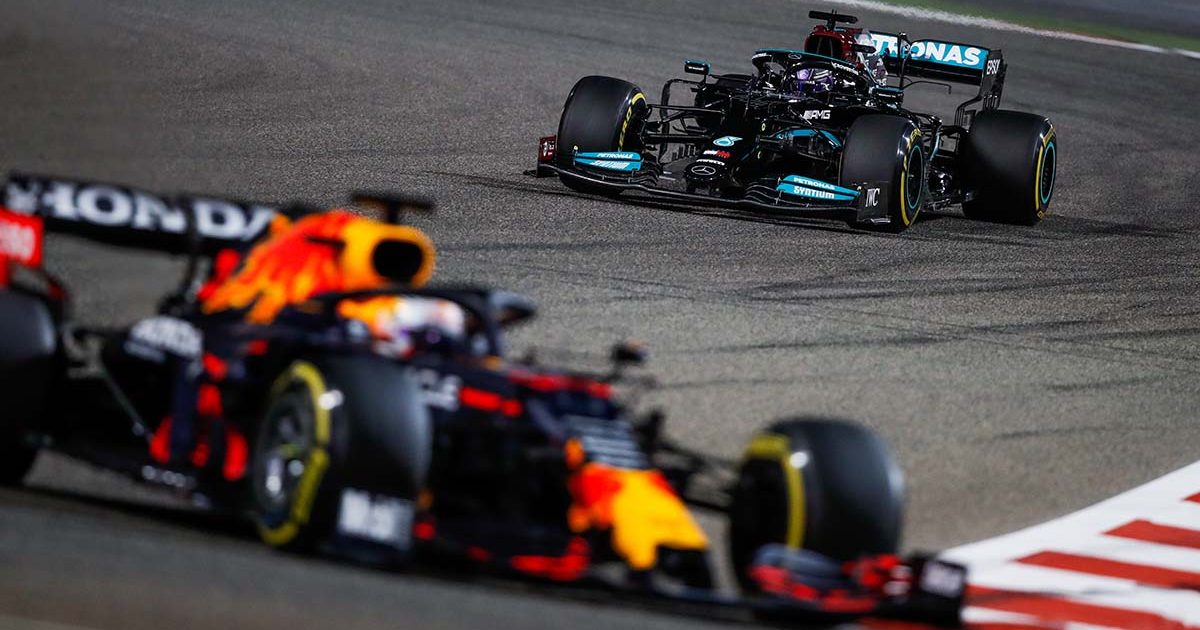 Lando Norris has taken a look back over the highlights of the Bahrain Grand Prix and felt Max Verstappen completed his overtake on Lewis Hamilton on track.
Verstappen and Hamilton were involved in a thrilling strategic battle for the first win of the 2021 season which culminated in a tense showdown for P1 inside the final 10 laps.
The Red Bull driver, on fresher tyres, was reeling Hamilton in and looked to have taken the race lead of Lap 53 of 56 at Turn 4, a corner which attracted plenty of attention due to the inconsistent policing of track limits.
However, Verstappen was told to give the P1 place back to Hamilton with race control having deemed he completed the overtake off the track.
If Verstappen did not give the place back, which he quickly did, the stewards confirmed he would have been given a five-second penalty.
But, watching the race back whilst streaming on Twitch, Norris thinks Verstappen got the job done before going completely off at Turn 4.
"I don't think Max should have had a penalty [if it was going to be enforced] because he did the overtake before [going off track]," Norris said.
Looking at the alternative angle of the overtake, Norris added: "Look, he's miles ahead of him. But Max then just has a big oversteer. If Max just lifts and doesn't commit to full throttle, he could have stayed on the track.
"He has the oversteer when he is already ahead and then goes off the track. In my opinion, he doesn't complete the overtake by going off the track.
He also said prior to the analysis: "It's a tricky one. We will probably talk about it at the next drivers' briefing in a couple of weeks."
Get the Lando Norris look with the official Formula 1 store
One viewer suggested to Norris that Hamilton forced Verstappen to oversteer by pushing him wide, but Norris quickly shut down that theory.
"No, he didn't," Norris replied.
"What are you chatting about? Lewis is not in a position on the track to force him [Max] off. Max has all the control.
"You cannot force someone off the track if you are behind. If Lewis ever touches Max in that position then he is going to either spin or crash. You cannot do that.
"Lewis never pushed him wide because he can't push him wide."
Follow us on Twitter @Planet_F1, like our Facebook page and join us on Instagram!