Max: Hamilton has seven titles, he can 'live with that'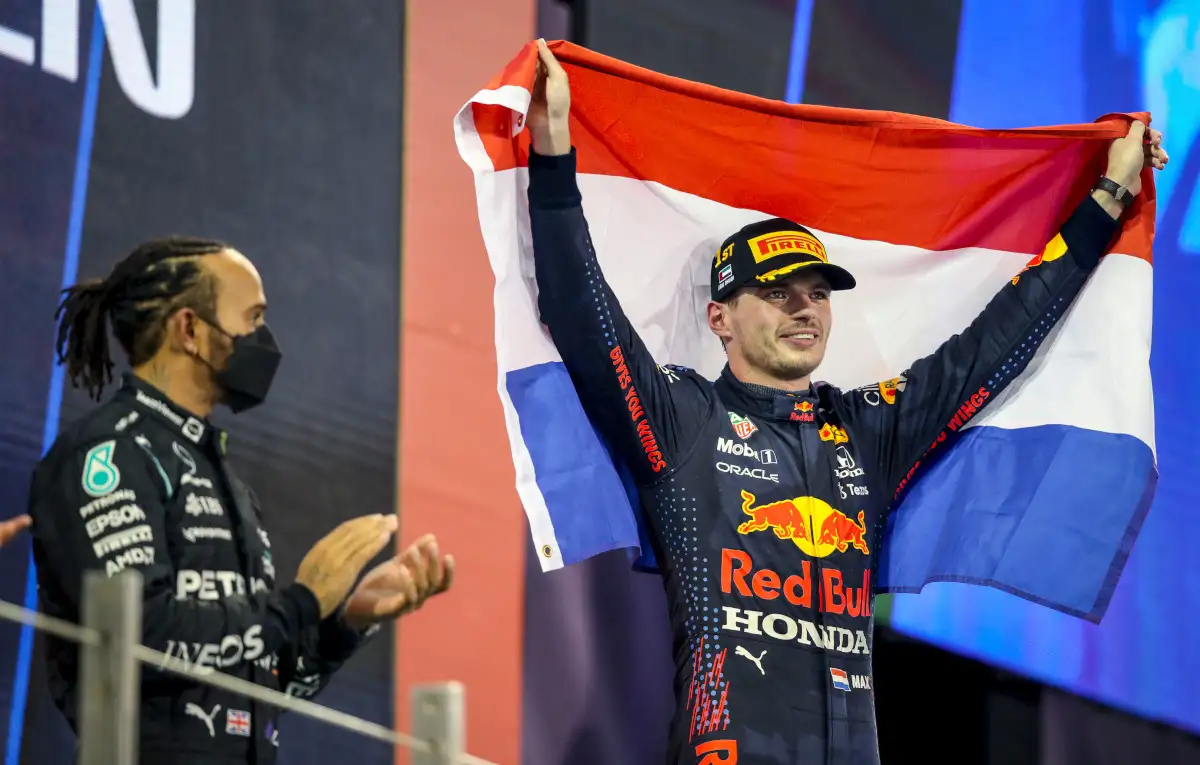 Max Verstappen says Lewis Hamilton should be able to "live with" missing out on this year's World Championship – because he has seven titles already.
It was either going to be a first crown for Verstappen or an eighth for Hamilton at the 2021 season-ending Abu Dhabi Grand Prix, where the two protagonists lined up level on points.
After a dramatic and controversial climax that featured a one-lap showdown when the Safety Car had been called back in, it was the Dutchman who gained the verdict as he made an overtake stick with much fresher tyres on his Red Bull.
Given the nature of how he had surrendered the title, in control of the race for all but that final lap, Hamilton could be excused for feeling utterly devastated as he agonisingly had a record-breaking eighth Drivers' crown snatched from his grasp.
He sat in his Mercedes for a couple of minutes presumably shellshocked, before cutting a magnanimous figure in the aftermath by showing Verstappen, with whom he had clashed on several occasions during the season, plenty of respect.
That was reciprocated by his 24-year-old rival, although Verstappen thinks the fact the Briton has seven titles already in the bag should help him come to terms with not having accomplished a historic eighth.
🥈🥇🥈🥈🥇🥇🥇🥇🥇🥇🥈🥈🥇🥇🥈🥈🥈🥇

18 podiums in an #F1 season 🏆 Another 🆕 record for @Max33Verstappen 🦁 #SimplyLovely pic.twitter.com/ssmuGLVAda

— Red Bull Racing Honda (@redbullracing) December 15, 2021
Asked what Hamilton had said to him after the race, Verstappen, quoted by Swiss outlet Blick, said: "It wasn't really a conversation. But our interaction is professional enough – he came to me immediately and congratulated me.
"Winning the title would probably not have been the same for him as it was for me. He has won seven times, I have never won.
"Even though the defeat was certainly very disappointing for him, he already has seven titles. I think he can live with that.
"We fought each other all year but we always respected each other very much."
Asked if the duel with Hamilton had provided more stress or fun, Verstappen said: "More fun. Racing against Hamilton is great. We both always fought hard.
"Both of our teams have always given everything as well, because everything has to fit to be able to challenge each other at this level.
"This season will remain unforgettable, but the year was very exhausting. I'm glad I will now have some time to relax."
Max Verstappen crowned new F1 World Champion
In a thrilling end to the Abu Dhabi GP, it was Max Verstappen who came out on top.