Max: I'd 'deserve a kicking' for celebrating like Hamilton
Max Verstappen says he would have "deserved a kicking" for celebrating like Lewis Hamilton and Mercedes did at Silverstone.
Title rivals Verstappen and Hamilton collided on the opening lap of the British Grand Prix, with Verstappen needing precautionary checks in hospital after a 51G impact as he hit the barrier at Copse.
Hamilton was given a 10-second time penalty for causing the collision, but it was one he overcame to claim his eighth F1 victory on home soil.
With the fans back in the Silverstone grandstands, Hamilton paraded a British flag around the track on his in-lap to the podium ceremony, even celebrating among his army of supporters.
That did not go down well with Verstappen or Red Bull as the Dutchman made his displeasure clear on social media, stating he felt disrespected.
As it turned out, Hamilton had not been made aware Verstappen was taken to hospital.
But had it been the other way around, Verstappen says his own father, Jos, would have told him he "deserved a kicking" for celebrating like Mercedes and Hamilton did.
"They celebrated it like it was a World Championship win," he told Sky F1.
"I don't think you can do that when you have just caused such a crash and the guy goes to hospital for checks.
"If it had been the other way around, I definitely would have deserved a kicking and my dad would tell me that."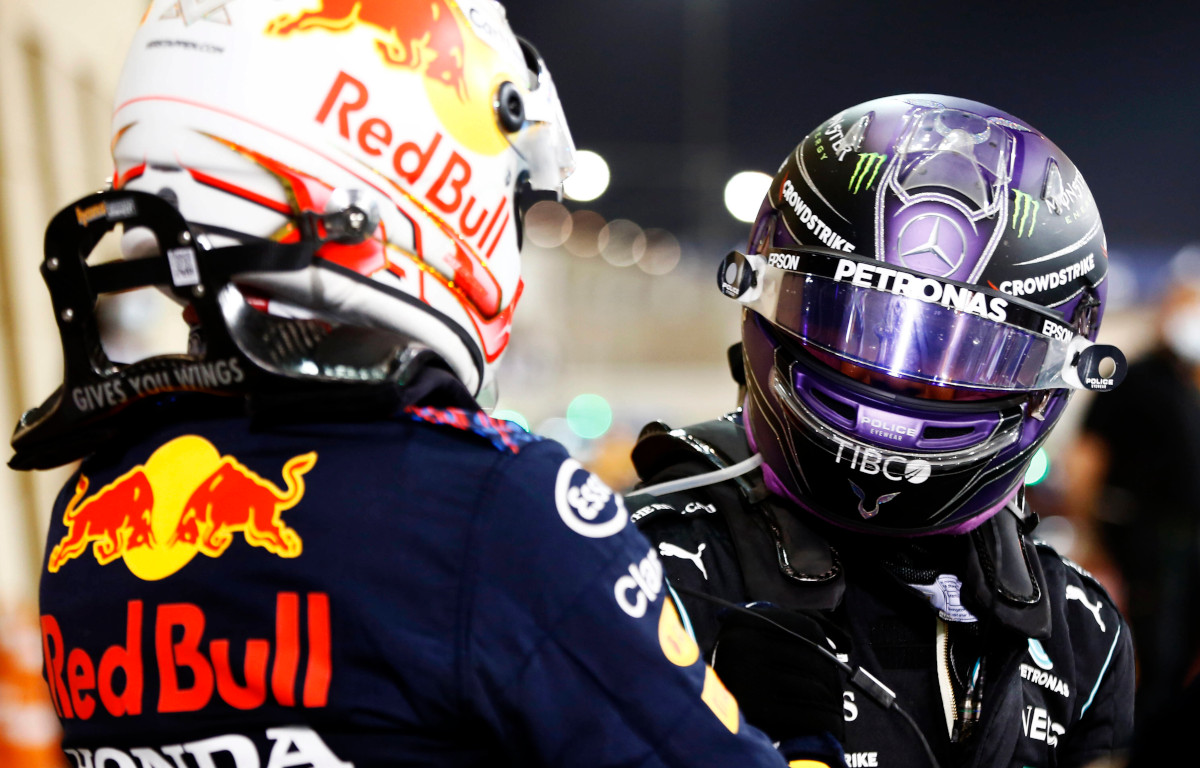 Check all the latest 2021 teamwear via the official Formula 1 store
In his press conference ahead of the Hungarian Grand Prix, Verstappen said he and Hamilton had spoken since the crash but he stands by his criticism of the Briton and Mercedes, saying the high-pressure situation had drawn out their true colours.
"He did call me. I don't need to go into details about that but we did have a chat," said Verstappen.
"What you mean with disrespectful, when one guy is in the hospital and the other is waving the flag around like nothing has happened while you push the guy into the wall with 51G.
"And not only that, just the whole reaction of the team besides that. I think that's not how you celebrate a win, especially a win how they got it.
"That's what I found really disrespectful. In a way, it shows how they really are.
"It comes out after a pressure situation, but I wouldn't want to be seen like that."
Verstappen is aware people see him as an aggressive driver but this is not something he agrees with, using his clean superlicence to support that.
And as for the collision with Hamilton, he remains certain all blame was on the Briton.
"I fought hard, I defended hard, but not aggressively because if it would have been aggressive I could have squeezed him into the inside wall," he said.
"But I did give him the space and then I just opened up my corner and when you then commit on the inside like he did and not back out, expecting you can do the same speed on that angle I had on the outside, you are going to crash into me.
"I'm on the outside, I'm opening up my corner not expecting him to commit and he understeered into the rear of my car. There's not much I can do.
"Of course, people easily say I'm an aggressive driver or whatever, which I don't think I am.
"I'm a hard driver, I race hard, but at the end of the day I think I know quite well how I have to position my car and I haven't been involved in accidents where I run into people.
"I have zero penalty points as well, so I think that already says quite a bit."
Red Bull have requested an FIA review of the Silverstone crash, an initial hearing of which will take place on Thursday before the Hungarian Grand Prix weekend.