Max 'confident' new Mercedes engine 'will return to normal'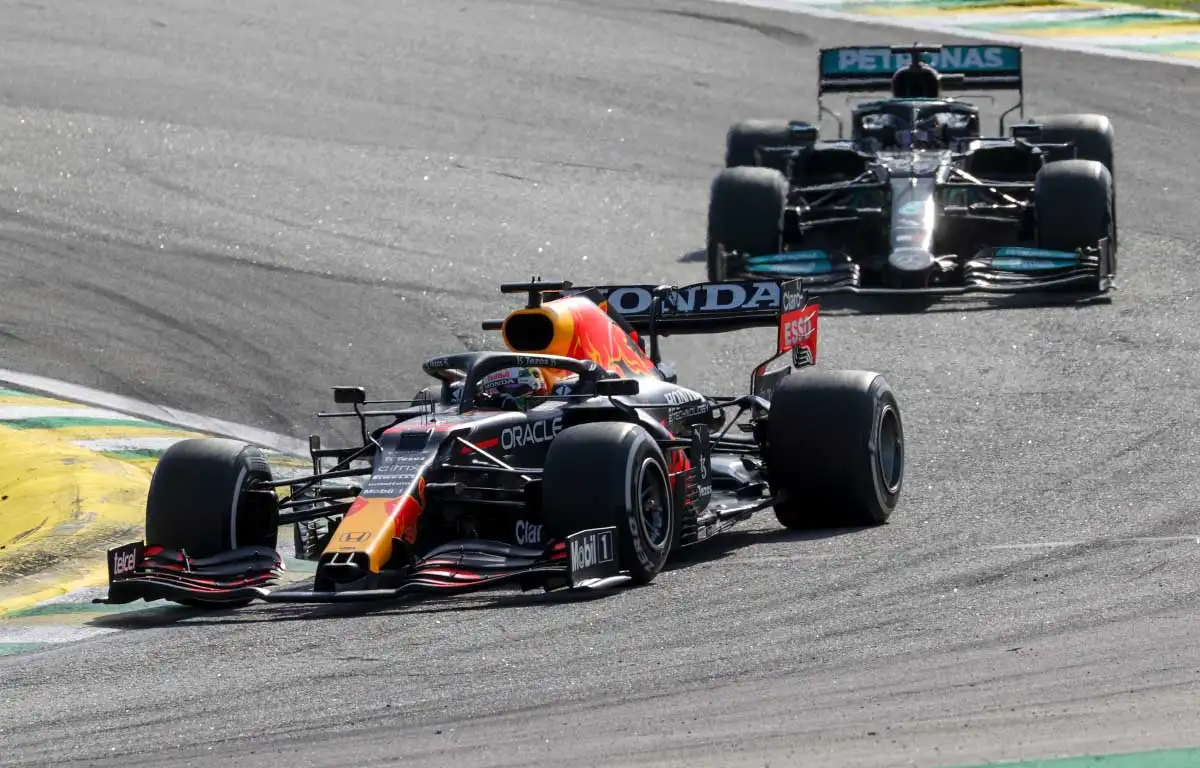 Max Verstappen says he believes Lewis Hamilton's engine performance advantage will not last for the remaining races of this season.
Mercedes opted to put a new Internal Combustion Engine in Hamilton's car ahead of the weekend in Sao Paulo which, while triggering a five-place grid penalty, the team's director of trackside engineering Andrew Shovlin felt would pay dividends – and the decision was justified as the Briton went on to win the grand prix at Interlagos.
Red Bull continue to have their suspicions surrounding whether or not the Mercedes rear wing structure is legal, given the straight-line speed advantage which team advisor Helmut Marko described as making Hamilton's car a "rocket" in Brazil.
Shovlin also admitted there was "no technical reason" behind the change of ICE, meaning that having a fresh engine was based predominantly around the extra performance it would bring.
But after the initial power advantage brought in Brazil, the World Championship leader feels the Mercedes and Honda power units will level out again in the final rounds of the year.
Andrew Shovlin said there was 'no technical reason' behind Lewis Hamilton's engine change, and there was an 'attraction' to doing it at Interlagos.https://t.co/pyxy8877Hy #F1 pic.twitter.com/jDUIsX7D2z

— PlanetF1 (@Planet_F1) November 16, 2021
"Of course the new engine brings a significant performance gain at the beginning, but that will slowly return to normal," Verstappen said.
"Maybe it looks a bit more dramatic now, but I'm confident it will slowly return to normal."
On the race overall, Verstappen led for the majority of proceedings before being closed down and passed by Hamilton heading to Turn 4, the World Champion completing his comeback to reduce his deficit in the title race to 14 points.
Red Bull had the upper hand in Mexico but Verstappen admitted Mercedes' top speed advantage proved too much for them to counter in Brazil.
"I don't think we did anything wrong," said the Red Bull driver, quoted by Speedweek.
"It was just a bit too painful for us on the straights, and then trying to make up for that in the middle sector was a bit too difficult for us with the track layout and the hot conditions."
The closeness of the title battle has been a feature of the season and the final three rounds will crown the champion of what has been a vintage year in Formula 1.
Verstappen shrugged off thoughts that Hamilton has gained more momentum again, but acknowledged it is still everything to play for heading to the Middle East.
"It's been like this all year," he said of the season's topsy-turvy nature. "It went up, it went down, it went backwards and now I'm in front, so a lot can still happen."
Verstappen starting to feel the pressure
Punishment may still be coming, but Verstappen may already feel like he's been punished enough.