Perez: Verstappen 'owes me a couple of tequilas'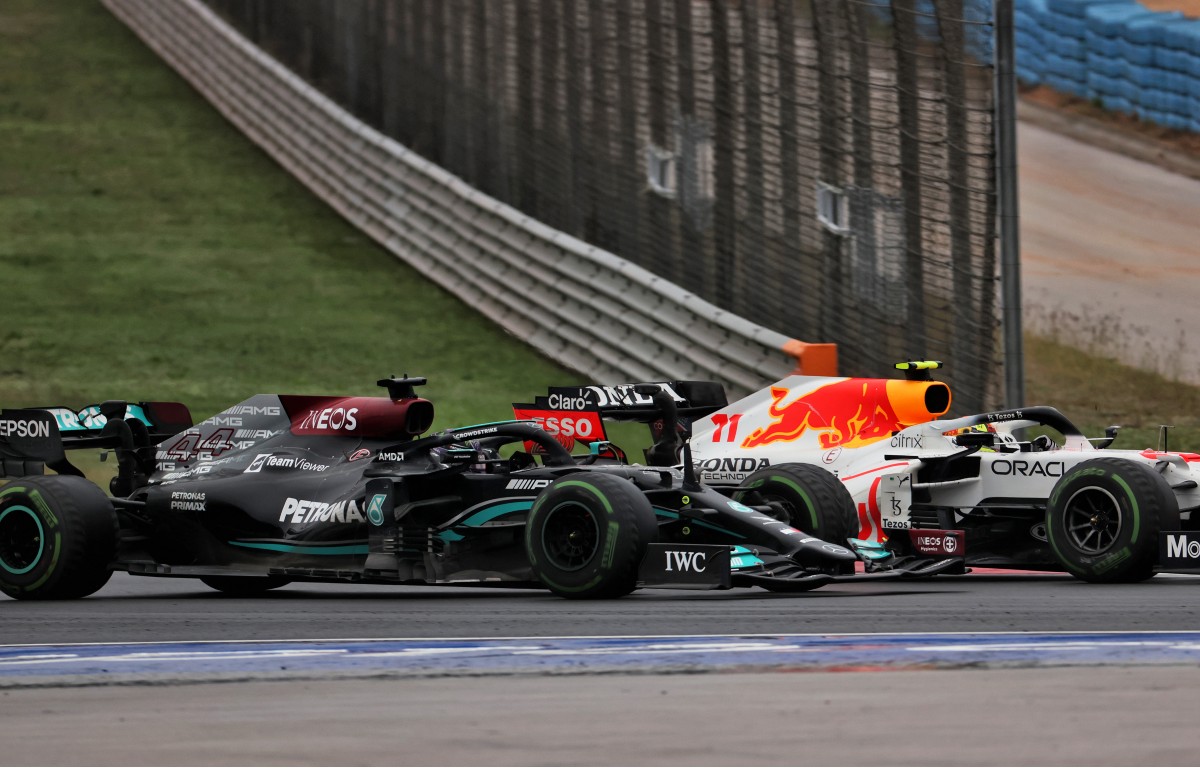 The tequilas are on Max Verstappen after Red Bull team-mate Sergio Perez kept Lewis Hamilton at bay in a thrilling Turkish GP battle.
Starting P11 but with arguably the fastest car on the grid, it was no surprise to see Hamilton make strong progress through the pack in Turkey, even in tricky damp conditions.
He met his match though in the form of Perez, who was determined not to allow Hamilton past, at which point Verstappen up the road in P3 would have been in some trouble.
But Perez's defence was fierce, even coming back across the pit lane entry to stick with Hamilton at the final turn, before ensuring his position was maintained out of Turn 1.
Perez went on to make the podium with a P3 finish behind Verstappen in P2, while Hamilton only managed P5 after a controversial pit stop for new intermediates.
All that means that Verstappen is now back on top of the Drivers' Championship with a six-point lead over Hamilton, and Perez fancies a reward.
"You owe me a couple of tequilas!" Perez butted in when Max was asked by Sky F1 if this is exactly what he wants from his team-mate.
"I'll get them to you in Mexico, before the weekend or after?" Max asked, to which Perez responded: "After!"
LAP 34/35 of 58

Brilliant battling between Perez and Hamilton 👏

Hamilton looked odds on to take the place but Perez fights back and stays in front for now #TurkishGP 🇹🇷 #F1 pic.twitter.com/aoBBdnMXdJ

— Formula 1 (@F1) October 10, 2021
Red Bull merchandise is available to purchase now via the official Formula 1 store
Perez said Hamilton actually approached him at the worst possible time with his intermediate tyres degrading fast, but knowing that it was "very important" to keep Hamilton behind, Perez got the job done and "survived".
"With Lewis when he came I think I was at the worst stage of my race, I was degging off massively, and to defend [from] him was pretty hard," Perez explained.
"I think at that point Lewis is the fastest car on the track and [I'm] probably one of the slowest and really degging off with my tyres.
"At that point it was just about surviving, trying to keep him behind, it was very important for our race to keep him behind.
"He was already ahead but I gave it a good shot into Turn 1 and managed to survive, I went through the wet patches and the car stuck in.
"It was a really enjoyable fight."
P3 marked Perez's first podium finish since the French Grand Prix in June, a result which the Mexican racer felt was long overdue after some recent bad luck.
"It's been a while, for many races we have been on [for] the podium like Monza and Russia, but for some reason it wasn't coming, the last three laps something always happened," he said.
Title pendulum swings in Max Verstappen's favour
After a controlled drive in Turkey, Max Verstappen now takes a six-point lead over Lewis Hamilton in the World Championship.