Max regains P1, but concerns over Mercedes pace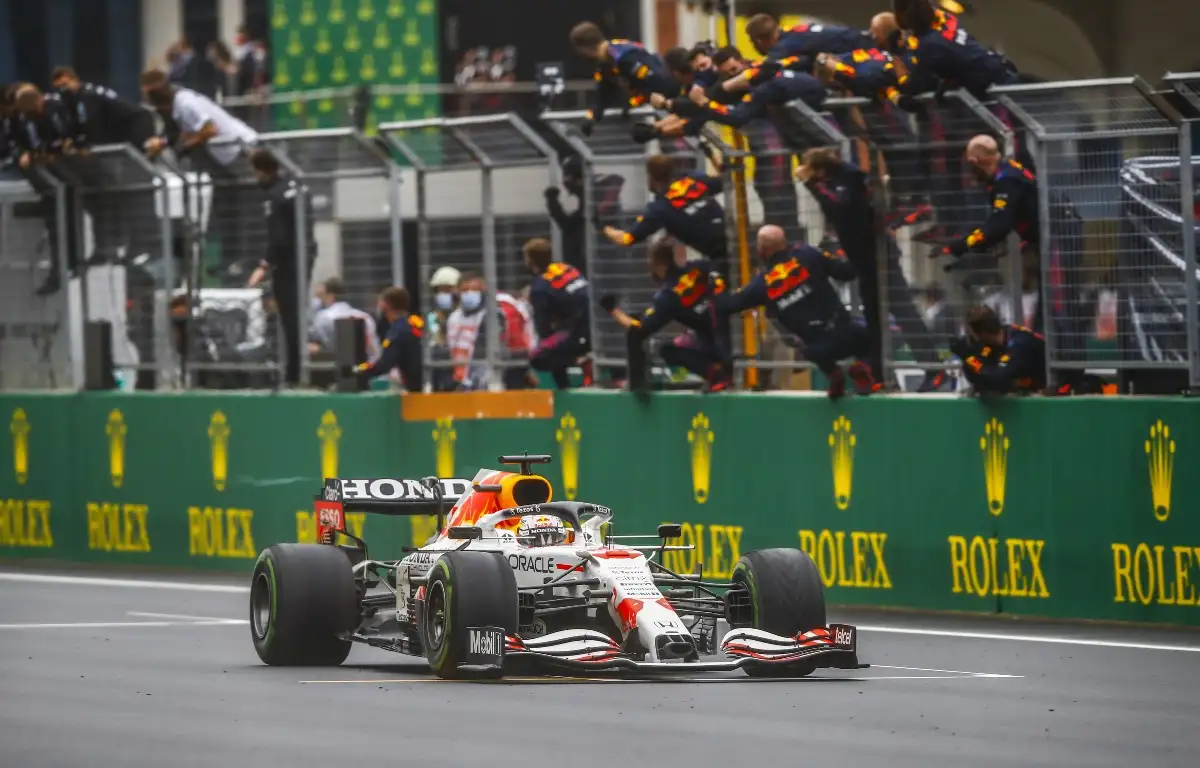 Max Verstappen leads the Drivers' Championship once again after Turkey, though urged Red Bull to up the pace if they want him to stay there.
The Dutchman was unable to make an impression on pole-sitter and Turkish Grand Prix race winner Valtteri Bottas, though did enough to secure a comfortable P2 finish which took him back ahead of Lewis Hamilton in the Drivers' Championship.
Verstappen now leads the standings by six points with six races to go, though unable to match Mercedes' performance level at Istanbul Park, he is slightly concerned for the future if Red Bull can not find a pace boost.
"Overall on a weekend I think where we were off-pace compared to them [Mercedes], to come away with second here and third with Checo [Perez] as a team I think is a great result," he told Sky F1.
"But we need to find a bit more pace because six points is nothing and I wish I had a bit more pace overall, because it's going to be tough.
"But so far I can't complain about the season, we had a lot of good results and we are in a Championship fight and that is all we could hope for.
"Now we will see how it will go."
Next up is the United States Grand Prix, so the Circuit of the Americas brings a totally different challenge, potentially one which leans towards Red Bull.
That was some good wheel-to-wheel combat Checo 🙌 pic.twitter.com/xSBNIZbPKz

— Red Bull Racing Honda (@redbullracing) October 10, 2021
Check out all the latest Max Verstappen merchandise via the official Formula 1 store
But rather than the pace difference between Mercedes and Red Bull in Turkey being track specific, Verstappen feels Mercedes have actually made gains over the last few races.
"I think the last few races they have picked up the pace a bit," said Verstappen.
"But we don't give up, a lot of things can happen during the race, maybe some tracks hopefully will be a bit better for us."
Despite finding little wheel-to-wheel action, the Turkish Grand Prix was not all smooth sailing for Verstappen, with the Dutchman complaining of gearshift and steering issues at different stages.
He confirmed though that the gear issue was quickly fixed and did not impact upon his performance.
"I didn't have gearshift problems, it was just like a message next to my number of what gear I would be, after one setting it was gone, it was not limiting the performance," Verstappen clarified.
Asked what the most difficult phase of his race was, Verstappen sarcastically replied: "Stay awake."
"No, it was all just about managing the tyres so you were never pushing to make it to a certain amount of laps and then you box for another set," he added.
"But happy to be on the podium."
Title pendulum swings in Max Verstappen's favour
After a controlled drive in Turkey, Max Verstappen now takes a six-point lead over Lewis Hamilton in the World Championship.