Verstappen defends Norris amidst race ban worries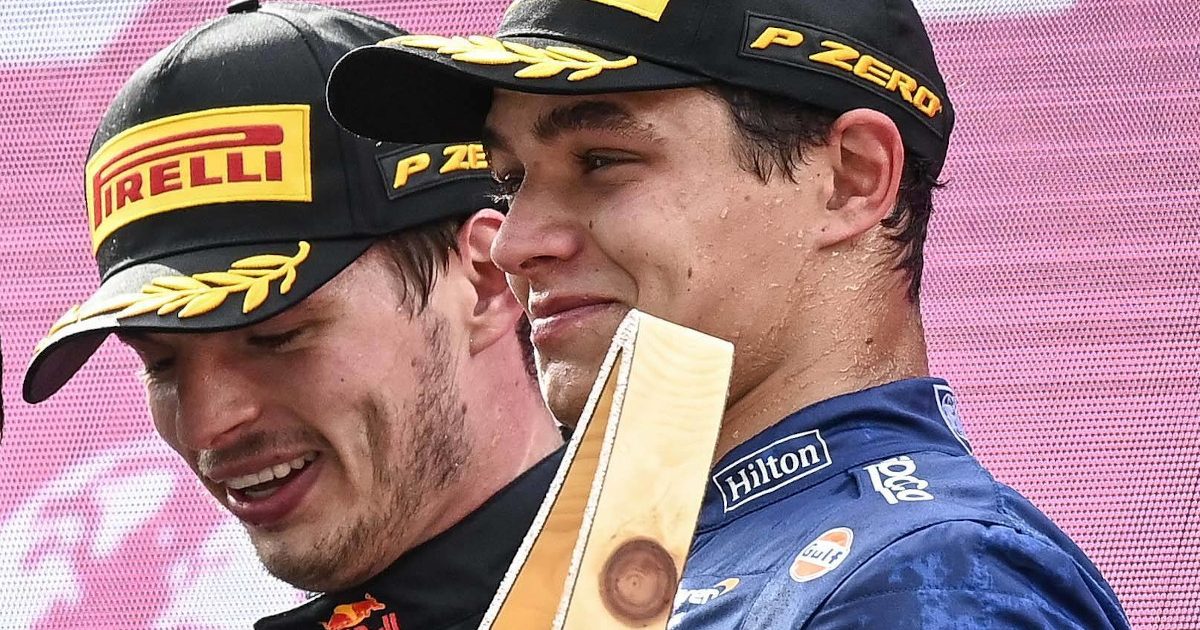 Formula 1 needs to re-evaluate its penalty points system, says Max Verstappen, with Lando Norris courting a race ban after his tally reached 10 in Austria.
Norris was penalised by the Austrian stewards for pushing Sergio Perez off the track, at least as they saw it, as the two drivers battled for position at the Red Bull Ring.
Perez tried to pass Norris around the outside at Turn 4, ran out of road and had to take to the gravel.
Norris was given a five-second time penalty and also two penalty points on his licence.
That brings his tally for the last 12 months to 10 with the McLaren driver flirting with a one-race ban.
Under F1's rules, any driver who reached 12 penalty points in a 12-month rolling period, will automatically be banned for one race.
Verstappen says that's not fair as Norris' Baku actions did not warrant a penalty.
"Let's say, how many [penalty points] do you get, two? So if you would have six of these incidents, I don't think you deserve a ban for what he did today. It's just not correct," said the Austrian GP winner.
"I mean, I've been there myself, I've been at nine or 10 points myself. It's how it goes.
"But I don't think with the things [Norris] got the penalty points for, let's say you would get to 12, you don't deserve a ban for that.
"I said it before myself I think two years ago, we should look into that but let's see."
Torquing Point - Penalty madness at Red Bull Ring
Henry and Charlotte from www.planetf1.com podcast 'Torquing Point' discuss the excessive number of penalties at last weekend's Austrian Grand Prix.
Stand out from the crowd with McLaren merchandise via the official Formula 1 store
Norris was hit with two points at last year's Styrian GP for overtaking under yellows in FP1, was awarded three in that year's Turkish GP for not slowing for yellows in qualifying, bagged another three this year in Baku for not pitting under the red flag and then has slapped with two more on Sunday.
Two of his points will expire at the next race, the British Grand Prix, dropping him to eight.
Norris says Formula 1 should only hit drivers with penalty points if their actions are deemed dangerous.
He explained: "In my opinion, they should be decisions about when someone's done something dangerous and put someone in harm's way and done something that they shouldn't have done and then you have racing and when people have to use common sense.
"Like my approach of the incident in Baku with the red flag and not boxing when I should have done, like, I didn't put anyone in harm's way, in fact it was the opposite and I did everything safely, like why should I deserve penalty points for that?
"Why should I deserve penalty points today for someone going into the gravel.
"Yeah, nothing I've done is dangerous and I don't feel like, maybe in some cases you deserve an on-track penalty, because you've done something bad in terms of racing and you just made a mistake but then you have things that people do every now and then which are purely dangerous.
"If you do genuinely overtake in a yellow flag and do something else that's clearly a rule that will put people in danger then I understand penalty points for a driver and if that adds up you get a driver ban or race ban but for little things like this, it's stupid in my opinion.
"It's not what Formula 1 should be. Yeah, I don't know. I would expect and hope that other people would back me up on this kind of opinion."
Follow us on Twitter @Planet_F1 and like our Facebook page.