Max: 'Quali mode' ban good, but not reason for deficit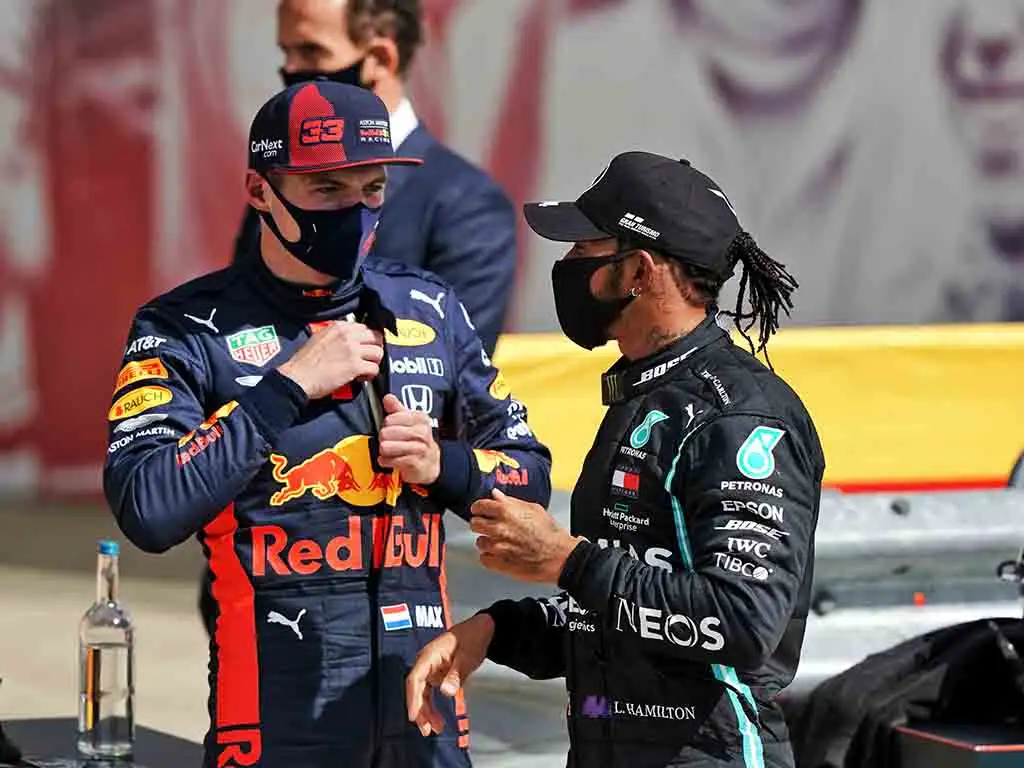 Red Bull's Max Verstappen believes it would be "good" for Formula 1 to ban engine "qualifying modes", but doesn't think they alone are behind Mercedes' pace.
The FIA have sent a letter to teams which outlines their intentions to ban the short-term performance boosts known as "qualifying modes".
Some reports suggest that ban would come into effect from next season, but others are saying it could be active as of the Belgian Grand Prix in two weeks' time.
Of all the teams Mercedes would likely suffer the most from such a ban, and already Lewis Hamilton has called it an attempt to slow Mercedes down.
But if teams are forced to run the same engine settings in qualifying and in the race, then Verstappen sees that as a "good" thing for the sport.
"I guess we will see what happens with that," he said in a press conference ahead of the Spanish Grand Prix.
"I think in a way maybe it's good as we are not really allowed to touch the car after qualifying, except those kind of things, engine modes, so probably if you want to go down that route anyway by not touching the car I think it's good you maybe get rid of that as well."
Although Verstappen ended Mercedes' 100% winning record in 2020 by taking victory at the 70th Anniversary Grand Prix, there is still a gulf in one-lap pace between Mercedes and Red Bull.
Verstappen is yet to get within 0.5s of a pole time set by Mercedes.
But, he doesn't think that the Silver Arrows' "party mode" is the magic ingredient behind their dominant one-lap pace.
Asked about the areas where he feels Red Bull are losing out to Mercedes in qualifying, he said: "I think every weekend has been a bit different.
"Sometimes it's a bit more top speed, where then we are maybe a bit more competitive in corners compared to some other tracks. Even between Silverstone in the two weeks it was different.
"It's difficult to say because also you run different kind of downforce levels between the teams as well. In qualifying they have quite a strong qualifying mode but from our side we know we can do better on the car side and we know we need a bit more power so we need to focus on that."
Now it's time to celebrate @Max33Verstappen! 🎉🏆 #givesyouwings pic.twitter.com/qU6RlF4Q56

— Aston Martin Red Bull Racing (@redbullracing) August 9, 2020
Get your hands on the official Red Bull 2020 collection via the Formula 1 store
Verstappen cut the gap to Lewis Hamilton to 30 points in the Drivers' Championship after his victory at Silverstone, but for him it didn't really change his mentality.
"For me it's still pretty much the same as even before the race last week," he admitted.
"I think we still need to find pace, we still need to improve, both qualifying and the race, but especially in qualifying. Nothing really changed.
"It was just maybe a bit of an odd weekend last weekend where we ran softer compounds which definitely worked for us and not for Mercedes.
"Luckily it's warm here, that's always good, but we run quite hard compounds. I don't know. I am of course happy where I am in the Championship but it can always be better right?
"There's still one more spot to go and we still need to find pace in our package."
Follow us on Twitter @Planet_F1 and like our Facebook page.