Verstappen hails Red Bull 'belief' after late strategy gamble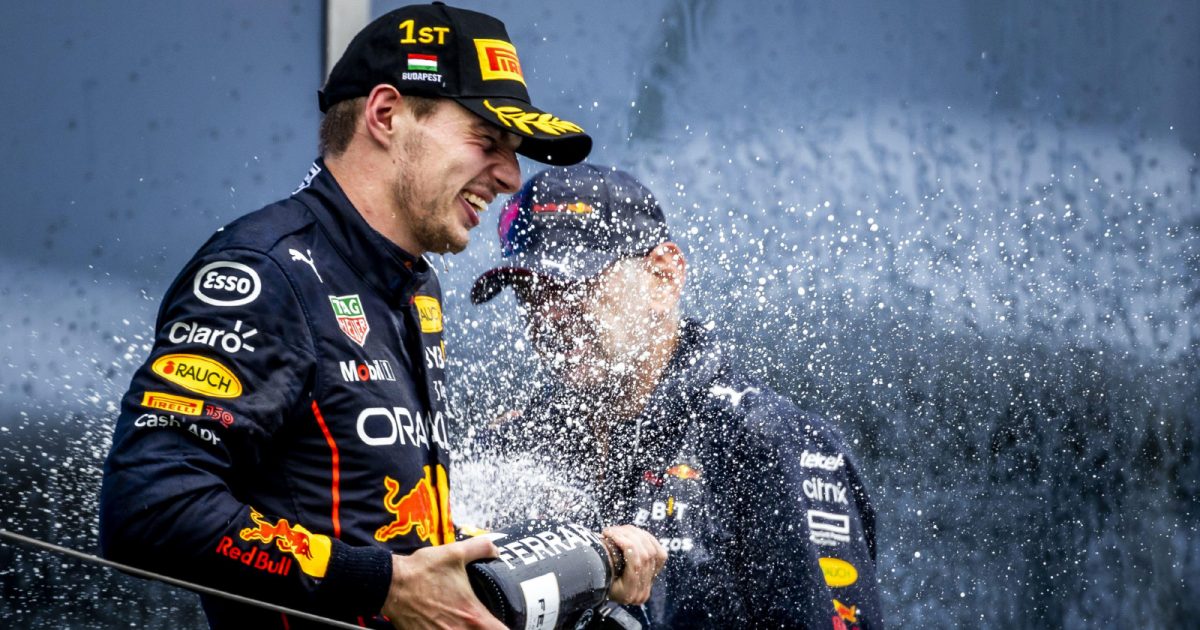 Red Bull's Max Verstappen said the team's late call to switch away from their original planned strategy underlined their self-belief.
Verstappen, together with team-mate Sergio Perez, was due to start the Hungarian Grand Prix on the hard tyre compound, due to their midfield starting positions of 10th and 11th.
Team boss Christian Horner revealed the team's original plans while speaking to Sky F1 after the race, with Verstappen explaining why the call was made, just before the race began, to switch both drivers to the soft tyre compound that proved critical to the eventual victory.
"I think it just shows how quickly we can react because we were planning to start on the hard," Verstappen told Sky F1.
"We went out for the reconnaissance lap, and we were like 'that's not working, we'll go on the soft'.
"The team needs to be flexible, because everything is calculated around the hard tyre. Then, to make that quick decision shows that we have a lot of belief in ourselves to make the right calls and, from there onwards, we had to remain calm and be careful on the first lap."
Having come from 10th place on the grid to claim victory via an aggressive tyre strategy that saw the team employ the undercut twice, Verstappen said victory hadn't come to his mind until quite far into the race.
"I said to Mara [Sangiorgio, Sky Italy] yesterday that I was gonna win the race. I was actually joking, but now [I'm] not!" Verstappen laughed.
"I got a bit unlucky [at the start], I was boxed in into Turn 1 but then, again, you remain calm and then, actually, out of the corner, had a good launch because it was all a bit messy there.
"We just moved our way forwards, and then the team made the right calls with the two undercuts, I think we did the right strategy and we chose the right tyres, and we managed it to the end, including a 360!"
The Dutch driver was asked about whether he had had much input into Red Bull's strategic decisions, and he said flexibility was the key to unlocking the winning strategy.
"We had a few plans, but you have to be flexible as well," he explained.
"You cannot always rely on the calculations you make before the race because with these temperatures and it was constantly drizzling a bit.
"You have to adapt, you need that feel. It's not only me in the car, but also the pitwall – they need that feeling of making the right calls and they have that."