Formula 1 needs the rivalry between Max Verstappen and Lewis Hamilton to "erupt", that's according to Christian Horner.
Mercedes romped to the victory in the opening four grands prix of this season, taking a sizeable lead in both championship races.
Red Bull, though, make it a little bit more exciting last time out at the 70th Anniversary Grand Prix as the team put Max Verstappen on an alternate strategy, one that handed him his first win of the championship.
The Dutchman beat Lewis Hamilton to the chequered flag to move up to second in the Drivers' standings, although he still 30 points behind the six-time World Champion.
Mercedes motorsport boss Toto Wolff fears Verstappen could do it again at this weekend's Spanish Grand Prix.
Although the Red Bull driver is starting third, the run down to Turn 1 offers the perfect slipstream with pole position man Hamilton and his team-mate Valtteri Bottas set to carve a gap through the air for Verstappen.
The heat, similar to last weekend's, will also play to Red Bull's strengthens.
"The only similarity between Silverstone and Barcelona this week is the ambient and the track temperatures," Wolff told Autosport.
"The track itself is very different, so we don't expect the same blistering issue like at Silverstone, but nevertheless [there will be] more degradation and more overheating.
"I believe Red Bull masters those conditions very well.
"We have improved and that is most important. I hope we can give him a run for his money.
"Definitely Max needs to be seen as the favourite, based on yesterday's long runs."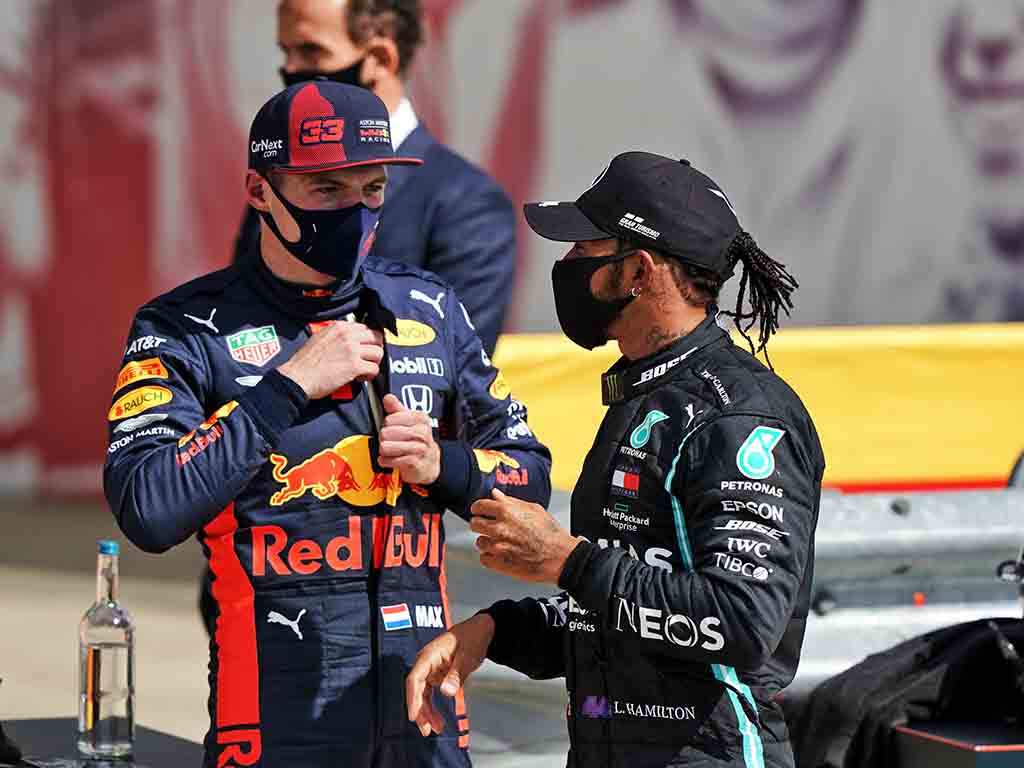 Horner hopes Red Bull and Verstappen come into play.
The team boss says at a time when Mercedes is racing towards a seventh championship double, and a seventh World title for Hamilton, the sport needs a rivalry.
Official F1 Shop: Black and white face coverings
And what better than Verstappen versus Hamilton.
"For Formula One it would be fantastic because everybody is dying for that rivalry to erupt," the Red Bull team boss told PA.
"Max and Lewis are the two standout drivers in Formula One at the moment.
"Both are at different stages of their careers and it would be great to see them go head-to-head, this year and next.
"When people know what the result is going to be, why bother watching, unless you are a die-hard fan? Sport is all about competition and that is what we want to see.
"So hopefully we can be competitive with Mercedes and have more Sundays like last Sunday and get ourselves back into the championship fight."
Follow all the action from the Spanish Grand Prix with the PlanetF1 live centre