Why Max Verstappen and Sergio Perez are fearful of Red Bull run ending in Singapore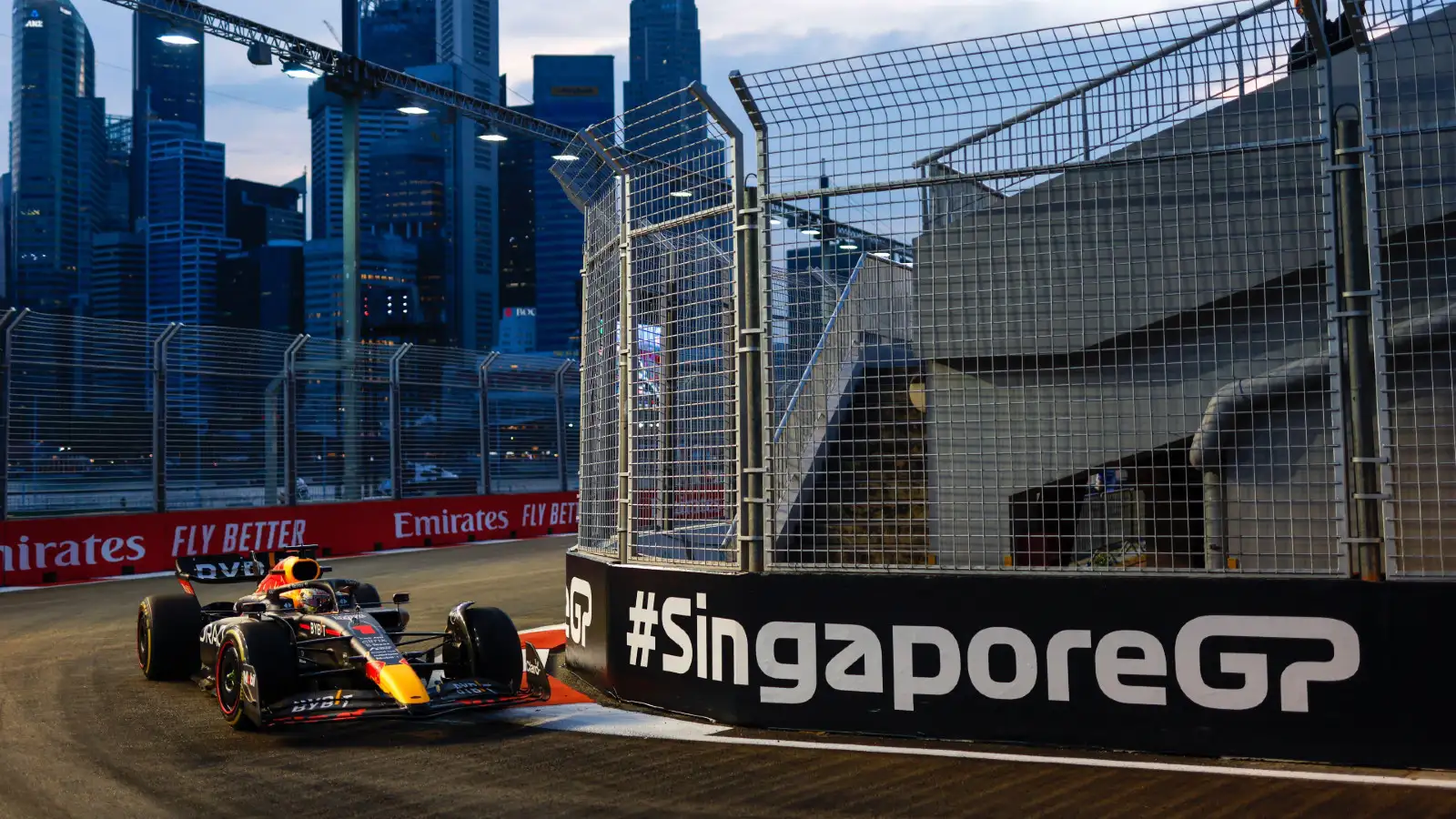 Both Red Bull drivers suspect this weekend's race in Singapore won't be the easiest for the RB19 as the team's dominant run continues.
With Max Verstappen clinching a record-breaking 10th consecutive Grand Prix win last time out at Monza, it continued Red Bull's unbeaten streak of winning every race so far this year and extends up to 15 the team's winning run that started at last season's Abu Dhabi Grand Prix.
Monza was a particularly hard-fought race for Red Bull, with Ferrari showing up with a hugely competitive SF-23, and Verstappen and Perez both believe the unique challenges of Singapore represent a particularly tough obstacle to keep the winning run going this weekend.
Sergio Perez: Anything can happen in Singapore
Last year's Singapore race was one of very few to go wrong for Max Verstappen, with the Dutch driver starting from eighth after a fuel miscalculation from Red Bull. In the race, a podium possibility went begging when Verstappen made a rare error and locked up to slide off the circuit – he would go on to finish in seventh overall.
Sergio Perez won the race last year, withstanding tremendous pressure ladled on by Ferrari's Charles Leclerc in the closing stages. With Marina Bay being a huge mental challenge for the drivers as it frequently runs to two hours in duration, the proximity of the walls and the slow, tortuous nature of the circuit means incidents and Safety Cars are commonplace – all additional hurdles that could prevent Red Bull from a perfect showing.
"A little bit more difficult, I think for us. But we'll see," Verstappen told media, including PlanetF1.com, when asked about his thoughts ahead of the Singapore GP.
"We'll do our best and of course, we'll try to go in there and try to win it again. But it's not, let's say, going to be the strongest weekend for us."
Asked why he feels that way, the bumpy and stop-start nature of the circuit means the RB19 isn't at its best, according to Verstappen.
"We try to improve everything we can but some things, of course, they might only be fixed for next year," he said.
"I do think that Singapore probably is a little bit more difficult than Spa, Zandvoort, and any of this kind of tracks."
PlanetF1.com recommends
Revealed: The five longest winning streaks by a single driver in F1
Revealed: The biggest title-winning margins in F1 history
Christian Horner: It's inevitable that Red Bull will be beaten
Perez, who heads into the race weekend as the defending Singapore winner, said the propensity for incidents during the long Grand Prix means he's expecting a less smooth weekend.
"I agree with Max, I think it's going to be a weekend where basically anything can happen, and hopefully we are able to have a very strong Saturday," he said.
"Because if you don't start in the front row, it's very unlikely that you will have a shot at the victory. So hopefully we can repeat what we did last year there."
With Red Bull having weathered other idiosyncratic circuits, such as Monaco, Hungary, and Monza, Singapore represents one of the last truly unusual challenges of the 2023 season. Team boss Christian Horner admitted that it's only a question of "when" and not "if" his team are finally beaten, but said his outfit are hopeful of continuing the run through this weekend at Marina Bay.
"One day, we're going to get beaten. That's inevitable and guaranteed, it's just a question of when," he said.
"Obviously, we want to make the win as far away as we can. I think that, with every weekend that goes past, there become more expectations to keep this amazing run of results.
"To think that we've won all 14 Grands Prix, 24 of the last 25 races, we've managed to win as a team, and it's quite incredible that we've managed to keep this momentum going as long as we can."
Read Next: Why Toto Wolff is hopeful of strong Mercedes showing in Singapore