Max Verstappen doubts Saudi-like recovery possible for Sergio Perez in Melbourne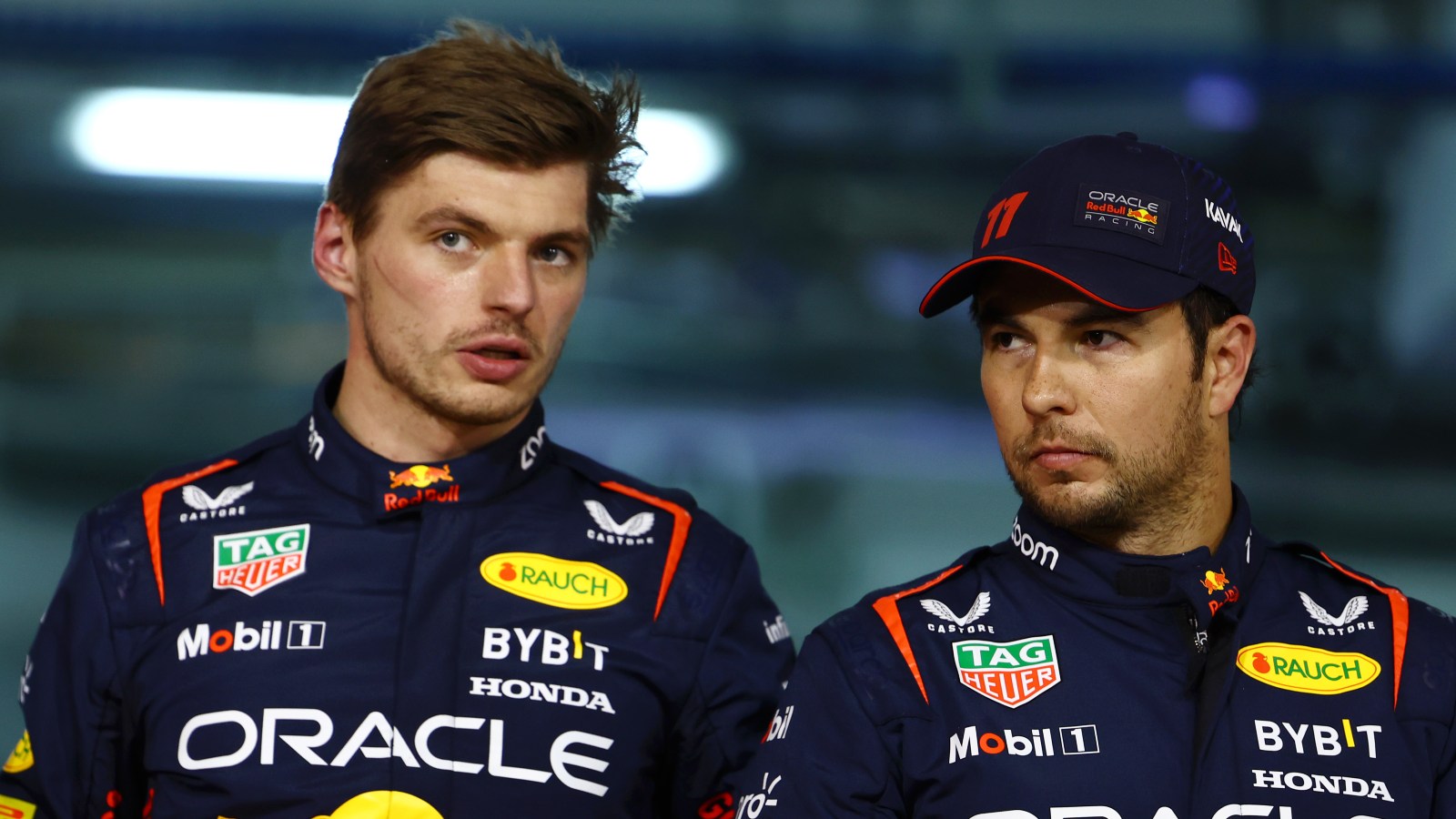 Max Verstappen has cast doubt on Red Bull team-mate Sergio Perez's ability to recover through the field from a poor grid position at the Australian Grand Prix.
Having struggled throughout the final practice session in Melbourne, Perez's day went from bad to worse in qualifying as he locked up at Turn 3 and beached his car in the gravel without setting a time in Q1.
That means the Mexican, currently just a single point behind Verstappen in the Drivers' Championship having won the previous race in Saudi Arabia from pole position, will start Sunday's race from 20th.
Additional reporting by Michael Lamonato
Verstappen produced a fine recovery drive to second in Jeddah after suffering a driveshaft issue in qualifying, which left him 15th on the grid.
But after claiming his second pole of the 2023 season in Australia, the Dutch driver feels a recovery from the back at Albert Park – despite the presence of four DRS zones – will prove a far tougher task for Perez without the help of a Safety Car.
Asked during the post-qualifying FIA press conference if he still considered his team-mate a factor in the race, Verstappen replied: "Normally, not for me."
Pressed further on how much ground his team-mate could realistically recover, he said: "I don't know.
"I think this track is a bit tricky to pass but that extra DRS zone will help for sure.
"But again, it's just really difficult to say.
"I mean, it depends also how the pace of the other cars [is] in the race, if they have tyre deg or if you're better on deg.
"A lot of factors come into play."
PlanetF1.com recommends
Jenson Button criticises Sergio Perez qualy approach after early retirement
Lewis Hamilton eyes Max Verstappen battle after 'totally unexpected' qualifying pace
George Russell wanted more from qualifying: 'I was disappointed we didn't get pole!'
Starting Sunday's race from second following an encouraging performance by Mercedes, George Russell concurred with Verstappen's view that progress from the back will be difficult for Perez at Albert Park.
He added: "It'll be challenging around here.
"For sure he will come through to the top 10 but I don't think at a circuit like this he'll be able to fight towards the front."
Reflecting on his own qualifying performance, Verstappen felt the tyres were the biggest challenge around the Albert Park lap especially after Friday practice running was interrupted by rain and a GPS issue.
He explained: "The last lap was pretty decent.
"Up until then it was just really tricky to find the grip and try to nail it on one lap.
"I think you could see everyone was doing it like a build [lap], or were going faster on the second attempt.
"I only had time in that last run to go out and just go for it first time and it worked out, so I'm very happy with that.
"I think overall it was going quite well in Q1, Q2, Q3.
"But like I said, just very tough to get the tyres to work in Turn 1 and get that comfortable feeling through that corner.
"I think that has been the story again, the whole week and I think also it wouldn't have mattered if we had full running in FP1 and FP2.
"On a performance lap, it seems very tricky with this new Tarmac around here since last year."
Despite the interrupted preparations in Melbourne, Verstappen insisted he has no concerns for the race having carried out a longer run in the final practice session on Saturday morning.
"I did a long run in FP3, so I had a bit of a read on the tyres," he added.
"I don't think it's a straightforward race with the tyres but I think, what we've shown so far this year, the car normally is good in the race."
Verstappen will be going for his first Australian Grand Prix win on Sunday, with Red Bull having not won this event since 2011.