Max Verstappen v Sergio Perez: There was only ever going to be one winner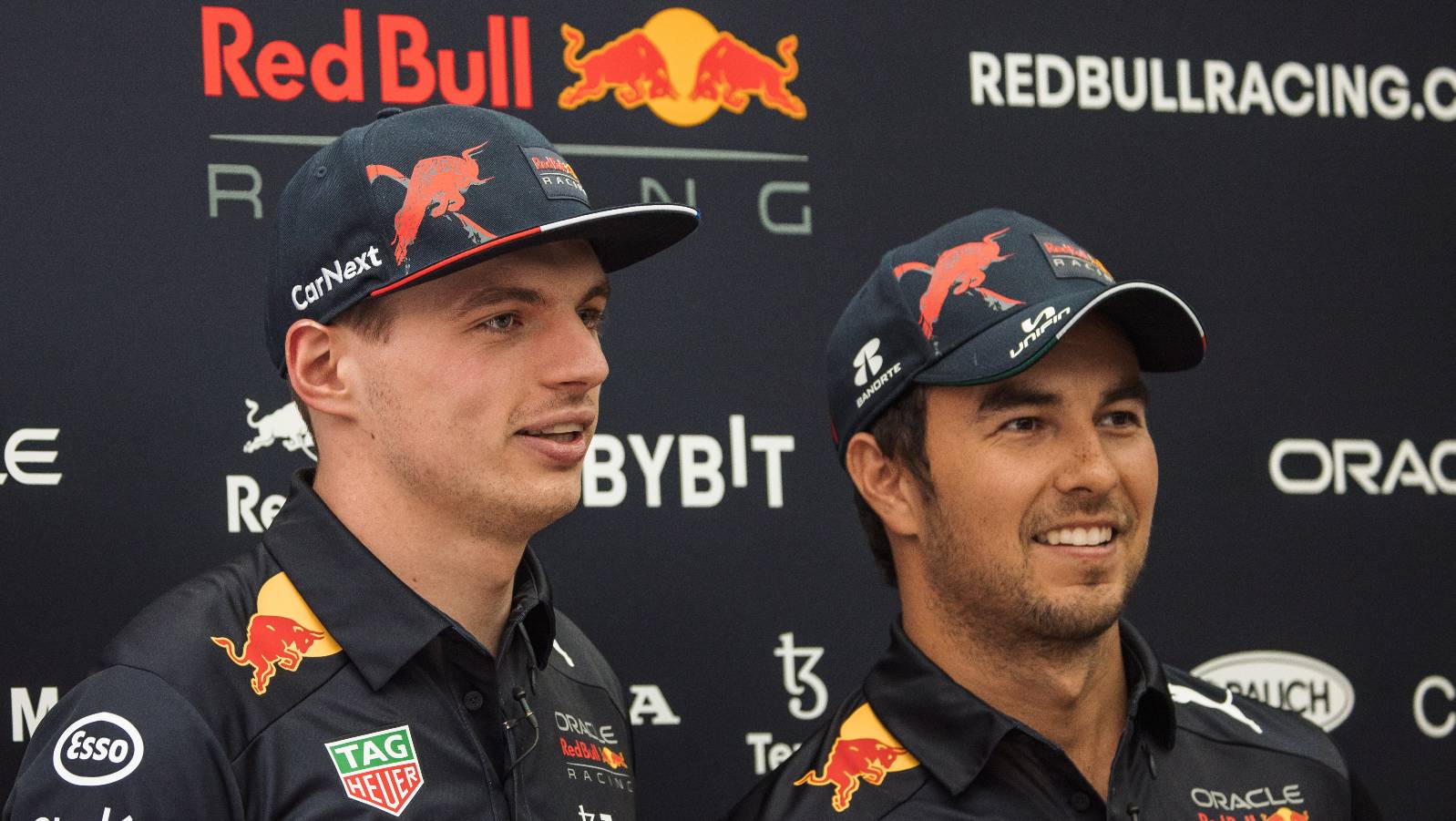 Qualifying: 18-4
Races both finished: 15-3
Points: 454-305
As the Red Bull team-mates lined up on the 2022 grid, one the reigning World Champion, the other his "what a legend" team-mate, it was always going to be one-way traffic in Max Verstappen's favour. The only person who didn't expect that was Sergio Perez.
Verstappen won their qualifying head-to-head, finished more races in front of his team-mate and outscored him on his way to a second World title. It's fair to say the numbers were all slanted in his direction, but that didn't stop Perez from dreaming initially.
Their season didn't exactly get off to the best of starts, both team-mates retiring from the season-opening Bahrain Grand Prix while fighting for podium finishes. On the positive side, their RB18 had pace, on the negative it had a few niggles that needed sorted out. The team seemed to have done that one race later in Saudi Arabia, Verstappen recording his first race win in his title defence, Perez losing out on a podium to the Ferrari drivers despite having started from pole position.
He made amends in Australia, P2 as a dejected Verstappen retired for the second time in three races, the Dutchman all but declaring the title race over as he had slipped 46 points behind runaway championship leader Charles Leclerc. How quickly those pages were turned.
Red Bull went on a six-race winning streak, three to Verstappen, one to Perez, two more to Verstappen and by the time Canada was done and dusted the reigning World Champion was on his way to a second World title – his only blip in that six-race run Perez's Monaco win.
That weekend the Mexican driver qualified P3 to Verstappen's P4, both behind the Ferraris after Perez brought out the red flags late in Q3 when he slid into the barriers. In a rain-delayed grand prix, it was Perez who came out on top as Ferrari botched Leclerc's strategy and Verstappen found himself stuck behind both F1-75s.
At the time it was just another grand prix, a race that earned Perez a new two-year contract, and one that Red Bull team boss Christian Horner answering questions about how Red Bull would handle it if they had an intra-team fight for the Drivers' crown. If only Formula 1 pundits had known the real question that needed asking. But more on that to come.
Red Bull's run ended at the British Grand Prix, a race that was marred by a massive first-lap shunt for Zhou Guanyu who was lucky to walk away without any serious injuries. After the restart Verstappen's floor was damaged by debris which cost him pace, the Dutchman finishing down in seventh place, while Carlos Sainz held off Perez to take his maiden Formula 1 win. Perez was again sniffing at the possibility of a title title, 34 points behind Verstappen.
A retirement in Austria put in a dent in Perez's dream while Verstappen's ensuing run of five race wins from France to Italy extinguished that fire completely. In that saw time Perez managed just one podium finish, P2 in Belgium, and began speaking about how Red Bull's upgrades for the RB18 had favoured Verstappen's style over his. Red Bull denied this, adamant all they were trying to do was make a lighter faster car.
With the title pretty much in the bag for Verstappen, Perez found himself up against Leclerc for runner-up in the standings with his second win of the season, Singapore, closing the gap to two points. P2 in Japan and he had the advantage by a point. But that race was all about his team-mate, Verstappen wrapping up title number two with win number 12 of the season, and doing so with four races to spare. Wins 13 and 14 followed for the champion in Austin and Mexico, Perez at least on the podium at his home race having made it clear he didn't want a pity win from his team-mate.
But one race later he did want help, and it wasn't forthcoming. In fact the request was thrown back in his and Red Bull's faces. Racing for P6 at the Sao Paulo Grand Prix, Perez was asked to let Verstappen by so he could try chase down the cars ahead which included Leclerc. He did so but when the time came for Verstappen to give the position back, he blatantly ignored the team.
Verstappen: "I told you already last summer, guys. Don't ask that again to me, okay? Are we clear about that? I gave my reasons and I stand by it."
Perez: "This shows who he really is."
In a relationship of "legends" and laughs, something had gone horribly wrong. Verstappen alluded to something that happened earlier in the season, pundits seizing on Perez's Monaco crash with whispers it was deliberate to keep Verstappen behind him. Red Bull refused to share details, Verstappen also wouldn't go into it, and Perez, well Perez apologised to Max for slating his characters because that's what a good number two does.
Heading into the season finale in Abu Dhabi with Perez tied with Leclerc on points Verstappen said he'd help his team-mate this time around but it never came to that, Perez's two stop-strategy meaning he was finished behind Leclerc and missed out on runner-up by three points.
Interestingly, Verstappen was asked after the race why he didn't block Leclerc and hold him up to help Perez close the gap. He said that wasn't "fair racing", adding it would not have been the "nicest way going out of the championship". And yet that's exactly what Perez did for him 12 months prior against Lewis Hamilton to earn his "legend" tag. Perhaps things aren't as resolved as Red Bull would want us to believe.
Verstappen and Perez will remain team-mates next season, Red Bull going for a third successive Drivers' crown and a second Constructors'. But while pundits were asking after Sao Paulo if Verstappen could count on Perez's support next season, Red Bull shored up their side by signing Daniel Ricciardo as their third driver.
It has taken the option of going rogue out of Perez's hands, he either helps or Ricciardo is in. And help is exactly what Red Bull expect from him, Helmut Marko already saying while he can win a "race or two", he can't see Perez fighting Verstappen for an entire season.
Verstappen will go into the campaign as Red Bull's main man and one who knows he has the team's full support. The only question is what impact their budget cap penalty will have on his title hopes and Perez's ability to help.
Read more: Charles Leclerc v Carlos Sainz: The battle to be No.1 didn't go in anyone's favour