Verstappen praises 'smart' Mick after last-lap battle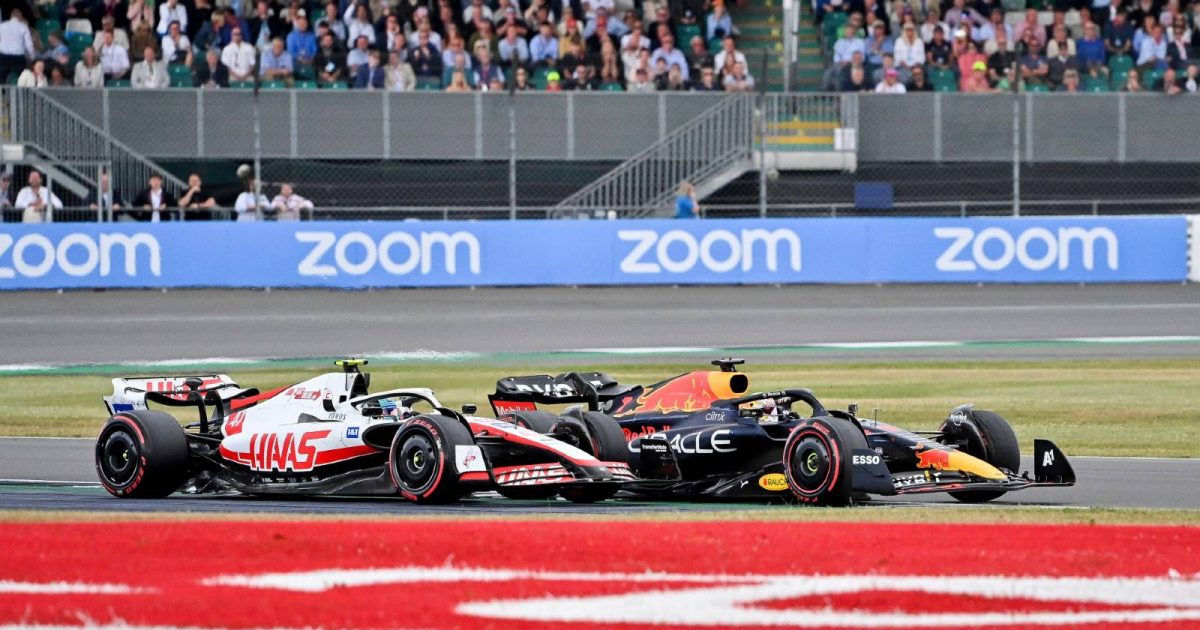 Max Verstappen has praised Mick Schumacher for being "smart enough" to avoid a costly Silverstone collision between the pair.
It has rarely happened but Verstappen and Schumacher found themselves competing for position in the British Grand Prix, eventually crossing the line seventh and eighth respectively separated by just 0.218sec.
Rather like a previous occurrence in Hungary last year, it was because Verstappen's Red Bull car was carrying damage, this time as a result of running over a piece of debris which dropped him from the lead on lap 12 of 52.
As they battled hard on the closing lap, Schumacher was chasing his first F1 points at the 32nd attempt – and some watching his quest unfold must have feared a repeat of May's Miami GP in which he collided with Sebastian Vettel in the closing stages just when a maiden top-10 finish had been in reach.
But on this occasion, even though they raced intensely, the duo – who had played together as kids with their fathers having previously been Benetton team-mates – kept it clean and ensured they both collected some valuable points.
🔊📻 "SUPER, SUPER, SUPER, SUPER!"

Gina on the radio takeover! 😊#HaasF1 pic.twitter.com/DlZqYDFfzt

— Haas F1 Team (@HaasF1Team) July 4, 2022
"My car was limping a bit," Verstappen, who emerged with a 34-point lead in his World Championship defence, told reporters.
"I knew also Mick was really trying to go for seventh, and it was fun.
"Of course, I was not enjoying where I was, but you can also appreciate the fight you are having with someone else. I think it was actually quite a good battle.
"I said to him 'I knew you were fighting for the points'. He said 'yeah, I know, but I really wanted seventh'. I said 'I know you did, I saw that!'
"It was a good battle. I was like 'well, he had to know to back off, otherwise we are both out'. Luckily, he is smart enough to."
Schumacher's first points finish sparked scenes of jubilation in the Haas garage that also involved his mother, Corinna, and sister, Gina.
The team's first double points finish since the 2019 German Grand Prix featured Kevin Magnussen as a common denominator, the Dane following Schumacher home in 10th having accompanied Romain Grosjean when both had scored at Hockenheim three years earlier.
The Haas team posed for a group photo to celebrate their Silverstone achievement which meant they sit eighth in the Constructors' Championship table, two points ahead of Aston Martin whose driver Sebastian Vettel finished in between Schumacher and Magnussen in Britain.
Mick Schumacher given 9.5/10 for first F1 points
Mick Schumacher finally scored his first F1 points - and not before time, too.