Masi explains Verstappen's three-place penalty for Sochi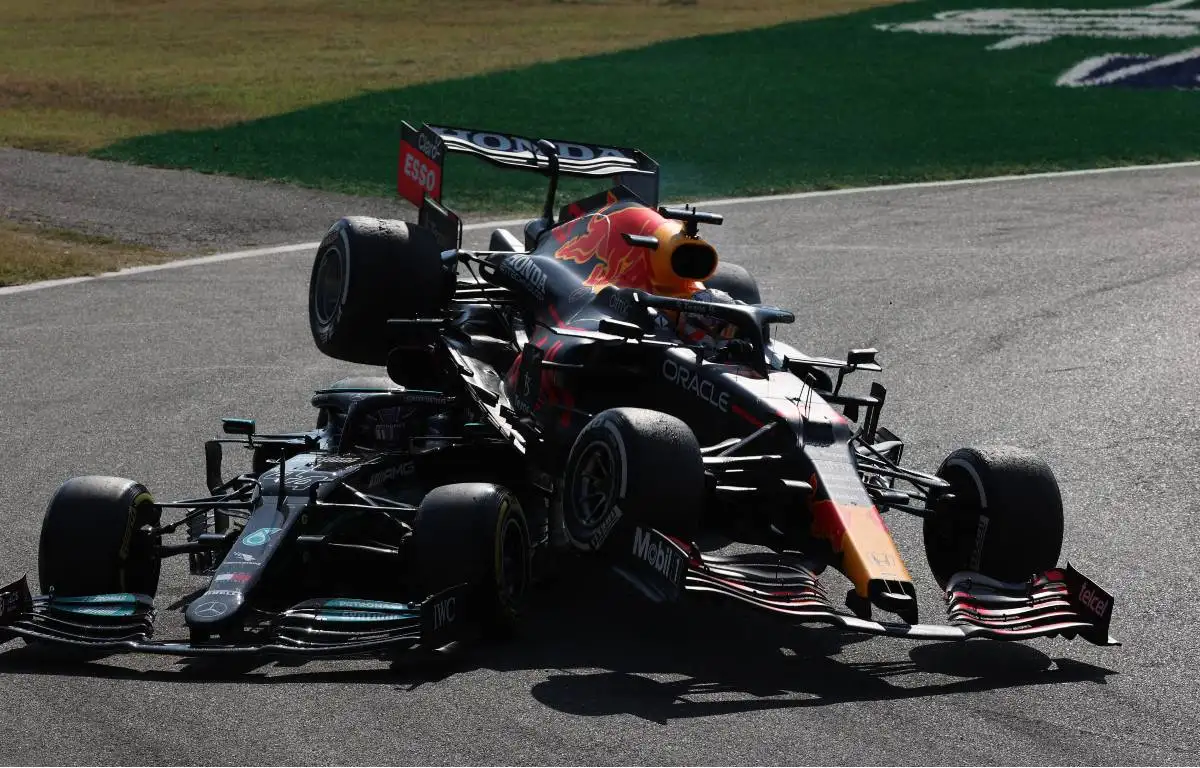 Formula 1 race director Michael Masi says Max Verstappen was "predominantly, not fully" to blame for his Monza crash with Lewis Hamilton.
Title rivals Verstappen and Hamilton were involved in a race-ending collision for the second time this season, as the pair ended up in the gravel after coming together at the Rettifilo chicane.
Verstappen went around the outside of Hamilton, who was exiting the pits, at Turn 1, but as he went for the inside line at Turn 2, Verstappen jolted over the sausage kerb and into Hamilton, with his Red Bull going over the top of Hamilton in the Mercedes cockpit.
The stewards would hand Verstappen a three-place grid drop for the upcoming Russian Grand Prix, and Masi explained that this was due to neither driver being fully to blame, but when one is judged to be more at fault, this is the penalty which is applied.
"Their assessment was that effectively Lewis had the corner, it was Lewis' corner," Masi told Sky F1 of the stewards' verdict.
"The other element of it was that Max had other options, whereas as we saw on numerous occasions today [in the race], drivers in similar types of scenarios took the bumps behind Turn 2, and then rejoined the track.
"So it was sort of a combination of those matters, and in handing down their decision, it was that Max was predominantly to blame, so it wasn't holding Max at fault at all, but he was more at fault than Lewis in that particular situation.
"And as we have seen with incidents this year, and following discussions with the teams and the drivers, if both cars are out and someone is predominantly to blame, a grid penalty will be applied at the following event."
Toto Wolff to Sky on the Verstappen/Hamilton crash: "I would say it's – in football, you'd call it a tactical foul. He probably knew that if Lewis stays ahead, that is the race for him possibly."#ItalianGP 🇮🇹 #F1 pic.twitter.com/Ww4qMRnGgk

— PlanetF1 (@Planet_F1) September 12, 2021
Check all the latest 2021 teamwear via the official Formula 1 store
This is now the second major coming together between the pair this season, but Masi was not comfortable with the suggestion that he could step in and remind the drivers of the standards expected from them.
"I think one part that we need to realise with all of that, is that they are in a very close, tight Championship fight," Masi explained.
"[It is] between the two of them, two fantastic drivers, and extremely close, and once you are in that situation both drivers will take more risks one way or the other for whatever purpose.
"It wasn't anything in our perspective silly, it was an incident that occurred, we looked at it in exactly the same manner, as in the stewards reviewed it in exactly the same manner as they would any other incident, and determined that one of the drivers was predominantly to blame for what occurred."
The crashes at Silverstone and Monza both occurred on weekends where the sprint qualifying format was in use.
The Monza sprint allowed Verstappen to extend his lead over Hamilton in the Drivers' Championship to five points, having picked up two for a P2 finish in the 18-lap race.
But asked if the sprint races are creating extra pressure for the main race, thus triggering such risks to be taken, Masi did not believe that to be the case.
"I don't know that there is anything to that," he said in response to the theory.
"Because you could look at it like, they could lose out in qualifying in normal circumstances, so in the reverse, having sprint qualifying on a Saturday afternoon, we have seen that some people actually gain out of the situation.
"So I don't know that we could paint it all one way, there is the balance of a bit of both that happens in that situation.
"But now that we have had two samples, being at Silvertstone and then Monza, we will have a look between the FIA, F1 and the teams collectively, and see what we can improve, what we want to change for the third sprint qualifying when it occurs."
PlanetF1 verdict
Did Max Verstappen deserve his penalty or racing incident?
Did Max Verstappen deserve a penalty for his crash with Lewis Hamilton?