Max suspicious: 'Something clearly going on' with Mercedes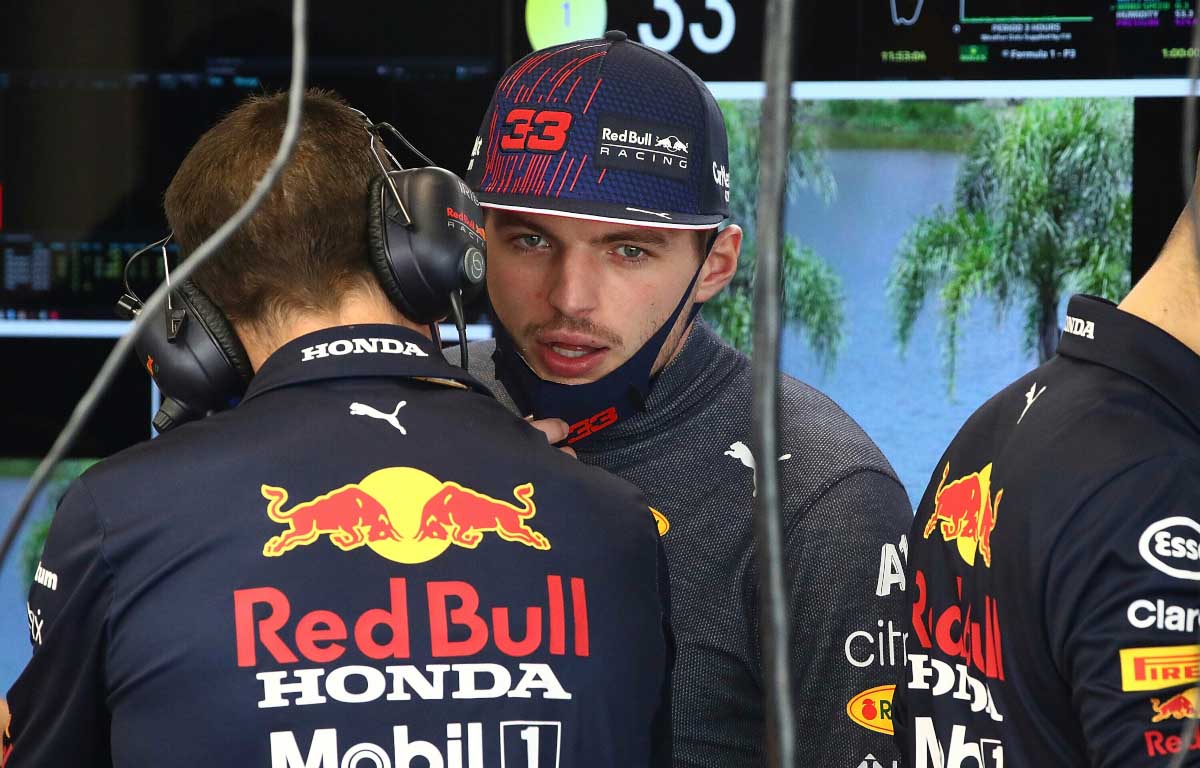 Max Verstappen thinks something isn't quite right with Mercedes' rear wings, after inspecting Lewis Hamilton's car on Friday.
Verstappen touching Hamilton's rear wing after qualifying has been the hot topic of conversation in the world of Formula 1, and he was hit with a hefty fine for doing so.
Mercedes were found to have contravened rules surrounding how far the rear wing opens while using DRS, and Hamilton was disqualified from qualifying as a result.
Even before Hamilton's penalty, Red Bull officials visited the FIA to complain about suspicions of Mercedes using a 'flexi-wing' on the back of the car, which would aid the team's top speed – and their driver still isn't convinced that everything is quite right with their rivals.
"We have our suspicions that something is going on there," Verstappen told Sky F1 after sprint qualifying. "At the beginning of the year, we all had to change our rear wings with the [central] pillar.
"So I think there's still something going on with the main plane where it's opening up and giving them more top speed.
"I just look at their rear wing and there's clearly something going on."
The FIA clarified that Verstappen committed an offence, but with "insignificant force" and "no direct harm was caused", meaning we now wait to hear the verdict on Mercedes…#BrazilGP #F1 https://t.co/W5vtUk2r3F

— PlanetF1 (@Planet_F1) November 13, 2021
Verstappen was eventually fined €50,000 by the FIA for touching the Mercedes wing, but he was quick to dismiss the impact of such a penalty.
"It's going to be a nice dinner for them, and hopefully they can order some good wine," he quipped.
On the sprint itself, Verstappen was leapfrogged at the start by Valtteri Bottas, but he took two more World Championship points by coming home second behind the Finn, giving him a front-row start in Sunday's grand prix.
Given Hamilton's charge back through the field, Verstappen is aware of how quick his rival was on Saturday, but he feels that getting past the majority of slower cars should have been done "quite easily" anyway.
On top of that, he's expecting a different set of circumstances over a full race distance.
"Of course it looks a bit worrying," the Red Bull driver said of Mercedes' pace. "But if you see the gap already to P3 today there were 18 seconds behind us, so they were really slow.
"So of course, you clear, let's say, the first 10 cars quite easily because they're miles off the pace. But nevertheless, they had good pace.
"But also for tomorrow, it's going to be quite different. The track temp is going to be almost double probably, and then everything becomes a bit more difficult.
Given the supposed warmer conditions expected on Sunday, the drivers will face different challenges with how their cars will react. With the additional temperature expected, Verstappen was asked if the different track conditions will play into Red Bull's hands.
"That's what I hope, but let's see tomorrow," he said. "Today, it was a race where you don't have pit stops as well, and then we have people gamble with the tyre and already with cars where it's hard to pass, you need a pit-stop race to make it exciting."
Vertsappen in trouble of his own
The two drivers at the head of the championship both find themselves at the scrutiny of the FIA.