Max Verstappen cheekily offers to 'swap' grid positions with Carlos Sainz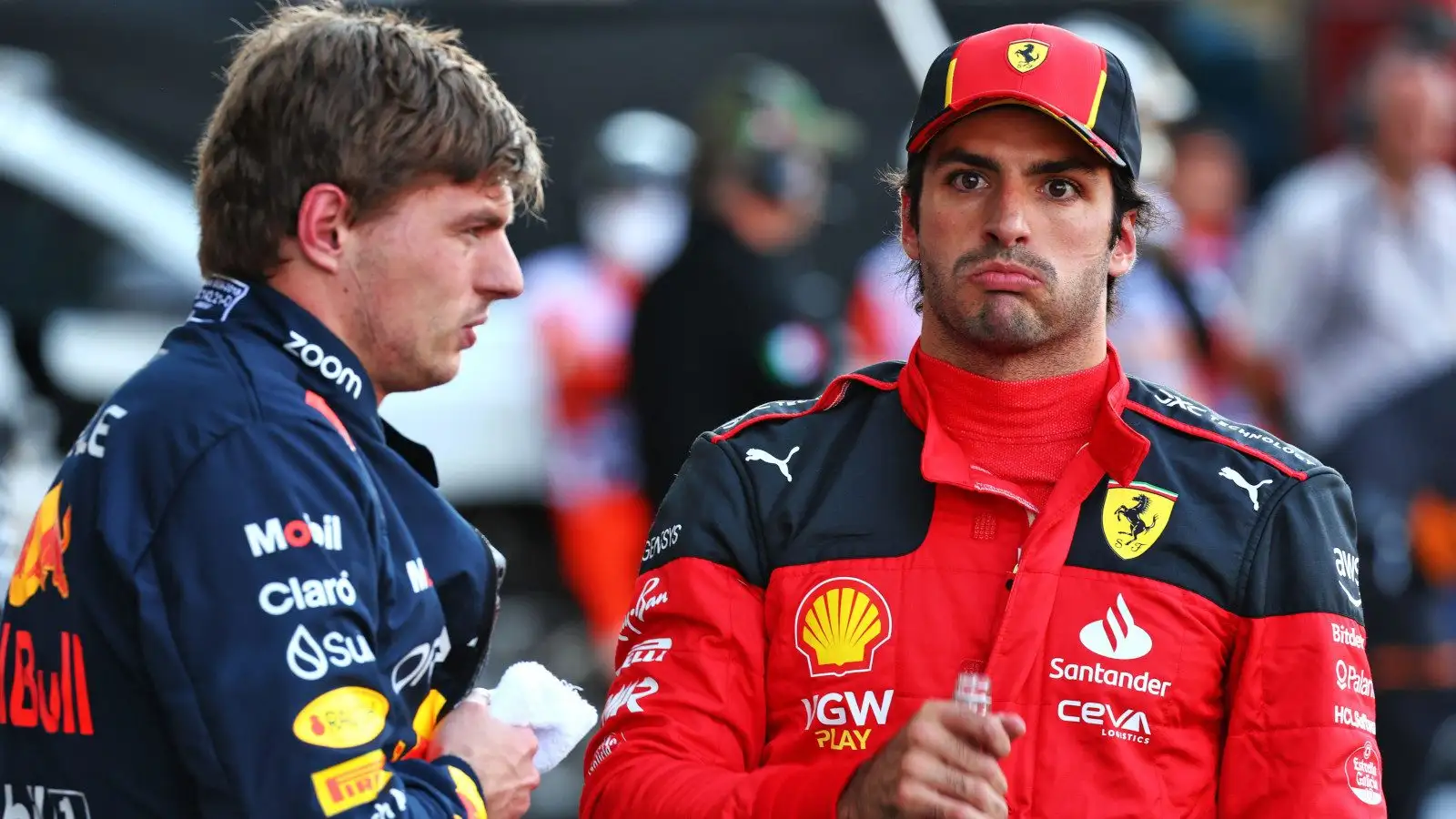 Max Verstappen offered to swap grid positions with Carlos Sainz after the Spaniard and Charles Leclerc voiced their concerns about giving him the slipstream in Mexico.
Ferrari surprised the paddock and themselves on Saturday when Leclerc clinched pole position with a 1:17.166, putting him 0.067s ahead of Sainz with Verstappen a further 0.03s down.
But starting on the front row at the Autódromo Hermanos Rodríguez is not necessarily an advantage given the long run to Turn 1, over 800 metres.
Ferrari locked out the front row but it may not be a good thing
It's how Verstappen took the lead off the Mercedes teammates back in 2021.
That season he also lined up third and made a strong start to get into the slipstream of Lewis Hamilton and pole-sitter Valtteri Bottas, using that to draw alongside them into Turn 1 before swooping across to claim the racing line and the lead.
The Ferrari teammates may have to work together to keep the World Champion at bay.
"To be honest, we haven't discussed it yet," admitted pole-sitter Leclerc in the post-race press conference. "But at the same time, it's very difficult to predict what's going to happen.
"It's basically a result of how good a start one will have. And then we'll adapt. I think, obviously, we won't take too many risks in between cars. But apart from that, it's difficult to plan what's happening at the start.
"It depends if I have a good start, if I have a bad start, so difficult to plan that."
As the question turned to Sainz, he revealed he was worried as he's starting on the dirty side of the grid which makes a "big difference" in Mexico.
"I was almost kind of expecting Max to beat me a bit and maybe put me on P3 to have a better launch," he added.
To which Verstappen kindly offered: "You want to swap?"
Sainz replied: "You know, I'm considering it! But yeah, I think it will be a fun start, a fun run down to Turn One. I think Max will be on the attack. We will all be trying to get slipstream, so it's always a good run down to Turn 1 here."
Verstappen has already made his intentions with the slipstream known.
"I am feeling confident, I of course would've liked to start first tomorrow but we'll have a good slipstream into turn one so let's see what we can do," he said.
PlanetF1.com recommends
F1 race wins: Which drivers have the highest win totals in F1 history?
F1 2023: Head-to-head qualifying and race stats between team-mates
Leclerc reckons the Dutchman is the biggest danger to Ferrari's chances of securing a second win for this season.
"Max has been extremely strong on the race pace," he said. "So at the moment, it's Max. We still have a lot of work to do as a team, I think, to match them with our race pace.
"It's a very difficult race here. Everything can happen, especially with the cooling. Whichever car is behind will do a bit more management, so that can play in our favour.
"But for that, we need to do a good start. And starting first here, it's always tricky to keep that position into the first corner, but we've had pretty good starts this year.
"So I'm confident we can keep that first place into Turn 1 and then we'll try and do our best race."
Read next: Max Verstappen's simple solution to 'imperfect' qualifying rules