Ferrari: Max Verstappen's tear-off caused Charles Leclerc's Belgian GP problems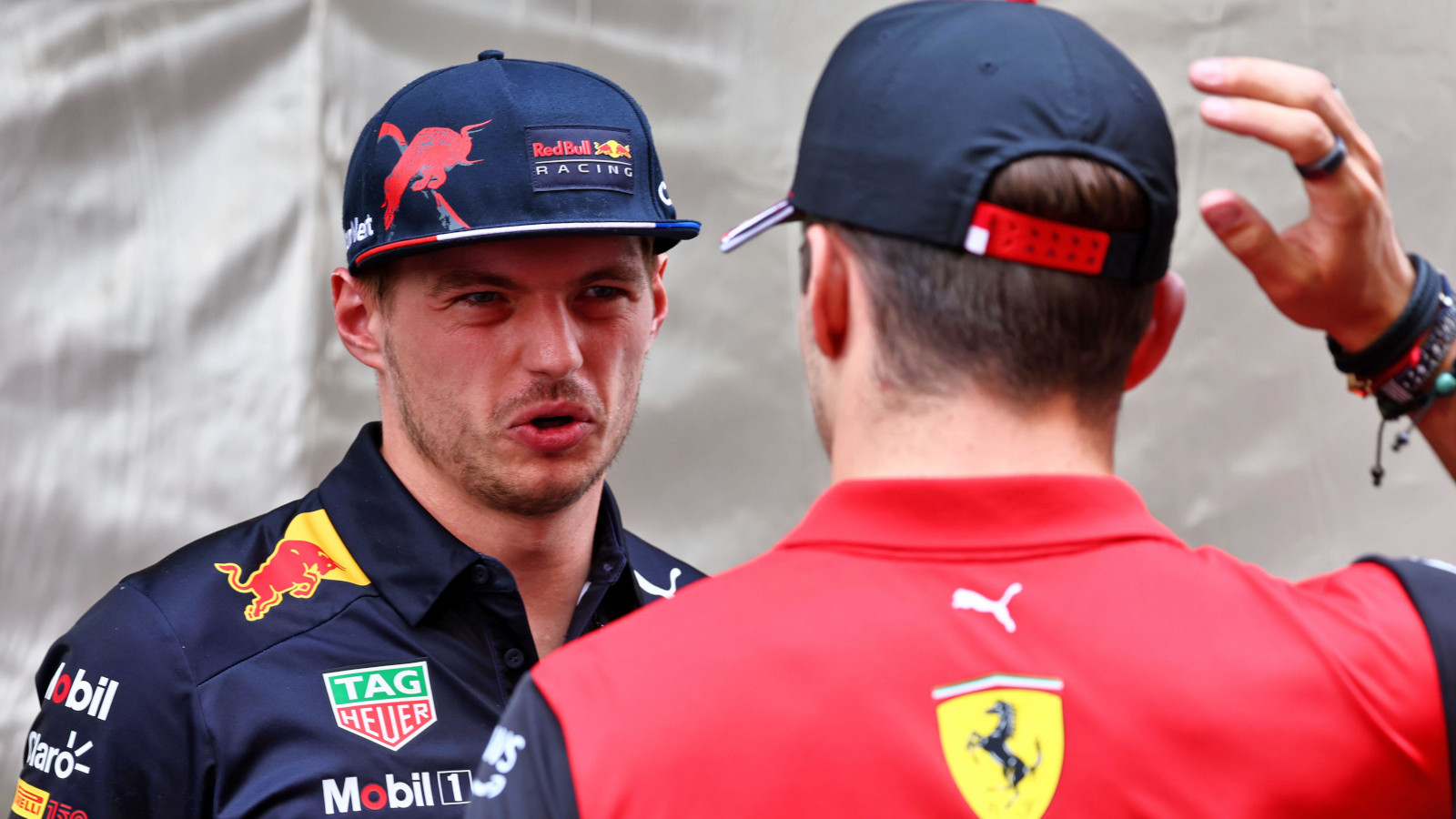 Ferrari reportedly have footage showing it was Max Verstappen's tear-off which got lodged in Charles Leclerc's brake cooling on the opening lap of the Belgian Grand Prix.
The championship rivals started 14th and 15th at the Spa-Francorchamps circuit with Verstappen ahead of the Ferrari driver on the grid.
He made the better start, his position on the track meaning he got a fair amount of fluid from Lewis Hamilton's damaged W13, the Briton involved in a first-lap crash at Les Combes.
Verstappen pulled off a visor tear-off and threw it to the side of his car, that visor apparently the one that got lodged in Leclerc's front right brake cooling.
The Monégasque driver was forced to pit for it to be removed and fell to the back of the field from where he could only recover to P5.
He was later demoted to sixth, handed a five-second time penalty for speeding in the pit lane as Ferrari brought him in for a late stop in the hope of snatching the fastest lap points.
Team boss Mattia Binotto revealed Leclerc's penalty was actually a consequence of Verstappen's visor wrecking his F1-75's sensors.
"We were not using our normal sensors measuring the speed because they have failed during the overheating of the front-right due to the tear-off of Max," he said as per Motorsport.com. "And our recovery [system], maybe it was not such accurate.
"I think overall, it has been an unlucky situation."
Straight from Mario Kart. @Max33Verstappen 's tear off visor gets stuck in @Charles_Leclerc 's front right. #BelgianGP #SpaFrancorchamps #F1 pic.twitter.com/NMmIdyOfSU

— Elle 🦘🦁 supporting the main characters of F1 (@ilpredestinato_) August 28, 2022
Leclerc never did get the fastest lap point, that going to race winner Verstappen who extended his lead in the Drivers' Championship to 93 points ahead of his team-mate Sergio Perez.
Leclerc fell to third, a further five points off the pace.
Asked in the post-race press conference about the reports that it was his visor that caused Leclerc's issues, Verstappen replied: "Carlos told me it was a tear-off. I didn't know.
"I hope it's not mine.
"But there was a lot of stuff, honestly people… they were all pulling stuff out and it's just super unlucky, to be honest, that that happens.
"You're always scared that it happens, especially when you're in the pack because… especially on a track like this, you are taking them off very quickly, that is your worst nightmare, that these things happen but yeah, unfortunately they do happen."