Max's Imola win 'seemed probably easy on TV'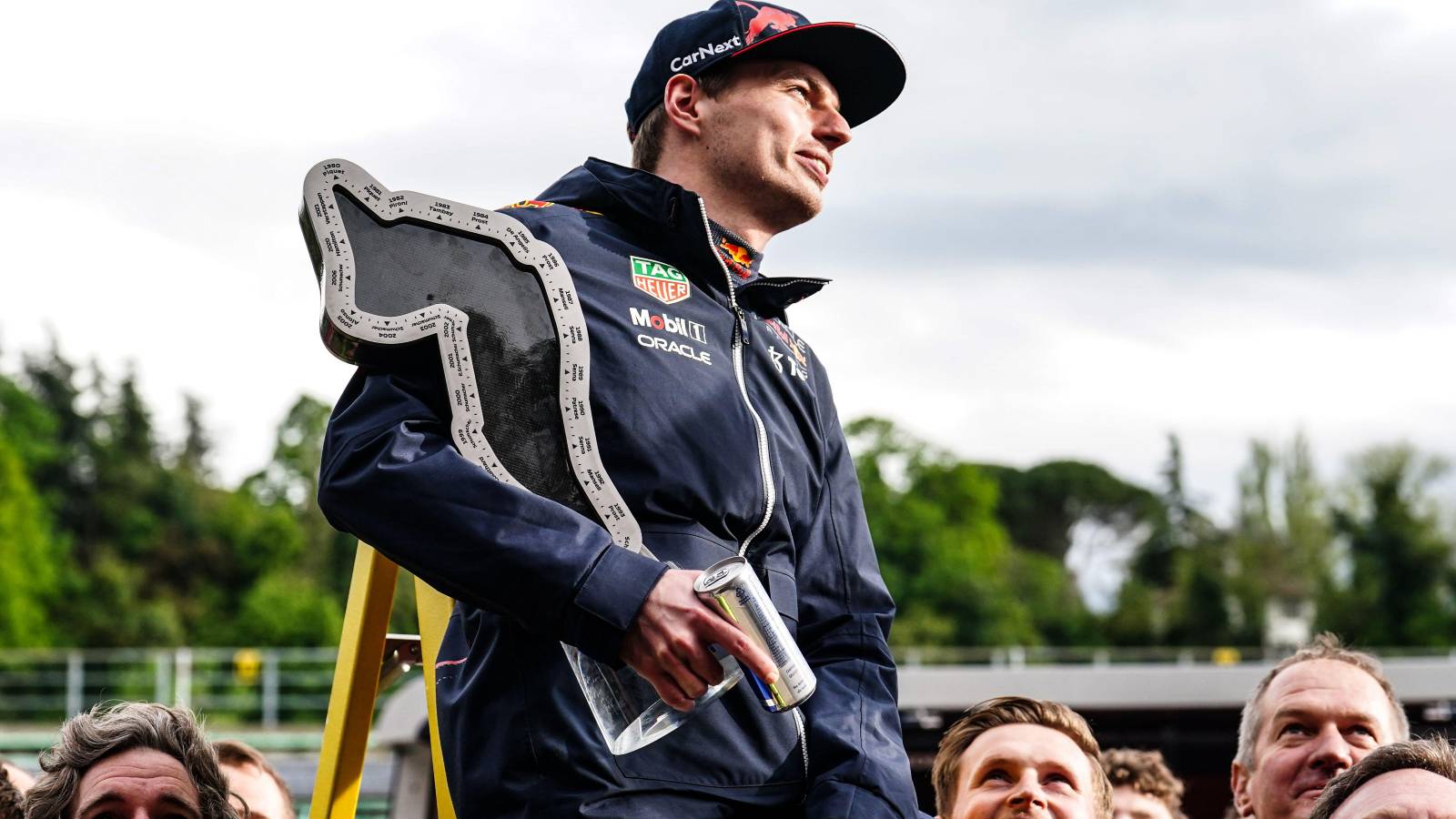 To the viewers, Max Verstappen said his Imola victory probably looked rather easy, but focus led to a vital Red Bull one-two.
Verstappen was rarely threatened at the Emilia Romagna Grand Prix, leading from the start of the race until the finish as he took victory with a margin of 16.5 seconds over his Red Bull team-mate Sergio Perez.
That result lifted Verstappen to P2 in the Drivers' Championship, while Red Bull now trail Ferrari by only 11 points in the Constructors' following a rare one-two finish.
On the face of it, Verstappen, it seemed, had a smooth run to the chequered flag on a race weekend when Ferrari faltered on home soil, but Verstappen made it clear he and Perez had to remain focused to secure the result.
Red Bull P1 🏆 Red Bull P2 🏆 #GivesYouWings pic.twitter.com/FfLzINEmC2

— Oracle Red Bull Racing (@redbullracing) April 24, 2022
"Melbourne wasn't great for us and the start of the season in general wasn't amazing, so we needed a good weekend," said Verstappen, quoted by the Formula 1 website.
"I didn't expect it to be like this but when you have a weekend at the end like this, that's incredible – a one-two for the team but also maximum points scored.
"Also the way we handled the race, we didn't really make any mistakes and I think we made the right calls switching from the inters to the slicks, and from then onwards we just controlled the race.
"It of course seemed probably easy on the TV, but you have to be focused.
"Of course we saw yesterday in sprint qualifying we had good pace in the car and we could look after our tyres quite nicely. A very positive weekend."
Perez did not enjoy the same space on the track as his team-mate with Ferrari's Charles Leclerc pushing hard to break up the Red Bull one-two.
When Perez went for a trip across the grass and put Leclerc back on his tail, it seemed like the pressure was getting to Perez but it was Leclerc who spun off after taking too much kerb.
His hit against the wall was light, but Ferrari nonetheless pitted him for a front wing change, leaving him to finish P6.
Perez said that was an "intense" fight in a race where the track went from wet to dry and a clean performance was needed.
"It was really intense – the fight pretty much since halfway through the race, we were fighting and then it was all under control," said Perez.
"But then they started chasing us with the [late pit] stop. And then it was again a fight trying to warm up the tyres.
"The most important thing was not making mistakes because it was very tricky to get a one-two under these conditions. It's a great result for the team.
"We've been so unlucky – the start [of the season] has been so difficult for us, so I'm very pleased everyone in my team is smiling today."
Ferrari 'fear' Red Bull more than Mercedes
Ferrari boss Mattia Binotto said he fears Red Bull more than Mercedes this year, and he's arguably right to do so.