Get 10% off McLaren Racing and Castore Active DualBrand collection!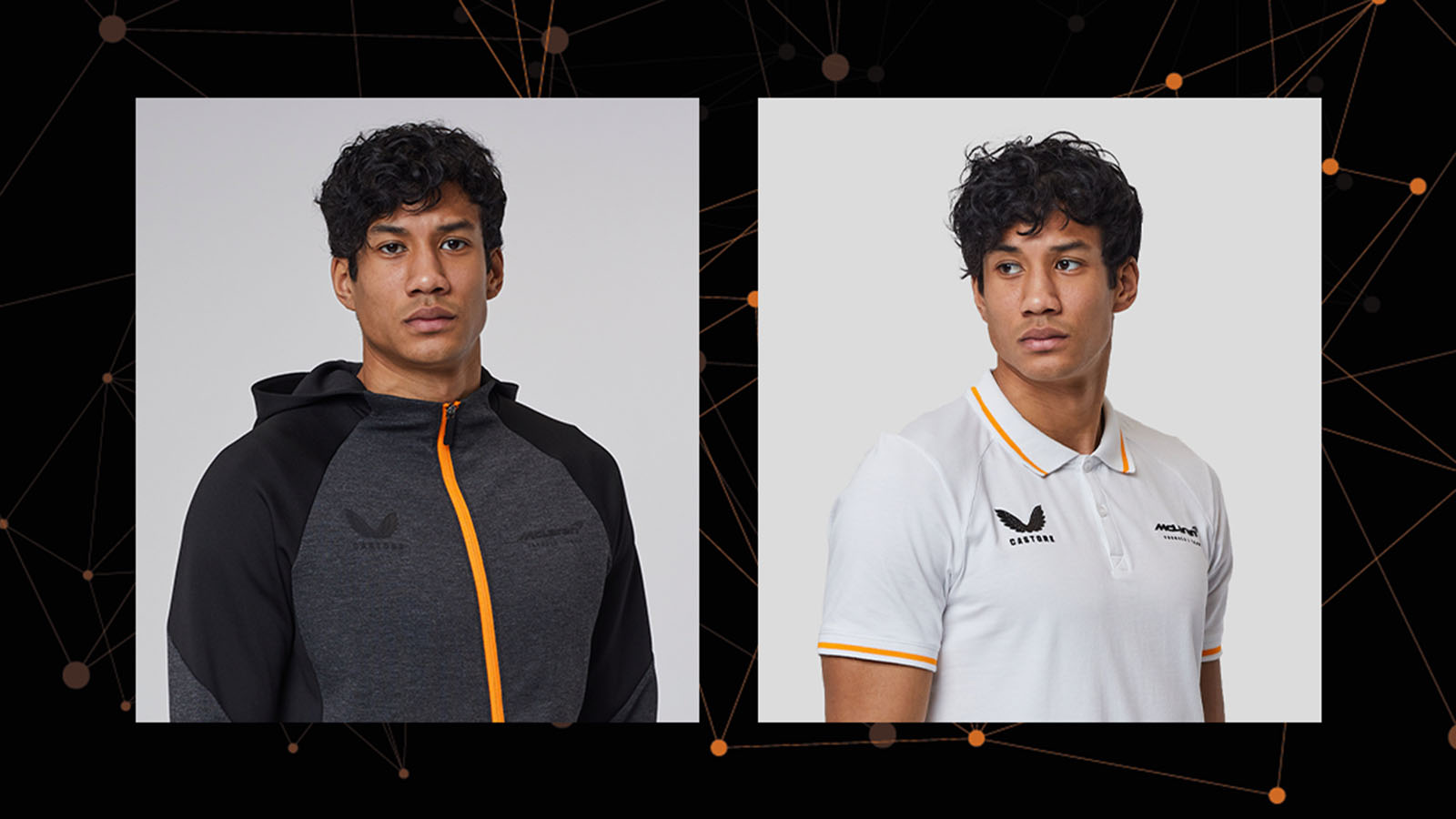 McLaren Racing's new collection merges the sleek angular patterns of their modern F1 designs with a nod to their historic liveries.
McLaren, together with Castore, have released a new collection that couldn't come at a better time for F1's summer break!
Designed with active body movement in mind, as well as enhanced comfort, the Castore x McLaren Active Dualbrand collection takes into consideration the ergonomics of motion. As a result, the range boasts angular cut lines right across the body, ensuring maximum flexibility.
PlanetF1 readers can get an exclusive 10% discount site wide, including on all Castore x McLaren Active Dualbrand apparel, just by using the code PF1MCLAREN at checkout. Please click here for items excluded from all discounts and special offers.
Let's take a closer look at the Active Dualbrand collection…
The Hoodie
A staple of any wardrobe, the versatile hoodie can keep you warm through the bleakest British winter, and stylish through the rest of the year!
Function doesn't have to mean a compromise on form, with the Active Dualbrand Full Zip Hoodie boasting McLaren Formula 1 Team logos and detailing in papaya to showcase your unwavering allegiance.
With the Full Zip Hoodie wearable as an extra layer, plenty of consideration has gone into ensuring this fleece is as ultra-soft and comfortable as possible. It's practical too, with the ergonomic design allowing for plenty of flexible movement, and some cheeky hidden pockets for extra practicality!
As the name suggests, the hood hasn't been forgotten about either. The Active Dualbrand Full Zip Hoodie includes a three-part hood to keep you as sheltered as possible, when that unexpected rainshower strikes!
The Hoodie is offered in six sizes, ranging from S-3XL, and has two colour combinations to choose from.
The 'Black' uses two shades of black to create a striking visual, while the 'Light Grey/Papaya' features light grey throughout the chest and back, with a darker shade on the upper arms and shoulders.
The Polo
Looking for a way to stay cool and look fresh during the summer?
The McLaren Active Dualbrand Fanwear Polo is a classic, reliable design that will allow you to stay comfortable and show your support for Daniel Ricciardo and Lando Norris while out and about.
The responsibly-sourced cotton knit is designed to be highly breathable, ensuring maximum cooling, while the moisture-wicking fabric will keep you fresh on even the hottest days.
The two-button Polo is presented with printed McLaren logos on the chest, with contrast piping on the collar and cuffs.
This lightweight performance clothing is presented in classic fits, with a range of sizes from S-3XL.
There are six designs to choose from, with our pick being the 'Black' option. This design represents not just the iconic McLaren papaya, but harkens back to a previous era for the team with the dayglo Speedmark evoking memories of the 1980s and 1990s!
The T-shirt
No matter where you are in the world, you can't go wrong with a T-shirt (provided you have the weather for it!)
Whether you're enjoying the last days of the European summer, or gearing up for a hot Australian holiday season, call the McLaren Dualbrand Fanwear T-shirt into action from your wardrobe.
Simple and stylish, this ergonomic design is built for speed and comfort, and features a highly-breathable design for maximum cooling.
Offered in a range of sizes from S-3XL, the T-shirt comes in six unique designs – all of which are printed with a prominent silicone McLaren logo and team lettering on the chest.
The 'Black' and 'Light Grey' are striking in their simplicity, while the pure 'Papaya' will leave no doubts in anyone's mind as to whom you support!