Weak and underutilised: McLaren lift the lid on major technical shake-up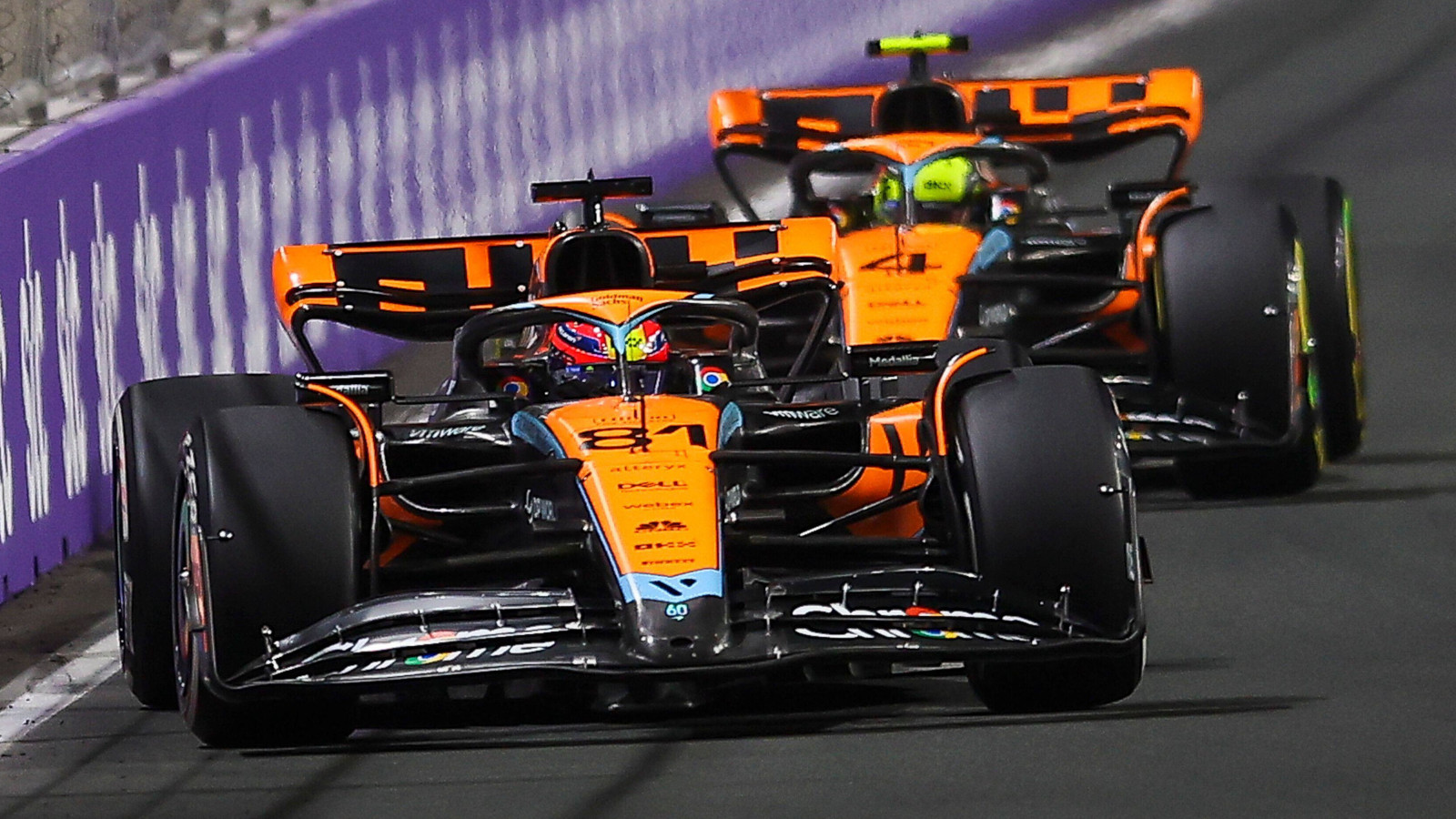 McLaren's Andrea Stella and Zak Brown have revealed how identifying weaknesses in their technical structure has led to their re-organisation.
Ahead of the Australian Grand Prix, McLaren confirmed a full re-organisation of their technical leadership with executive technical director James Key removed from his role.
Instead of a single person in charge, McLaren will be turning to an 'F1 Technical Executive Team', which will comprise three separate divisions, with all three divisions reporting directly to team boss Andrea Stella.
Additional reporting by Michael Lamonato
Technical Director for Aerodynamics will be Peter Prodromou, while the team have also signed David Sanchez as Technical Director for Car Concept and Performance – he will join Woking on 1st of January 2024 after a period of gardening leave from Ferrari. McLaren have also internally promoted Neil Houldey to Technical Director for Engineering and Design.
Aside from the restructuring, McLaren have also embarked on a major recruitment drive, with the team targeting some 15 new technical signings – including that of former Aston Martin aerodynamicist Mariano Alperin.
Andrea Stella outlines the reasons for the restructuring
With McLaren seemingly reverting to a previous structure of a 'technical committee', the opposite approach to when James Key was signed five years ago, Stella said the new organisation structure only bears superficial resemblances to the one under Prodromou, Tim Goss, and Matt Morris back in 2018.
"I think the only common thing in that organisation and this one is the number three," Stella explained to media, including PlanetF1.com, when discussing the organisational changes ahead of the Australian Grand Prix.
"The rest is completely different. At the time, when I joined McLaren in 2015, there were three technical directors. The separation of competence was very confusing, even for internal people, it was quite difficult to understand who was doing what.
"The first difference is that now we know exactly what the criterion is for the separation. In the structure that we have deployed, we want to have clear leadership in relation to the three fundamental areas to make cars for Formula 1 – which is aerodynamics, car concept, and engineering.
"So we wanted to have this model clearly in place as a way of answering the question that Zak and I have shared right from day one in my role as team principal – how do we create a performance-led organisation?"
Stella hinted that the structure under Key wasn't particularly well-defined in terms of hierarchy and, added to that, were reporting to former team boss Andreas Seidl – a 'non-technical' figurehead.
"We needed an approach from a modeling point of view to the F1 team," Stella said.
"So the difference is that, at the time, the technical structure was quite undefined as to who's doing what now – now we have a clear underlying model of the team and, more specifically, the technical area. In addition to that, at the time this technical group was reporting to the team principal, who was not technical. Now we have a technical team principal.
"But I don't expect it to be very busy in relation to managing our technical department because we have very strong leaders in each area and, ultimately, what's important is that we bring to the table high-performance ideas – that's what we miss the most at McLaren right now.
"When it comes to making decisions, most of the time it's a simple, natural derivation of coming to the table with elaborated and high-quality information. I think there's a misunderstanding when it comes to decision-making in F1, I think people think that you are there all the time with somebody making a decision, but the reality is that it's much more about creating competitive ideas, because this is what leads to natural decisions.
"This is the position in which we want to put McLaren in the future. We don't want to be at a very comfortable table with somebody in charge making all the decisions, but very uncompetitive in terms of the ideas we bring to the table, or with the one actually being in charge setting an upper limit to the level and the quality of the ideas the group generate."
Zak Brown reveals how the process of re-organisation began
While the timing of the restructure could be seen as being in direct response to the calamitous start McLaren have had to the 2023 season, CEO Zak Brown outlined the timeline of the events that led to the changes – revealing that the process began as far back as the team's tough start to testing in 2022 with troublesome brake ducts.
""In the second half of [2022], when you're looking to see how your development is going," Brown said, when asked for the thinking behind the restructure.
"Obviously, we started the year with some challenges in testing with the brake ducts. The car was OK. Then, of course, we had our driver-related issues that we were working through, which kind of took the attention and the headline.
"Meanwhile, going on underneath the surface, I wasn't happy with the pace of the development of the racing car. That was the second half of last year. So you look at the pace of development of some of the other teams, where they started and where they ended versus where we started and where we ended.
"We started having conversations and, of course, we had a team principal change towards the end of the year which allowed me the opportunity to be more aggressive in working with Andrea to give him the mandate of 'take a look at the team' and that's exactly what he did.
"Obviously, him having been there and not starting from ground zero, if you'd like, he ultimately came up with a model that makes total sense to us and those internally, and went about starting to put those plans in place. When we made the announcement that was something that had been in the works for some time and was coincidental to our poor start to the season."
Stella further outlined how he was given the remit to identify weaknesses within McLaren, and revealed how he initially took on the mindset of seeking to strengthen the existing structure rather than aiming for revolution.
"When I was appointed, I received the clear mandate, 'Andreas, can you help us understand why we don't seem to be moving forward as fast as we would like, and feel free to innovate if necessary'," he said.
"My attitude was that I wanted to be very open-minded. I didn't want to rush into making decisions. I wanted to populate my mind with plenty of information. So I had many one-to-ones. I attended meetings, looked at the dynamics within the team, with the eye of whether these were answering the fundamental question, 'how do we build a performance-led organization?'
PlanetF1.com recommends
McLaren confirm 'a kind of a B-spec car' as part two of three major upgrades
Aston Martin confirm key departure as McLaren continue aggressive recruitment plan
Who are McLaren's new tech chiefs following James Key's departure?
"Day after day, there were many conversations with Zak. Through these conversations,  you get closer to what looks like a solution. Initially, I definitely had the door open to make the present work. I wanted to make what we have at the moment work but, at the same time, relatively early, it started to be apparent to me that we needed to evolve.
"We needed to evolve because we didn't have, from a model point of view, enough specialisation associated with the key areas that are required to generate competitiveness."
With Prodromou making it through another cull of top-level technical staff, Stella said that the new Technical Director for Aerodynamics had not been utilised to his full potential under James Key.
"I think there were some limitations associated with the model," he said.
"In aerodynamics, we wanted to have a technical director that leads aerodynamics, full empowerment to this technical director. We wanted to unleash a very strong resource that we had internally and that, for some reason, was underutilised, like Peter Prodromou – one of the most competent experts in F1 in relation to aerodynamics.
"This wasn't happening as efficiently as it should have happened, let's say, so this is something we wanted to fix. It perfectly fit the model at the same time by giving aerodynamics clear leadership, clear guidance, as to the concepts that we wanted to develop and lead to the car. So that's part of the things we wanted to improve.
"Part of the model as well was the approach to performance. We want it to improve in terms of definitely being strongly scientifically based but, at the same time, F1 is a quick game. It's fast, you need to be sometimes pragmatic, and utilise common sense. I don't think we were very good at doing that, previously.
"Another thing we wanted to improve is empowerment. We have senior members in aerodynamics, senior members in the technical department, these guys – they need to unleash their expertise, they need to be able to make decisions. This makes the whole team move faster and this is also something that we needed to address from a model point of view and if you want, in particular, through the restructuring and the re-appointment of leaders."
Plugging the gap until David Sanchez finishes gardening leave
Sanchez, who attended Bahrain pre-season testing with Ferrari while still working as their head of vehicle concept, announced his departure from the Scuderia recently, taking to LinkedIn to make it clear that he had chosen to leave.
As a result, Sanchez has to go through a period of gardening leave before joining his new team, with that gardening leave period ending on January 1st next year.
McLaren will thus have to fight their way through 2023 without one of the key figureheads in their new technical triumvirate, with Stella explaining how the team will plug that gap.
"There is a transition period with David not being able to join," he said.
"So what we are doing is we are creating some measures to compensate this vacancy. There are groups that will report onto Davide [in future], like the vehicle performance group, some other performance analysis competencies that we have in race engineering – they will step up in terms of contributing to the concept and to the performance analysis.
"I will be even involved in supporting the technical executive from a car concept point of view, and we have also deployed Neil Oatley (McLaren's chief designer between 1989 and 2003 before becoming executive director of engineering) to help in this transitional phase. So we have stronger resources available at McLaren. We are going to make in the short term, a bit of a tactical usage of these resources, while in the long term, it is a strategic foundation obviously."
Having had to make some tough decisions recently, Brown said they were decisions that simply had to be made.
"Ultimately, my job as CEO, the buck stops with me," he explained.
"As Andrea said, these big decisions, you never take alone – you always consult your leadership team. So there's nothing on the technical front and within the racing team that Andrea and I don't discuss and aren't aligned on but it's a competitive sport. When you aren't performing at the level at which you think you should, you need to make decisions to change course and that's what we've done, and I'm confident with the direction we're headed now."