Although McLaren made great strides in 2020, the team's racing director Andrea Stella said the final destination remains "some miles away".
After hitting a low point in the mid 2010s, McLaren over the past few years have been on the rise again, and 2020 was a very successful campaign as the Woking outfit wrapped up P3 in the Constructors' Championship, their best result since 2012.
It was a tense midfield battle that went all the way to the season-ending Abu Dhabi GP between McLaren, Racing Point and Renault for P3, but even though McLaren won that battle, Stella says the journey isn't complete.
Looking at his three key factors in that midfield battle: performance, reliability and operations, Stella believes McLaren remain "still some miles away" from their final destination.
"These three elements have always determined how well you perform in F1. You need to be very strong in each of them to be competitive," he told the McLaren website.
"I think the fact that we ended this season at the front of the midfield shows that we have some solid basis in each of these areas. However, we are on a journey and the destination is still quite some miles away: we need to improve in a few aspects of performance, reliability and operations.
"On the reliability side, the room for improvement is quantified by the points we lost this season. That's largely been related to problems that were not necessarily in our control. We've done well from a chassis point of view, apart from qualifying for the Bahrain Grand Prix when Carlos was unable to set a time in Q2 due to a problem with the braking system.
"When we look at operations, I think there are some aspects where we have made a step forward: logistics of parts, the way we build the car and some of our processes, like when managing faults.
"But there are some aspects where we're still behind our competitors. Take pit-stops, for example, we've made progress throughout the season, but we need to make another step forward.
"When it comes to car performance, in the first part of the season and in Monza, we were very competitive and at the front of the midfield, but we struggled to stay there in the second part of the season."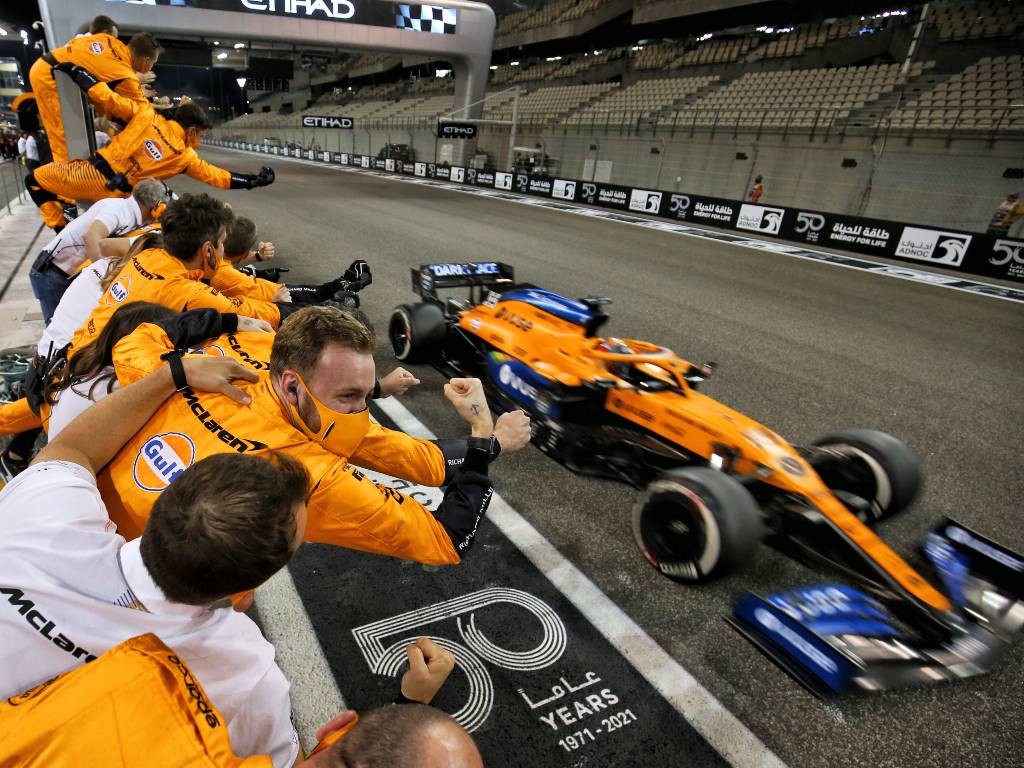 McLaren's technical director James Key said the team have been able to pinpoint their strengths and weaknesses, and also those of their rivals, and thinks his team's weaknesses can be addressed for 2021 despite the token system in place to limit development.
"We definitely started strong and probably surprised some people because we didn't really show our pace in winter testing," he said.
"We introduced developments throughout the season, perhaps not quite as quickly as some teams, but we've taken time to learn about these developments and how they impact the car. Most have improved performance and remained on the car since their introduction.
"Some parts we would have liked to have had longer to develop – they were slightly immature compared to what they would have been if we had introduced them next year.
"Take the new nose, for example. Mid-season there was a homologation deadline for the nose of the car which meant, because we didn't want to stick with the concept we started 2020 with, we had to bring forward the 2021 concept to meet this deadline.
"The midfield battle has been incredibly close this year. It's ebbed and flowed depending on the circuit, tyres, weather conditions and, of course, car development. We're talking about a tenth, or even half a tenth of a second making the difference.
"We've been able to identify the areas where our competitors are stronger than us and established the weaknesses of our car. Certain tracks and conditions, particularly in the latter part of the season, have not played to our strengths.
"I think there's enough scope within the regulations to address these weaknesses for 2021. Obviously, if you had a completely blank sheet of paper you could do even more, but the areas we need to improve aren't related to the fundamental architecture of the car."
Follow us on Twitter @Planet_F1, like our Facebook page and join us on Instagram!